NEXT STORY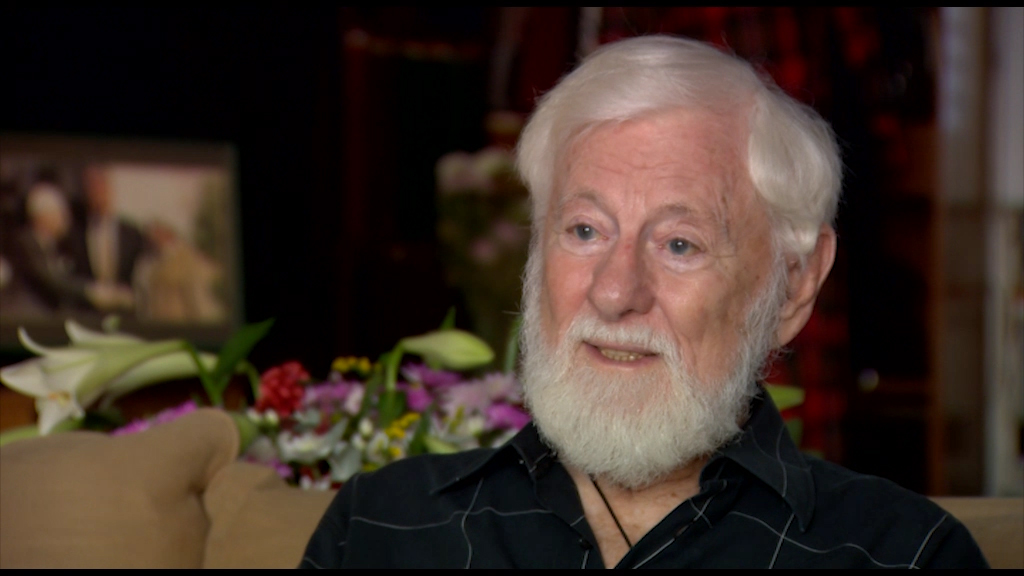 The music of change
Uri Avnery
Social activist
1
2
3
4
5
...
32
ואז לאט לאט, 1929 היה המשבר הנוראי שהוא היה הטראומה השנייה בחיי הגרמנים והאמריקאים וכל העולם. ב-1923 הייתה אינפלציה, שזה היה עניין גרמני, אבל המשבר של 29' היה עולמי. אני חושב שהוא גם פגע במשפחה שלנו, למרות שאנחנו הילדים לא הרגשנו בזה. אבל כשאני חושב בחזרה, אני חושב שזה פגע גם בנו. על כל פנים אני עברתי בית ספר, מבית ספר פרטי לבית ספר ציבורי, שזה היה די טראומה. אני אף פעם לא הייתי בגן. אולי זה השפיע על האופי שלי. לא הייתי בגן, מפני שאבא שלי אמר: "מה הוא צריך את זה? הרי הוא לומד בבית מספיק, יש לו אחות בכורה שמטפלת בחינוך שלו ויש עוזרת, אז מה הוא צריך גן?" אבל לעומת זאת הלכתי לכיתה אל״ף מאוד מוקדם, בגיל חמש וחצי. ותמיד הייתי חצי שנה עד שנה יותר צעיר מכל חבריי לכיתה. עד שבאתי לארץ, הייתי תמיד הילד הכי קטן בכיתה, הכי צעיר והכי קטן. ב- 1929, אני חושב, או 30', העבירו אותי מהפרטי לציבורי. זאת אומרת אל״ף-בי״ת למדתי בבית ספר פרטי. אני רק זוכר שם אחד של מורה, חוץ מזה אני לא זוכר שום דבר מהבית-ספר הזה, חוץ ממיקומו. אחר כך העבירו אותי לבית ספר ציבורי שהייתי כבר צריך לנסוע בחשמלית כמה תחנות. זה היה כיתה גימ״ל ודל״ת. ושמה התחילו הזמנים להשתנות בגרמניה, בעקבות המשבר (הכלכלי) הבאמת נוראי. קודם כל הייתי בכיתה והילדים דיברו על המשכורות של ההורים שלהם ואני פשוט לא ידעתי מה זה. אבא שלי היה עצמאי ולא ידענו בכלל מה זה משכורת. אבל הסתדרתי. אני בדרך כלל די מסתדר עם אנשים בחברה. למדתי שם שנתיים, זאת אומרת מגיל שבע וחצי עד תשע וחצי. ואלה היו השנים שבהן התחיל השינוי הגדול בגרמניה.‏
Then, very slowly, in 1929 there was a terrible crisis – the second trauma in the life of the Germans and for the Americans and the entire world. In 1923 it had been inflation, which was a German matter, but the crisis of '29 was worldwide. I think it even affected our family, although as children we did not feel it. However, when I reflect, I think it was hurting us too. At any event I was transferred to a different school from a private school to a public school, which was rather traumatic. I had never attended kindergarten. Perhaps that affected my character. I had not gone to kindergarten because my father said: 'What does he need it for? After all, he learns enough at home. He has an older sister who takes care of his education and there's the housekeeper, so why does he need kindergarten?' But on the other hand, I went to first grade very early, at the age of five-and-a-half. I was always six months to a year younger than my classmates. Until I came to Israel I was always the youngest child in the class, the youngest and the smallest.
In 1929, I think, or 1930, they transferred me from private to public [school]. In other words, in the first and second grade I studied in a private school. I can only remember the name of one teacher; apart from that I do not remember anything about this school, except its location. Then I was transferred to public school and I had to travel several stops on the tram. That was for third and fourth grade. That was when things started to change in Germany, following the really terrible (economic) crisis. In the first place I was in the classroom and the children were talking about the wages their parents earned and I simply did not know what that was. My father was self-employed and we didn't know what 'salary' meant. In any case, I got along. I usually get along with people in social situations. I studied there for two years, from the age of seven-and-a-half to nine-and-a-half. Those were the years when the great change started to take place in Germany.
Uri Avnery (1923-2018) was an Israeli writer, journalist and founder of the Gush Shalom peace movement. As a teenager, he joined the Zionist paramilitary group, Irgun. Later, Avnery was elected to the Knesset from 1965 to 1974 and from 1979 to 1981. He was also the editor-in-chief of the weekly news magazine, 'HaOlam HaZeh' from 1950 until it closed in 1993. He famously crossed the lines during the Siege of Beirut to meet Yasser Arafat on 3 July 1982, the first time the Palestinian leader ever met with an Israeli. Avnery was the author of several books about the Israeli-Palestinian conflict, including '1948: A Soldier's Tale, the Bloody Road to Jerusalem' (2008); 'Israel's Vicious Circle' (2008); and 'My Friend, the Enemy' (1986).
Title: Early schooldays
Listeners: Anat Saragusti
Anat Saragusti is a film-maker, book editor and a freelance journalist and writer. She was a senior staff member at the weekly news magazine Ha'olam Hazeh, where she was prominent in covering major events in Israel. Uri Avnery was the publisher and chief editor of the Magazine, and Saragusti worked closely with him for over a decade. With the closing of Ha'olam Hazeh in 1993, Anat Saragusti joined the group that established TV Channel 2 News Company and was appointed as its reporter in Gaza. She later became the chief editor of the evening news bulletin. Concurrently, she studied law and gained a Master's degree from Tel Aviv University.
Tags: kindergarten, education, private school, public school, classroom
Duration: 3 minutes, 38 seconds
Date story recorded: October 2015
Date story went live: 10 March 2017