NEXT STORY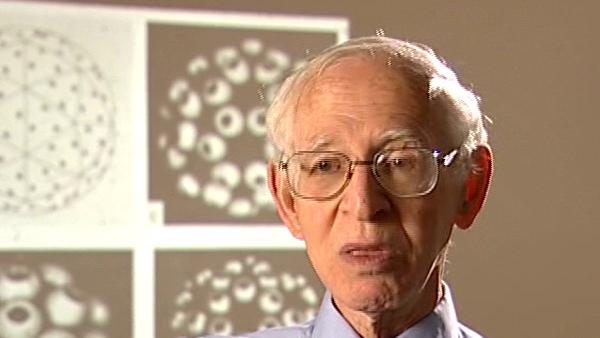 An MSc and PhD at Cape Town University
Studying at the University of Witwatersrand
1
2
3
4
5
...
12
It was a very relatively peaceful time because there was no... you never were touched by the apartheid, which everybody took it for granted, the order of boarding a bus was very simple in Durban if you were to catch a bus. The whites went first, then the coloureds and Indians of whom there'd be a certain rivalry; and then when the... everybody took it for granted, you never found any opposition. And, of course, we had African servants and I actually could speak 'Kitchen Zulu', which is a kind of... my Father spoke good Zulu because he was involved with cattle and hides he learnt Zulu; so it was a very colourful existence. And then anyway I got a scholarship to go to Witwatersrand, I did very well in the... in my matric exam and I was 15 at the time, but... so... but that was... no, they didn't worry about that. And so I started doing first year medicine. The subjects were: botany, zoology, chemistry and physics which were the standard sort of course. And then in second year I went into Medical School, which was separate from the main university campus, you had to walk up the hill. And I started doing anatomy, histology, physiological chemistry, which was what biochemistry was called at the time, and physiology and anatomy. And I did several months of dissecting anatomy. I quite enjoyed it in a way, it was quite marvellous to see the way that the nerves and the muscles went through the armpit and things like that. But there was... anatomy was taught purely mechanically, there was no dissection of function and I began to get bored with it, although I didn't mind dissecting. The... however, I found physiology and biochemistry pretty interesting, particularly biochemistry and the... so I decided that I think I really wanted to know a bit more science, particularly chemistry. Because we used to hear these things, I remember learning about the urea cycle and things like that and testing for urea in experiments, where there was sort of practical, physiological chemistry. So I decided to change and I decided to go to do chemistry and... and I thought I should do some maths as well; I'd been good at maths at school. And the... so I went to see the Dean of Science, because I thought,'Could I do anything?' So he actually arranged a special course, there was no way in which you could take a mixture of set subjects, so he got the Senator to pass a resolution or something to allow me take a special course, a BSc in... I think Sue Lawley said, 'You designed your own course.' I didn't design any course, I simply did what I thought I would like to do. And having an enlightened Dean... Professor of Zoology...
[Q] You selected your own lectures to go to or did you read...?
No, no, I... I had to, no; I had to write an exam.
[Q] Yes.
I... no... so, what I did was... so, at the end... so, I switched to, there was a... see, in Medical School you start the course early in the year, six weeks before. So, what I did was to move to chemistry, start doing the chemistry and... and the maths to try to catch up. In the end that took me four years rather than the three year course which is the standard science course. And I graduated... in biochem, well, my final subjects were chemistry and physics and maths which I graduated with. And we were supposed to take two major subjects but it wasn't very taxing, I did three. But the... and the biochemistry or physiochemistry and physiology were taught in the Medical School. So in the morning I spent on the main campus, in the afternoon I walked up the hill to the Medical School and did physiology and chemistry and practical physiology, physiological chemistry and physiology and histology. I enjoyed histology, I had a few altercations with the demonstrators who said, 'Draw what you see'. And, of course, I didn't draw what I saw; I drew what I was expected to see. But I didn't see enough, you see, mitochondria for example and things like that and the Golgi Apparatus, and I quite liked that. So... so in the end after three... after four years at Wits I found myself most interested in physics. And... and at Cape Town University they were offering... now, I didn't learn much physics there because it was very old fashioned physics. The professor and the... two professors... taught courses that hadn't changed for 20 or 30 years, which is pretty moribund. Later, when they retired, the thing got revitalised. The standards were quite high but these were very old-fashioned subjects so I learnt a great deal about geometrical optics and, you know, highly detailed geometrical optics, how to correct things, aberrations, which later on have actually stood me in good stead. But you never know what you need to know for later life, this was a... in a sense it was helpful, but I didn't know it at the time. But because I... I also, because I had to mark time to get the subjects in, I also took courses, I mean, real courses in astronomy and experimental psychology and I read quite a bit. It was quite an interesting time. So... but, it was... so I... as, so, I made my own syllabus basically and I got good results.
Born in Lithuania, Aaron Klug (1926-2018) was a British chemist and biophysicist. He was awarded the Nobel Prize in Chemistry in 1982 for developments in electron microscopy and his work on complexes of nucleic acids and proteins. He studied crystallography at the University of Cape Town before moving to England, completing his doctorate in 1953 at Trinity College, Cambridge. In 1981, he was awarded the Louisa Gross Horwitz Prize from Columbia University. His long and influential career led to a knighthood in 1988. He was also elected President of the Royal Society, and served there from 1995-2000.
Title: Studying at the University of Witwatersrand
Listeners: Ken Holmes John Finch
Kenneth Holmes was born in London in 1934 and attended schools in Chiswick. He obtained his BA at St Johns College, Cambridge. He obtained his PhD at Birkbeck College, London working on the structure of tobacco mosaic virus with Rosalind Franklin and Aaron Klug. After a post-doc at Childrens' Hospital, Boston, where he started to work on muscle structure, he joined to the newly opened Laboratory of Molecular Biology in Cambridge where he stayed for six years. He worked with Aaron Klug on virus structure and with Hugh Huxley on muscle. He then moved to Heidelberg to open the Department of Biophysics at the Max Planck Institute for Medical Research where he remained as director until his retirement. During this time he completed the structure of tobacco mosaic virus and solved the structures of a number of protein molecules including the structure of the muscle protein actin and the actin filament. Recently he has worked on the molecular mechanism of muscle contraction. He also initiated the use of synchrotron radiation as a source for X-ray diffraction and founded the EMBL outstation at DESY Hamburg. He was elected to the Royal Society in 1981 and is a member of a number of scientific academies.
John Finch is a retired member of staff of the Medical Research Council Laboratory of Molecular Biology in Cambridge, UK. He began research as a PhD student of Rosalind Franklin's at Birkbeck College, London in 1955 studying the structure of small viruses by x-ray diffraction. He came to Cambridge as part of Aaron Klug's team in 1962 and has continued with the structural study of viruses and other nucleoproteins such as chromatin, using both x-rays and electron microscopy.
Tags: University of Witwatersrand, Cape Town University
Duration: 6 minutes, 13 seconds
Date story recorded: July 2005
Date story went live: 24 January 2008