NEXT STORY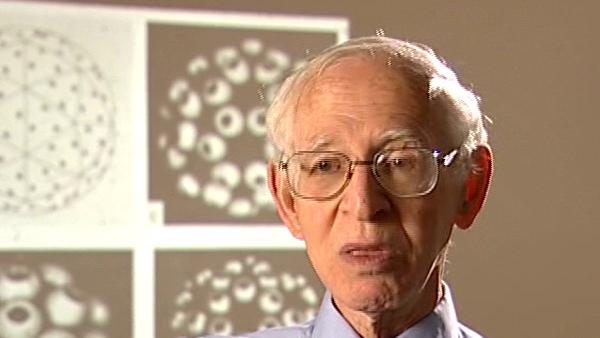 Teaching at Peterhouse College, Cambridge
Therapeutic use of zinc fingers in serious diseases
1
...
6
7
8
9
10
...
12
VEGF is, as I say, is the first gene in the cascade of developing new blood vessels, it also happens to be... it's not an accident but it is... it is a protein which protects neurons. A neuro-protective. I was surprised when I first came across this but it turns out, if I'd remembered by histology, the paths of blood vessels and nerves are very similar, they follow the same tracks and so VEGF is neuroprotective and there's quite a number of diseases, Lou Gehrig's Disease, ALS and things like that, motor neurone disease where there diseases are these neurons and people have started... made trials using VEGF itself. Just adding VEGF to motor neurone disease, well, the obvious thing to do is to just switch on VEGF which is a natural gene which hasn't been, it's not harmed in this case because the defect isn't in that gene so it's probably going to be used for neuro protection, so that will be another application of VEGF. And one can think of many other applications, I've thought of several where to switch an endogenous gene which can help, which can help cure, not necessarily diseases, but even things like muscle injury. If you injure a muscle then you have problems with it, creating the nerves growing back and the blood vessels and so on and people find that IGF which is insulin-like growth factor, a lot of people add that to the muscles and that helps to repair, helps to grow again. Well, the obvious thing to do is to switch on the IGF gene in the cells. So I can think up lots of applications but we can't do them all, so I think I'll end there. At least for the... I wrote a paper for a Nobel Symposium last October when these results were beginning to appear, it was only a mini review, but they said that the results are astonishing. Because this has transformed the subject from getting... a few percent or fractions of a percent success by what they used to call gene targeting, where you only had the homologous DNA you didn't have any cuts, you didn't make the cuts and didn't have targeted cuts compared to what they now get, so I do think it's a... well, it's very gratifying to me to see this development. I'd always thought that the gene... that the zinc fingers would be a very useful research tool, but I must say I didn't think... at the time, the early days in 1994, that it could actually be possible therapeutic in serious diseases.
Born in Lithuania, Aaron Klug (1926-2018) was a British chemist and biophysicist. He was awarded the Nobel Prize in Chemistry in 1982 for developments in electron microscopy and his work on complexes of nucleic acids and proteins. He studied crystallography at the University of Cape Town before moving to England, completing his doctorate in 1953 at Trinity College, Cambridge. In 1981, he was awarded the Louisa Gross Horwitz Prize from Columbia University. His long and influential career led to a knighthood in 1988. He was also elected President of the Royal Society, and served there from 1995-2000.
Title: Therapeutic use of zinc fingers in serious diseases
Listeners: John Finch Ken Holmes
John Finch is a retired member of staff of the Medical Research Council Laboratory of Molecular Biology in Cambridge, UK. He began research as a PhD student of Rosalind Franklin's at Birkbeck College, London in 1955 studying the structure of small viruses by x-ray diffraction. He came to Cambridge as part of Aaron Klug's team in 1962 and has continued with the structural study of viruses and other nucleoproteins such as chromatin, using both x-rays and electron microscopy.
Kenneth Holmes was born in London in 1934 and attended schools in Chiswick. He obtained his BA at St Johns College, Cambridge. He obtained his PhD at Birkbeck College, London working on the structure of tobacco mosaic virus with Rosalind Franklin and Aaron Klug. After a post-doc at Childrens' Hospital, Boston, where he started to work on muscle structure, he joined to the newly opened Laboratory of Molecular Biology in Cambridge where he stayed for six years. He worked with Aaron Klug on virus structure and with Hugh Huxley on muscle. He then moved to Heidelberg to open the Department of Biophysics at the Max Planck Institute for Medical Research where he remained as director until his retirement. During this time he completed the structure of tobacco mosaic virus and solved the structures of a number of protein molecules including the structure of the muscle protein actin and the actin filament. Recently he has worked on the molecular mechanism of muscle contraction. He also initiated the use of synchrotron radiation as a source for X-ray diffraction and founded the EMBL outstation at DESY Hamburg. He was elected to the Royal Society in 1981 and is a member of a number of scientific academies.
Tags: VEGF, blood vessels, motor neurone disease, Lou Gehrig's Disease, ALS, genes, gene targeting, IGF
Duration: 3 minutes, 13 seconds
Date story recorded: July 2005
Date story went live: 24 January 2008