NEXT STORY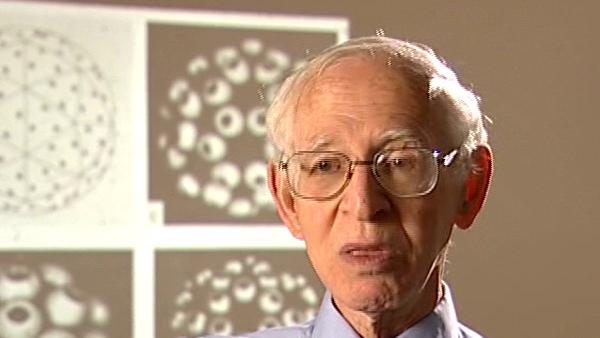 Politics and working on haemoglobin
My work on steel helped with accelerating the growth of TMV
1
2
3
4
5
...
12
I also went up to Sheffield where there were some experiments on the fast cooling of steel and the austentite-pearlite transformation, which... which I interpreted, they were doing rods. It turned out that [Douglas] Hartree had done a great... major contribution to the war effort because he discovered in trying to account for this phase transformation by a very primitive method using a heat... a temperature dependent diffusion coefficient. He had found that the cooling of steel ingots in Sheffield they used to take their steel, the hot ingots, quench them and leave them for nine hours overnight to make sure transformation of steel was complete. He was... he worked out it was complete in four hours, so they actually doubled the production, rate of production.
[Q] Yeah.
Just sort of... so, it was really a reflection on British industry. No attempt at all to try to do anything scientific, a way to find out, they could have at least. So Hartree got them to make small ingots, little cylindrical bars and measure temperatures inside and out and follow the process. So what he wanted to know was what was going on, so I developed a model, I made a kind of armed raid on metallurgy and there was quite a lot known about steel, austentite-pearlite transformation... transition. And so I developed a model, which the new phase nucleated, and I could... that's the function of the under-cooling past the transition temperature and the dissipation of the heat. So I developed a nucleation and growth model, that's what I called it. And I was able to account very well for the... for the characteristics of the cooling; people used that in some other phase transformations later.
[Q] Phase changes were followed by X-rays weren't they?
No, no, purely measuring temperature because as you went through the... as you went through the transition the temperature stayed pretty constant, pretty flat because you were dissipating the latent heat.
[Q] Yes.
And so and now the point I mention is that later when I came to work on the assembly of Tobacco Mosaic Virus, I realised it had to be divided into nucleation and growth. And the nucleating... the... well, I'll come to that, but the... it was that, I must have had it in my mind although I don't remember doing it consciously. But when I came to the assembly of Tobacco Mosaic Virus it was a disc of... a disc of Tobacco Mosaic Virus would act as the nucleating agent for the assembly. And that's what led to those classic experiments where we could now grow Tobacco Mosaic Virus in six minutes rather than 24 hours.
[Q] Yes.
So... so it shows you that... you never need to know what you need to know because it's... it's chance, it's these things are very... it's all... chance, I guess I would have done something else.
Born in Lithuania, Aaron Klug (1926-2018) was a British chemist and biophysicist. He was awarded the Nobel Prize in Chemistry in 1982 for developments in electron microscopy and his work on complexes of nucleic acids and proteins. He studied crystallography at the University of Cape Town before moving to England, completing his doctorate in 1953 at Trinity College, Cambridge. In 1981, he was awarded the Louisa Gross Horwitz Prize from Columbia University. His long and influential career led to a knighthood in 1988. He was also elected President of the Royal Society, and served there from 1995-2000.
Title: My work on steel helped with accelerating the growth of TMV
Listeners: Ken Holmes John Finch
Kenneth Holmes was born in London in 1934 and attended schools in Chiswick. He obtained his BA at St Johns College, Cambridge. He obtained his PhD at Birkbeck College, London working on the structure of tobacco mosaic virus with Rosalind Franklin and Aaron Klug. After a post-doc at Childrens' Hospital, Boston, where he started to work on muscle structure, he joined to the newly opened Laboratory of Molecular Biology in Cambridge where he stayed for six years. He worked with Aaron Klug on virus structure and with Hugh Huxley on muscle. He then moved to Heidelberg to open the Department of Biophysics at the Max Planck Institute for Medical Research where he remained as director until his retirement. During this time he completed the structure of tobacco mosaic virus and solved the structures of a number of protein molecules including the structure of the muscle protein actin and the actin filament. Recently he has worked on the molecular mechanism of muscle contraction. He also initiated the use of synchrotron radiation as a source for X-ray diffraction and founded the EMBL outstation at DESY Hamburg. He was elected to the Royal Society in 1981 and is a member of a number of scientific academies.
John Finch is a retired member of staff of the Medical Research Council Laboratory of Molecular Biology in Cambridge, UK. He began research as a PhD student of Rosalind Franklin's at Birkbeck College, London in 1955 studying the structure of small viruses by x-ray diffraction. He came to Cambridge as part of Aaron Klug's team in 1962 and has continued with the structural study of viruses and other nucleoproteins such as chromatin, using both x-rays and electron microscopy.
Tags: Douglas Hartree
Duration: 3 minutes, 15 seconds
Date story recorded: July 2005
Date story went live: 24 January 2008