NEXT STORY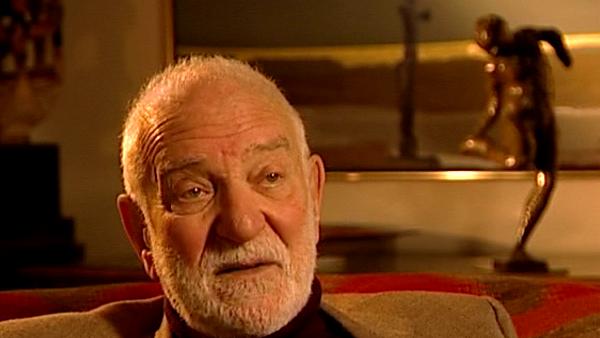 Not wanting to meet my heroes
1
2
3
4
5
6
People like de Kooning and Francis Bacon and Dubuffet – they were... they were the people that I was... that I had pinned up on my wall. So I was looking at surface and I was looking at what it felt like to be inside the body. I was very conscious of the body, and I was trying to say, 'Well, if you're lying down you feel heavy, so you're compressed into the ground a bit more and so on, and the shapes are compressed and so on'. I mean all that stuff came into it... or you're, you know... a man pulling his shirt off because he... he's all pulling, and his head's got small because he's trying to get his shirt over the top, or he's... you know, all that stuff. And that was... and the ways in which I was doing it would be very often to... to incorporate stones or things into the... that... that gave me some of the... of the sort of... they became breasts, they became parts of the body, and then I suppose I was moving away from that. And I used to go down to Porlock, and by that time my son, Tim, was... was about three or four and we used to... must have been four or five. We used to walk along the beach. We'd get a... a wheelbarrow, we'd collect stones, took all these stones back. I didn't dare say they were for sculpture because we used to stay at this little... this little bedsit. 'What do you want all those stones for, Mr Caro?' I said, 'Oh, I'm making a... I'm making a rockery'. It was a... completely untrue. But, you know, those were the... that... that was I was interested in and I would... we would even go... I would even find ways to take casts of the stone cliff and... and then, you know, I'd take this plaster and stuff and try and get it off. And of course you had to... it needed something to get between the plaster or the rubber or whatever I was using, and so I used to wait for the tide to come in, and then we pulled and tried to get it off. Tim loved it but it was fun; it was fun. These were... and then I'd use these pieces, these... these moulds, to make casts from and incorporate the casts to my sculpture and incorporate the stones into my sculpture. And that was... that was how they were... It's not so different from... from doing it with pieces of steel, actually.
[Q] I never knew this, and I think it's fascinating that... that Moore was making these human figures that had a relationship to landscape, and you were taking aspects of the landscape and then trying to turn them into aspects of the human body.
Yes, I was; I was. And that was the early stuff and... and, you know... and I did that for a... for a... quite a while, here, working here in the... in the garage and pushing them out. They were... they were Moore... They didn't come out of Moore, though; they came more out of... out of Picasso, really. They came out of Picasso and Picasso's... you know, I'd been very turned on at the end of the time with Moore by... by Picasso... Picasso paintings of... you know, of the cocks and the... and I tried all sorts of things and ways of... of putting pieces of clay on to... on to stands and then going around so that eight or ten pieces of clay would be stuck on to, say... knock each one, kick them, bang them, knock at them. Let them drop on the floor; let's see what happens. I tried to see what happened, you know. These were all ways of... of trying to loosen up from exactitude and loosen up to... into accident and so on, which is a sort of surrealist approach. And finding, you know... I remember... even at Moore's it must have started, because I remember finding an enormous... an enormous tree root that had fallen, and sawing it, and sawing it, and sawing it, and making it into – I destroyed it, I don't know what happened to it – into a... the head of a bull, you know, because it just suggested it. All these things... you're getting suggestions and then you were... you were going with it.
British sculptor Sir Anthony Caro (1924-2013) came to prominence in 1963 after a show at the Whitechapel Gallery. Keen to create a more direct interaction with the viewer he placed pieces directly on the ground, rather than on plinths, a technique now widely used. He held many honorary degrees and was knighted in 1987.
Title: Developing as a sculptor
Listeners: Tim Marlow
Tim Marlow is a writer, broadcaster and art historian. He founded "Tate: The Art Magazine" in 1993 and was presenter of Radio 4 arts programme "Kaleidoscope" from 1991 to 1998, for which he won a Sony Award. He has presented art programme's on BBC 1, Channel 4 and Channel 5, including a documentary about JMW Turner, and written about art and culture for various British newspapers and magazines including "The Guardian", "The Times" and "Blueprint" He is Director of Exhibitions at the White Cube gallery in London as well as a visiting lecturer at Winchester School of Art, an examiner on the Sculpture MA there and former creative director of Sculpture at Goodwood
Tags: Francis Bacon, Pablo Picasso, Henry Moore
Duration: 4 minutes, 49 seconds
Date story recorded: November 2005
Date story went live: 24 January 2008