NEXT STORY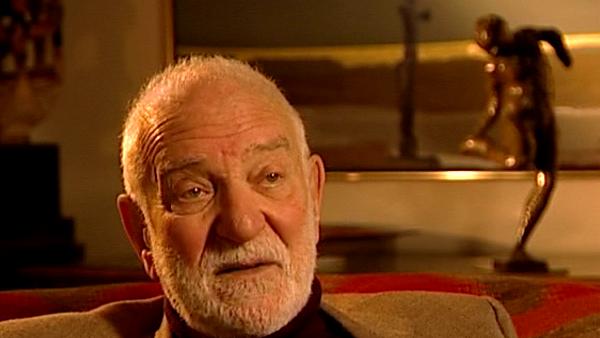 Approaching a sculpture
1
2
3
4
5
6
I mean, I also work with all sorts of other materials too, but steel's the one that's most... most natural to me. I never thought it would be – never thought for a moment; I mean, clay is the natural thing. Clay does what you tell it to; clay does what you want it to do, push it here and it goes in. Steel's resistant; it's much more resistant than that. The first time was... I suppose in '50... about '60, I suppose, yes, '60. I had been... I went down to Canning Town to the scrap yards and bought some H beams, some old second-hand stuff and... and, you know, circles and things. Never seen this stuff before. Couldn't cope with it, didn't know how to stick two pieces of steel together. I remember asking Frank Martin: 'How do I stick two pieces of steel together?' He said, 'Oh, you either weld them or you bolt them'. Didn't know. I'm very impractical, you know. I'm not into all that stuff, not into making at all, don't like making. And I stuck them up... I think twenty-four hours for the first one. Stuck it up, all this different, you know, parts; there were three or four parts to it. Went and got Sheila, said, 'What do you think?' And I was going to make it much more ordinary. She said, 'Leave it, leave it, leave it; it's fine'. And I went from there. And... and in fact one sculpture... you know, basically, when I went wrong I was... it worked. One sculpture... I remember David... Gabriel Cohen... Gabriel Cohen was a very good American sculptor and not much known now. And he came over here, and came and visited me, and I was making a sculpture and he said, 'You should make that piece float'. And I did and it spoilt it. And I've always regretted that on that sculpture. I shouldn't have listened; he was seeing it... he was seeing it in a different way.
I used to work in this... in this studio here and I worked in this studio because... really because of Ken. No, I don't say I worked in the studio – because I had to work – but the way I worked was... was because of what Ken had said to me on that night in... the first time I went to America... we spent a long night; we met at the Cedar Bar, and we talked and we continued to talk until six o'clock in the morning when he went back to Washington. He told me a lot about his life and he told me a lot about how he made art and he told me that he made art flat on... on horses. He put the canvas out on a horse so that it was flat and he couldn't see; he couldn't make those sort of aesthetic judgements. And I thought to myself: how could I do that in sculpture? Well, one way to do it was to put the sculpture flat, and I did make one sculpture flat on the floor, but it didn't suit me. That was a lot how David worked – flat, and then stood it up. Didn't suit me. But that one car garage suited me fine because it was too small to put a sculpture in and look at it. I had to live inside it somehow. I used to sit in that place with one sculpture there for a couple of months. It took that long. I would move something an inch or two and that would be the day's work; I mean it was really so small, the movements and the things. There's only room for one sculpture in there when you're making a big sculpture. I mean all those big sculptures in there – the first ones. And it was a great way of doing it because I just could not be aesthetic; I could not make those sort of judgements which relied on my previous taste. I had to make... I had to make changes from inside the sculpture instead of making them from outside it. It was... it was a good way to work. So I worked there for three years or more and then finally got other studios and so on.
British sculptor Sir Anthony Caro (1924-2013) came to prominence in 1963 after a show at the Whitechapel Gallery. Keen to create a more direct interaction with the viewer he placed pieces directly on the ground, rather than on plinths, a technique now widely used. He held many honorary degrees and was knighted in 1987.
Title: Working with steel
Listeners: Tim Marlow
Tim Marlow is a writer, broadcaster and art historian. He founded "Tate: The Art Magazine" in 1993 and was presenter of Radio 4 arts programme "Kaleidoscope" from 1991 to 1998, for which he won a Sony Award. He has presented art programme's on BBC 1, Channel 4 and Channel 5, including a documentary about JMW Turner, and written about art and culture for various British newspapers and magazines including "The Guardian", "The Times" and "Blueprint" He is Director of Exhibitions at the White Cube gallery in London as well as a visiting lecturer at Winchester School of Art, an examiner on the Sculpture MA there and former creative director of Sculpture at Goodwood
Tags: Canning Town, America, Cedar Bar, Frank Martin, Gabriel Cohen, David Smith, Sheila Girling, Kenneth Noland
Duration: 4 minutes, 40 seconds
Date story recorded: November 2005
Date story went live: 24 January 2008