NEXT STORY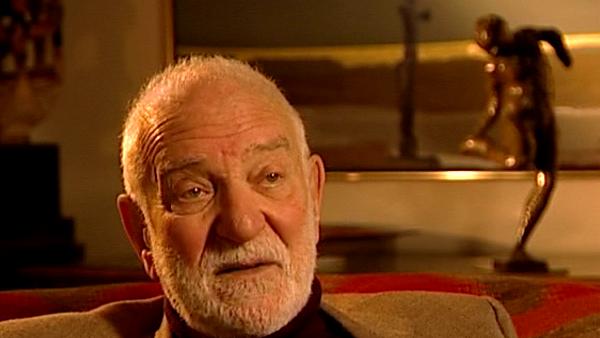 My parents' feelings about art
1
2
3
4
5
6
I knew what I didn't want to do because my dad wanted me to be a stockbroker, and I think it would have been horrible. It would have been... I knew it would be horrible. It's very unreal, and I don't like, you know, bits of paper which don't mean anything. And I did... I always liked drawing and I liked messing around with clay. It was first of all a little bit, you know... And I don't know – do you think one sort of likes the idea of the sort of life? One likes the idea of... I remember my son, really, my oldest son, going in for... for, you know, watching animals and seeing them, simply because of "Daktari" on the television and, you know, he liked that – the idea of that life. And I think I liked the idea of the artist's life where, after all, you know, you could bum around as an artist, can't you? You don't have to do set hours or anything else.
[Q] So your father wanted you to be a stockbroker and join the family firm because that was his work?
Yes, yes, yes. And my older brother was sick and he couldn't join the family firm, so everything was sort of put on to me. And my sister, who was also older – you weren't allowed to be in the stock exchange if you were a... a woman. So it was all put on to me; I was going to be the one who was going to do it and I just couldn't... couldn't bear the idea. And I really had to fight quite hard to... to get family permission. I didn't really want to do anything that he didn't want, and I struggled and trained as an engineer, or trained... went to an architect's office at one time and I did the... I drew the orders of architecture... and I was so bored I used to go and read in the loo. And then he said, 'Well, if you don't like that, do engineering'. I mean, I was a real loser, you know. 'Go and do engineering.' So I went and do... did engineering.
[Q] This was at university, at Cambridge?
Cambridge. And there I... I really worked not at all, not a bit. But who wants to work at something like heat engines, you know, how much heat you put into a bath, and how much hot water and... oh, it's so... it's so dull. The only bit I liked about that was when we did geological – you know, we did sort of surveys, you know, surveying, putting a stick up and seeing where... where the...what is the height of it and so on – you know, making maps. I mean that was interesting because it was sort of real. But I didn't really enjoy any of that. Well, I enjoyed being at Cambridge, and then I was in the Navy and finally I... I wrote a letter to my father. I... my father had taken me actually to see a man called Marsden who used to teach at St Martin's. He was a sculptor. And we went up to this chap's department and my father had asked him... he'd... my father had an introduction to him. He said, 'Come and look at Tony's sculpture'; I'd made a head of something. So we got into a taxi; we went down and saw this sculptured head, and then came back, and Marsden said to my father, 'He'll never be any good'. My father was rather pleased. I didn't pay any attention. So anyway I wrote this letter to my parents and said, 'Look, I'm sure I could teach', and I... you know. And they said, 'Well, you do realise, you know, you won't be able to get married, you won't be able to have any sort of life, and you couldn't... if you were... if you were doing it as an amateur, you couldn't afford to have your sculpture cast in bronze', and all that things. And I didn't pay any attention. I said, 'I want to do it', and, finally, they sort of... they capitulated; they gave in. My father was very... he was very supportive after that and I... I went to Regent Street Poly and, you know, began. But after that I mean... but he died before I'd... you know... well, he saw me get married but he didn't see any children, didn't see any grandchildren.
British sculptor Sir Anthony Caro (1924-2013) came to prominence in 1963 after a show at the Whitechapel Gallery. Keen to create a more direct interaction with the viewer he placed pieces directly on the ground, rather than on plinths, a technique now widely used. He held many honorary degrees and was knighted in 1987.
Title: Becoming an artist
Listeners: Tim Marlow
Tim Marlow is a writer, broadcaster and art historian. He founded "Tate: The Art Magazine" in 1993 and was presenter of Radio 4 arts programme "Kaleidoscope" from 1991 to 1998, for which he won a Sony Award. He has presented art programme's on BBC 1, Channel 4 and Channel 5, including a documentary about JMW Turner, and written about art and culture for various British newspapers and magazines including "The Guardian", "The Times" and "Blueprint" He is Director of Exhibitions at the White Cube gallery in London as well as a visiting lecturer at Winchester School of Art, an examiner on the Sculpture MA there and former creative director of Sculpture at Goodwood
Tags: Cambridge, Saint Martin's College of Art and Design, Regent Street Polytechnic, navy, Tony Marsden
Duration: 4 minutes, 34 seconds
Date story recorded: November 2005
Date story went live: 24 January 2008