NEXT STORY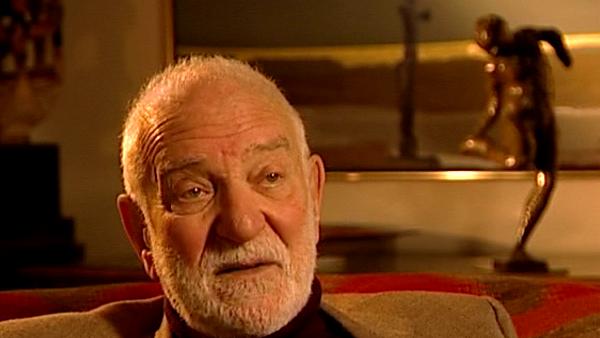 My use of colour
1
2
3
4
5
6
[Q] How much did getting a new studio, bigger studio, change your work?
Probably... well, I'm trying to think of the studio I had in Lowden Road, which was a sort of basement. It probably did change it a bit. I wasn't becoming quite so dependent on... on not looking in that way, you know, and I started to be more willing to look. So, I mean, that's... yes. And then getting a very big studio like I have now – I mean the same studio as I have now, which I got... I don't know what year – fairly late '60s, I think. Then I took... then I... then I really took different means to get to where I wanted to get. For example, I would make things and then put them away.
I'm much more interested in method; I'm very interested in method. I'm interested in the way that you... how you approach a sculpture. So you might start and do it – do two hours work on it. For in... the table sculptures, I mean, two hours work on them, make them in here, and then don't look at them for three months, and when they... they come back you see them afresh and you... you know, they've been... they've been properly made by then; they've been ground; they're looking new. And so you're seeing something, and you can say, 'It's no good there. I'd turn it upside down, it needs a bit on the bottom', or, you know, or... or 'I love it, it just needs that and it's finished'. I mean, you know, there were hundreds of different... but you didn't look at it as sort of as attached. And I noticed that Matisse did the same thing, and I've seen pictures of Matisse where he's done something, and I'm sure he did it that night and said, 'Tomorrow I'll change...' and next day he said, 'It's right as it is', you know. I started thinking that way because I worked in Toronto years later – I don't know when.
[Q] '71? '72?
Oh yeah. I worked there and then made these sculptures very fast... big, big sculptures, made very fast on... with a crane so there were four. I could have four on the pad at the same time, and one had to come off everyday. So I was doing quite quick... quick stuff. And then I would go away and come over here, and while I was away Willlard and Jim and people would... would weld them up so they were firm and strong, and then I'd go back and look at them and say, 'Oh that's completely wrong, I'm going to change that'. I find that's a good way of working. I thought, 'Well, I'll work like that in the... in... in England too', and that's how I came to doing the small sculptures like that.
Big sculptures: I work a bit like that in... now. But I... I found that other things have come in which I'd never expect. But your method really, the way that you... the way that you... that you attack a sculpture is terribly important – or a painting. I mean, you know, Sheila likes to work on one painting and stick with it. I don't; I'll work on a painting and then I'll move... on a sculpture. I'll... then I'll move away from it and give it a chance to... to cook in my mind. And... and so, for example, now I've got several sculptures in the studio and now I've decided to use a bit of colour on some of the sculptures. Well, because these latest ones – I'm talking about the latest things – are galvanised, you can't paint them. If you paint them you lose the galvanised things so they... all that work – you'd have to go back to the shot blaster and repaint and re-... re-blast them and then galvanise them again and then paint again. So it's... you mustn't make that mistake. So I've been working a little bit on models, which I've never done before. So I will always adjust according to what the thing needs but I... but I... I think the thing of steel is... it's so straightforward, you know. Now it's a little bit less straightforward, because I'm working in cast iron as well as steel, but it is pretty straightforward. Put it, and if it's not right you take it away, you know? But there are different ways of putting and there are different ways of... I mean, like him... like... like David Smith puts it... puts it... very put. Whereas mine touches. I... I know that... I notice that difference. I notice that David's more American in that way.
British sculptor Sir Anthony Caro (1924-2013) came to prominence in 1963 after a show at the Whitechapel Gallery. Keen to create a more direct interaction with the viewer he placed pieces directly on the ground, rather than on plinths, a technique now widely used. He held many honorary degrees and was knighted in 1987.
Title: Approaching a sculpture
Listeners: Tim Marlow
Tim Marlow is a writer, broadcaster and art historian. He founded "Tate: The Art Magazine" in 1993 and was presenter of Radio 4 arts programme "Kaleidoscope" from 1991 to 1998, for which he won a Sony Award. He has presented art programme's on BBC 1, Channel 4 and Channel 5, including a documentary about JMW Turner, and written about art and culture for various British newspapers and magazines including "The Guardian", "The Times" and "Blueprint" He is Director of Exhibitions at the White Cube gallery in London as well as a visiting lecturer at Winchester School of Art, an examiner on the Sculpture MA there and former creative director of Sculpture at Goodwood
Tags: Matisse, Sheila Girling, David Smith
Duration: 5 minutes, 35 seconds
Date story recorded: November 2005
Date story went live: 24 January 2008