NEXT STORY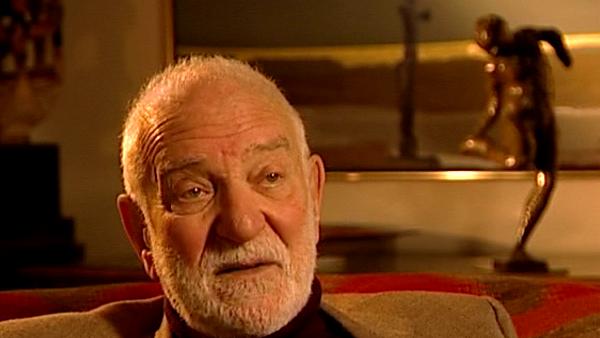 Anxiety builds confidence
The pros and cons of my career
1
2
3
4
5
6
[Q] Does sculpture ever feel like a chore?
Bits of it, little bits. Certainly the business side of it is a chore – a real chore. And we never paid enough attention to it; we never paid attention to merchandising our sculpture or our careers, and we thought it was beneath us. We thought... we were such pricks; we thought it was beneath us to... to... you know, to try and get a response from the public, and we would just make our sculpture and that was enough. And it was all going to be fine. The fact is, it wasn't all fine and, had we done a bit more of that, we would all be more famous and more successful or more... or sell all the sculpture we made or something. And look at this generation now. They've done that; they've done that. They've probably done it too much but they have known how to market themselves. That side is a chore.
Sometimes, when something's been fabricated, I don't enjoy fabrication; I don't want to weld, I don't to grind. And sometimes, if I've made a lot of sculpture or created a lot of sculpture, it then has to be fabricated and the studio's taken up with noise and people, and I... and I can't seem to make a new sculpture. And that is... that's kind of irritating. But, no, the making of sculpture is never a chore; it's a pleasure. I wouldn't do it if it was a chore, you know. It's a delight and you come back and you've made a good sculpture or you've made something you think is going to be all right and you...you're over the moon. You're... you're absolutely, you know, on wheels; you love it – love it. The best days. We are so lucky, Sheila and I, because Sheila painting and me sculpturing, what could be better? What can be better than that? It's a life. I mean, you know, lots of people of our age are retired or in homes or something awful, you know? No, we go down that place every day, and if we get something good done it's a... it's... it's such a reward.
[Q] I know your lack of complacency is what's made you the artist that you are. But I do find it odd to hear you say, 'If we'd been more professional, or if we'd been more aware we could have been more successful'. I mean, in a way, how could you have been more successful? If one measures the way that an artist's career is perceived, you've shown in almost all the major museums, if not all of them, you know. You have work in all the major collections; you're an Order of Merit; you're... you know, you've been knighted. You've worked collaboratively with all sorts of people. I mean, of course, everyone could say in their lives they could... they could have done things better but, deep down, what is it about your career then, as an artist, that you really think you could have improved upon?
Well, I'm very satisfied, but not everybody liked my show, damn it. No, there's one thing. I mean, you know, that's... that's... and actually it would have...it would have been horrible if everybody had liked it.
[Q] Well, you said in the '60s, when everyone was loving the colour sculptures you wanted to make them tougher or...
I know, I know. Yeah, but you know, that's a sort of thing. You know, I have to think about money too, you know? And that... some artists don't have to, you know. I don't think really there's anything but, you know, you think to yourself, well, wait a minute, Rodin had twenty-seven assistants, you know? And I actually don't want twenty-seven assistants but I sometimes would like to be able to make more sculptures and, and that might mean, you know, I had six studios instead of one, or something, you know. I don't think... no, I don't really have any... any... No, I... I'm not really complaining at all. I'm really... really, in a way, saying that there was another... there was another way of... of tackling... and I think I am associating it all with everybody too, with the others... tackling our lives as sculptors. And I would think, I do think that... that we didn't all follow through and go on making good sculpture all the time, you know. It sometimes... it... well, you do have... you have troughs and hills. You can't... you can't help it but, you know... But I think that, you know, there are always adjustments that one could have made.
British sculptor Sir Anthony Caro (1924-2013) came to prominence in 1963 after a show at the Whitechapel Gallery. Keen to create a more direct interaction with the viewer he placed pieces directly on the ground, rather than on plinths, a technique now widely used. He held many honorary degrees and was knighted in 1987.
Title: The pros and cons of my career
Listeners: Tim Marlow
Tim Marlow is a writer, broadcaster and art historian. He founded "Tate: The Art Magazine" in 1993 and was presenter of Radio 4 arts programme "Kaleidoscope" from 1991 to 1998, for which he won a Sony Award. He has presented art programme's on BBC 1, Channel 4 and Channel 5, including a documentary about JMW Turner, and written about art and culture for various British newspapers and magazines including "The Guardian", "The Times" and "Blueprint" He is Director of Exhibitions at the White Cube gallery in London as well as a visiting lecturer at Winchester School of Art, an examiner on the Sculpture MA there and former creative director of Sculpture at Goodwood
Tags: Sheila Girling
Duration: 5 minutes, 3 seconds
Date story recorded: November 2005
Date story went live: 24 January 2008