NEXT STORY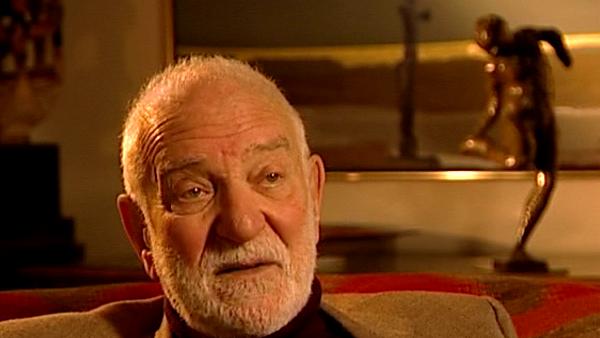 Triangle workshop: A collaboration with Frank Gehry
1
2
3
4
5
6
My thinking marched closely towards Clem's in a way. In... in... when I worked I think I was fortunate enough to live here so I was well away from him. I didn't make the sculpture that Clem wanted me to make. I made my own sculpture.
[Q] Was he quite deterministic in that way? If he could have done, would he say, 'Do... why don't you do this and this and this?'
No, no, he never said that. He never said that... absolutely the reverse in fact. His idea was to be a critic, to look at what you'd done and criticise that. He didn't want to give you any ideas. In fact you would say, 'I have an idea, Clem, I might do...' 'Just do it and then show me'. Always. Never... never wanted to... to do that. Though with Michael I'm much more inclined to say, 'What do you think about this idea? What do you think about going this way?' And then Michael will build on that and develop it, and I think that's quite a different sort of way of going. But Clem, you know, I would make a lot of sculptures and then Clem would go down to the studio, come down... come over here. If he was over here we'd go... we'd have a session at the studio. He'd look at them and say, 'You know, I think the... the right hand side of that's weak or, you know, what do you think about... you know, about adding a bit here?' Or... you know, we'd talk about like that... it would be... very much a critic... very much a critic in that way.
[Q] Do you think he was over-dogmatic though? His reputation is...
He's not dogmatic. He wasn't dogmatic. He's just incredibly clear and, oddly enough, since I saw this show of... of Paul McCarthy, which shook me, I said, 'I must read art and... I must read "Avant Garde and Kitsch"'. And it's so relevant; it's so relevant today, written in 1939; it's so relevant. And when Clem writes about Monet, he's... he seems to be able to see the world... the world and the detail at the same time. It's very broad and it's very... it's very exact, his criticism of both.
[Q] Do you think you had a very strong desire to gain his approval? Was he often in the back of your mind when you were making things?
No, not when I was making things, but I would love to have his approval, love it if he liked my work.
[Q] Did it disturb you if he didn't?
Not particularly and, you know, as I read now from reading this... this book that Ian Barker did, you know, there were times when... and remembering, for example, the "Writing Pieces". Clem didn't like them and... and there was... you know, I made another sculpture, called the "Mosque" I think, remember? Clem didn't like it; I think he was wrong but he didn't like it. You know, it was... it didn't influence; it didn't interest me particularly when he liked or didn't like. What I was interested in was the detail in a way, what he... what he was not liking and so on. But I think his... his approval meant a great deal to me and I... I can't... It's very hard. I mean, Clem died nearly twenty years ago, I think, and it's very hard to recall what Clem was like but I can't help thinking now that quite a lot of sculptors and painters... I see a young sculptor... I'll say it now, though I don't like to criticise any other sculptor particularly, but Rachel Whiteread's show at Gagosian. I think Rachel Whiteread was very good; I haven't seen the stuff at the Tate but I think the stuff in Gagosian is very... nearly very good. It just... I think to myself if only she had had Clem to talk to, she would have pushed it that stage further. I feel that really interesting... what she's on to is really interesting, but she doesn't seem to be able to develop it, and Clem could somehow get you to develop it, get you to go that one stage further. That... that I think is... was his... was his... his thing. He was in the studio; it was in the studio he was good. I'm not talking about his writing, but it was in the studio he was... he was so good. But you had to do it; he didn't do it.
British sculptor Sir Anthony Caro (1924-2013) came to prominence in 1963 after a show at the Whitechapel Gallery. Keen to create a more direct interaction with the viewer he placed pieces directly on the ground, rather than on plinths, a technique now widely used. He held many honorary degrees and was knighted in 1987.
Title: Clement Greenberg
Listeners: Tim Marlow
Tim Marlow is a writer, broadcaster and art historian. He founded "Tate: The Art Magazine" in 1993 and was presenter of Radio 4 arts programme "Kaleidoscope" from 1991 to 1998, for which he won a Sony Award. He has presented art programme's on BBC 1, Channel 4 and Channel 5, including a documentary about JMW Turner, and written about art and culture for various British newspapers and magazines including "The Guardian", "The Times" and "Blueprint" He is Director of Exhibitions at the White Cube gallery in London as well as a visiting lecturer at Winchester School of Art, an examiner on the Sculpture MA there and former creative director of Sculpture at Goodwood
Tags: Mosque, Avant Garde and Kitsch, Gagosian, Tate, Clement Greenberg, Rachel Whiteread
Duration: 5 minutes, 7 seconds
Date story recorded: November 2005
Date story went live: 24 January 2008