NEXT STORY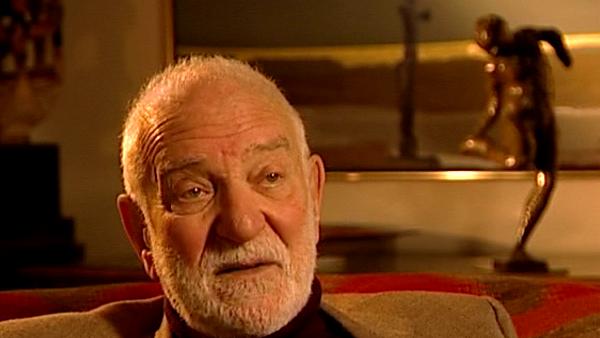 Artists: clergymen manqués?
What I didn't have at school
1
2
3
4
5
6
[Q] It's often presumed by people who don't know you that the fact that you read engineering at Cambridge must, in some ways, have informed the work that you made later on – that has a kind of constructed quasi-engineering quality to it. Do you still maintain it had absolutely had no bearing on what you eventually did?
Well, I... I don't think it had much bearing on it, but I mean that was the side that I would have gone if I'd gone into engineering, I would have gone into making bridges. I would have gone into that sort of things, and in fact when I look at Maillart's bridges, or some of the bridges, you know, that... that are made, they're marvellous. They're marvellous pieces of sculpture and I... I... so I suppose there is that slight connection of real and making things, real things, and making things that stand up and so on. But there's no... there's no immediate connection in the way that people are saying, you know, 'Did you make things using beams and so on?' I didn't.
[Q] Which was more formative for you: your years at school, at Charterhouse, or your... or your time at Cambridge?
I hated my life... my years at Charterhouse, and I don't feel there was anything good about them at all. Cambridge was much better.
[Q] What was it you hated about Charterhouse?
Oh, don't let's talk about it. It was just... it was a horrible place and I think it's a... I think actually, now that I see my grandson at fifteen – he's doing fine actually – but I realise it's a... it's a dreadful time of a boy's life, and probably a girl's life too, because you're... you're half... you... you try to behave like a man, but you've actually got the body and... and the metabolism of a... of a child. And... and, you know, you're having a constant sort of tug of war between you. And Cambridge was... at last one was... one was a person. At last one was a person, and able to make friends of other people who think... thought similarly, or... you know. I had a lot of friends who were interested in religion in Cambridge and... and I really enjoyed... I enjoyed the sort of conversations we had – the sort of times we spent together. It was wonderful. And, funnily enough, last week we went to... to Eton – only because I was meeting my son, Tim, at... at Heathrow, and he had to catch another plane, so we had to go and have lunch somewhere fairly close, and it... it happened we chose a place in Windsor. And we went through Eton. And I saw Eton... Eton College, and I thought, 'These boys will never get over this'. Eton will leave its sort of stamp and its mark on them; it's happened too early because it's like Cambridge or Oxford. But it's five years too soon and it will never... they'll never get over it. And I think it's... it's born out in a lot of old Etonian friends I have, you know. And I think when he... what hit me, that sort of atmosphere was... was what I got at Cambridge, and I didn't get it at... at Charterhouse at all.
British sculptor Sir Anthony Caro (1924-2013) came to prominence in 1963 after a show at the Whitechapel Gallery. Keen to create a more direct interaction with the viewer he placed pieces directly on the ground, rather than on plinths, a technique now widely used. He held many honorary degrees and was knighted in 1987.
Title: What I didn't have at school
Listeners: Tim Marlow
Tim Marlow is a writer, broadcaster and art historian. He founded "Tate: The Art Magazine" in 1993 and was presenter of Radio 4 arts programme "Kaleidoscope" from 1991 to 1998, for which he won a Sony Award. He has presented art programme's on BBC 1, Channel 4 and Channel 5, including a documentary about JMW Turner, and written about art and culture for various British newspapers and magazines including "The Guardian", "The Times" and "Blueprint" He is Director of Exhibitions at the White Cube gallery in London as well as a visiting lecturer at Winchester School of Art, an examiner on the Sculpture MA there and former creative director of Sculpture at Goodwood
Tags: Cambridge, Charterhouse, Eton College, Oxford
Duration: 3 minutes, 35 seconds
Date story recorded: November 2005
Date story went live: 24 January 2008