NEXT STORY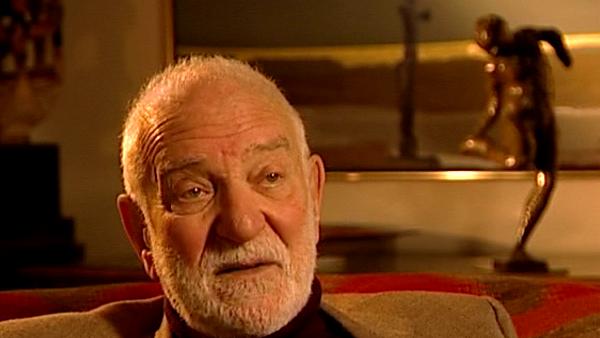 The changing language of sculpture
Changing perceptions of sculpture
1
2
3
4
5
6
Well, I'm so delighted that sculpture has become, you know, a real force in the artistic life of all of us and that is really... not only in this country but particularly in this country. It... it's something I never, for a moment, believed, because it was the poor relation always when I was young. And that's not true anymore.
[Q] Who was it who said that sculpture was something you tripped over when you stepped back to get a better view of a painting?
Yeah, exactly, exactly, exactly. Barnett Newman or Ad Reinhardt. It's exactly true, yeah. So that is... yes, that is a big difference. And I think the ambition is enormous and I... I welcome that very much. The art... the art, I think, is... is very confused, very confused. I mean I think, in a way, that the sculpture that's being made in Spain is more interesting probably as sculpture than the sculpture that's being made here. But when you see the show at the Hayward or when you see this chap, Paul McCarthy, you know, I think... I think they are staggered by the world around them. The world around them is... is blasting them; it blasts us all. I mean the amount of information, the amount of imagery, the stuff on the television, the stuff everywhere – it's... it's coming at one like an avalanche, and I don't think they quite know how to cope it and what to do with it. But it's really impressive the way they're trying. I think they're... they're not giving themselves the leisure to make great art, or to see great art, but they are trying to cope with it. They're trying to do something with it and... and that impresses me; that impresses me a lot. What do you think about that?
[Q] I think it's very interesting, and I think that... I think we lived... I think we live in a very fragmented, pluralistic age and we get that... the art that reflects that. I think it's a very confused and knowing and intensive world of mass media, and I think the art reflects... reflects that. There's no one way now; there's no one dominant form.
When you think how quiet it was in the... you know, in the Clinton years, something which... I mean, you know, like it was very... it was... somehow it seemed to be much more set. It's not set at all now. How do you cope with that in art? I don't know, I don't know. And I think, don't think these guys know. But, by God, they're trying, you know.
British sculptor Sir Anthony Caro (1924-2013) came to prominence in 1963 after a show at the Whitechapel Gallery. Keen to create a more direct interaction with the viewer he placed pieces directly on the ground, rather than on plinths, a technique now widely used. He held many honorary degrees and was knighted in 1987.
Title: Changing perceptions of sculpture
Listeners: Tim Marlow
Tim Marlow is a writer, broadcaster and art historian. He founded "Tate: The Art Magazine" in 1993 and was presenter of Radio 4 arts programme "Kaleidoscope" from 1991 to 1998, for which he won a Sony Award. He has presented art programme's on BBC 1, Channel 4 and Channel 5, including a documentary about JMW Turner, and written about art and culture for various British newspapers and magazines including "The Guardian", "The Times" and "Blueprint" He is Director of Exhibitions at the White Cube gallery in London as well as a visiting lecturer at Winchester School of Art, an examiner on the Sculpture MA there and former creative director of Sculpture at Goodwood
Tags: Barnett Newman, Ad Reinhardt, Paul McCarthy
Duration: 3 minutes, 8 seconds
Date story recorded: November 2005
Date story went live: 24 January 2008