NEXT STORY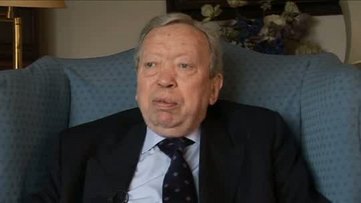 Tiny Rowland's control over The Observer
Tiny Rowland, Lohnro and the decline of The Observer
1
2
3
4
5
It was… I mean I liked it pretty well, at first, anyway. And I was very lucky, in that Donald, though a hardworking editor when he was there, did take a lot of time off. And I think one year, I worked out that out of the 51 issues we produced, which was not 52, because of Christmas, I think, you know, I had produced 18 out of the 51, because he'd been away, writing a book and this kind of thing. I'm not saying he was idle. He wasn't, but he had various distractions on.
And I always liked him. I mean, there was a spring in my step when I knew the week I was in charge and I was going to run the paper was much different from when he came back from his hol or whatever it was. I knew then, sort of Cinderella, you know, the whole coach turned into a pumpkin again. So I didn't find… I would have very much liked to have been editor of The Observer, and I think when I first went there, I thought that might happen, because Donald had already been editor for five or six years, and I thought that, you know, he might go on and do something else, and it was possible. But it gradually became clear, mainly because the paper was owned by Lonrho, who were a merchant adventurer's company in Africa, Tiny Rowland, the chairman of Lonrho, had this tremendous fight over Harrods with Mohamed Al-Fayed, and it gradually became clear that I wasn't the favourite son of the ownership, or indeed of Tiny Rowland. And I think I knew.
I stayed way too long. I think I knew by about 1986 that it was unlikely that I was ever going to inherit the paper from Donald. And gradually, the, sort of, encroachments of Lonrho's own interests in the paper, the row with Al-Fayed, Harrods, the… frankly, and this was quite helpful to me, the absolute passionate hatred of Mrs Thatcher that took over, wasn't there when I first went there. Tiny Rowland was very keen on Mrs Thatcher, and was very much against the paper not being full-blooded in support of her, but because of the waving through of Al-Fayed's application to become owner of Harrods by the Tory government, he conceived a passionate hatred for her and we used to run all sorts of odd stories about Mark Thatcher getting, sort of, bribes. I think a lot of them were true, but it was certainly, from his point of view, Roland's point of view, that… and he said to me once, 'As far as I'm concerned, she and her son should both be in the dock at the Old Bailey'.
And so that was, in fact, quite helpful to me, because up to that point I'd been regarded as a rather dangerous left-winger. And they'd been… I think Sir Edward du Cann... was a Conservative MP, I think he was chairman of Lonrho, not that chairman meant anything. Only thing that mattered was being chief executive, which is what Tiny Rowland was. But once he fell out with Thatcher in the political sense, things became easier. But I did become more and more unhappy about the way the ownership was influencing the policy of the paper.
I don't think we were heroic, either Donald or I, that early on, because he'd only just taken the paper over when I joined, the paper had been owned by an American oil company called Atlantic Richfield, but we more or less said to ourselves, or to each other, 'Look, if Tiny wants the business news of the paper, we'll have to let him have it, and he can do what he likes with that. That's his interest'. And therefore, sure enough, he soon put in a complete stoolpigeon of his as business editor. And the business news became a kind of Lonrho propaganda sheet. But you don't… and there's the other sort of danger, once you do that, they're not satisfied. So having got the business news, he wanted the main paper. He wanted the news pages, he wanted the leaders, and it gradually got worse and worse. Very bizarre stories. Sort of, you know, stories about mysterious, sort of, Indian mystics who, we had to, sort of, pretend were people of great significance because Tiny had taken a shine to them.
And it was… it became… one day, I remember, I think it was after I'd gone, the whole splash was about Al-Fayed's tax returns. That was the lead story in the paper. Well, you can't run a paper like that. And I think the reason that readers began to fall away, a lot of them went to buy the new Independent on Sunday, was because The Observer reader didn't like things like that being in… they thought Mr Rowland was corrupt. And they saw what was going on and they didn't like it, and so therefore the last days of The Observer, under the ownership of Lonrho, were very sad. And I wouldn't criticise Donald Trelford, who'd stayed there long after I left, but I think that he gradually put up his hands and let the Lonrho board walk all over him.
A distinguished British political observer, Anthony Howard (1934-2010) wrote for 'The Guardian', 'The Sunday Times' and 'The Observer' for over 40 years, during which time he has commented on the historical significance of global political issues. He was also editor of 'The Listener' and 'The New Statesman', and a reporter on both 'Newsnight' and 'Panorama'. He was awarded the CBE in 1997.
Title: Tiny Rowland, Lohnro and the decline of "The Observer"
Listeners: Christopher Sykes
Christopher Sykes is a London-based television producer and director who has made a number of documentary films for BBC TV, Channel 4 and PBS.
Tags: Harrods, Lonrho, Atlantic Richfield Company, ARCO, Independent on Sunday, Roland Rowland, Tiny Rowland, Donald Trelford, Mohamed Al-Fayed, Margaret Hilda Thatcher, Mark Thatcher, Edward Dillon Lott du Cann
Duration: 5 minutes, 4 seconds
Date story recorded: November - December 2008
Date story went live: 21 May 2018