NEXT STORY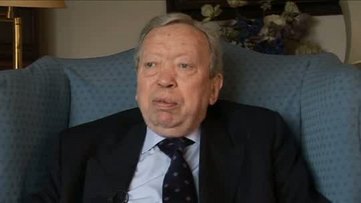 Michael Heseltine's early business enterprises
Missing the pressure of deadlines
1
2
3
4
5
Well, if you're a political commentator, your life is dominated by, sort of, when you have to deliver your copy. And in the last… well, I think I was already over 65, I wrote a weekly column in The Times. And therefore, that dictated my timetable and, you know, I'd begin thinking about it the moment one was published, which I think was… Tuesday was the day they were published, I'd begin worrying about the next one. And try and find, sort of, topics. You have to self-create, you know. You can't actually bounce off a debate. Other people are doing that in the paper. You have to be a self-starter, so you had to think of topics and what you wanted to write about. So it is, I think, the deadline that determines your week, in those days. Of course, when I was working properly full-time, it was a daily grind. Though I never really… I mean, I suppose I spent more time on weekly papers, whether on papers like the New Statesman and The Listener or on a Sunday paper like The Observer, than I ever did on a Daily. In fact, the only time I worked for a Daily was the brief 18 months I worked for the Manchester Guardian, and then The Guardian.
And then, of course, when you're young, you do as the news editor tells you. He says, 'I want you to cover this and...' And the great difference between then and now is that in those days, if the news editor saw you sitting in the office, even if you were typing something, he'd say, 'What are you doing?' And you'd say, 'X', and he'd say, 'Well, come on, I think it's time you went out to Altrincham, because the oldest cart-horse in Cheshire is there, today. You go and look at that'. And it was considered a sin to be, sort of, sitting in the office. Now, if you go into a newsroom, everyone's crouched over their computers. They never leave. They never go out at all. They use the telephone a bit, but it's a tremendous change, and I think a change much for the worse, in that journalists never see the outside world. They may hear about it, they watch it on the screen, tellies are probably playing, they've got their own computers, but they are chained to a desk. And it's no longer the life that I joined 50 years ago.
How did you plan the week? I suppose that the… once you become an editor, of course, you're thinking all the time. You're thinking forward all the time, and I used to sometimes say to myself when I was editor of the New Statesman, what on earth would happen if I were run over by a bus tomorrow? No one would know what was… because I was very bad. I didn't have any wall charts up or anything like that. Everything was planned. It was all in my head. Other people who were more efficient always have tremendous, sort of, wall charts. You know, forthcoming issues. I didn't like that kind of thing, so I just thought I'd carry it around with me. But it did mean that if anything had happened to me, they would have left completely at sea. So you would, I think… you know, if you are editing a Sunday paper or a weekly paper, you are always planning, you know, what's going to be next week, what features we brought, what review fronts have we got, what serials are we going to run? So a lot of it is not just instantaneous at all. But I suppose if you are Polly Toynbee, you have to say to yourself… she writes now in The Guardian, doesn't she, at least twice a week. You know, well, she must go to bed fretting if she's got the right subject for that next day.
And it is a worry. I mean I miss having... not having an outlet now, I miss not having a column, but my goodness, I grumbled at the time. So the tyranny of this, sort of, week after week, having to produce this stuff. But now it's gone, I miss it so... you mustn't be perverse, but I suppose you do map things out. You think ahead as to what the events are, you sort of plan for doing things. You make plan for making an expedition to go someplace, hear something, watch something. And you have to live with it all the time.
But as I say, when you're younger and you start out, you are really… your labour is directed by your immediate boss, normally. And the average reporter goes into the office not knowing at all what he's going to do that day until he's told. And that's true, even if you're crouched over a computer. You're told that what I want you to look at is X, Y or Z. So you're a man under authority, as it were, and that would be true of, I suppose, a majority of journalists, whether they work on a national paper or a local paper, their work is directed for them.
A distinguished British political observer, Anthony Howard (1934-2010) wrote for 'The Guardian', 'The Sunday Times' and 'The Observer' for over 40 years, during which time he has commented on the historical significance of global political issues. He was also editor of 'The Listener' and 'The New Statesman', and a reporter on both 'Newsnight' and 'Panorama'. He was awarded the CBE in 1997.
Title: Missing the pressure of deadlines
Listeners: Christopher Sykes
Christopher Sykes is a London-based television producer and director who has made a number of documentary films for BBC TV, Channel 4 and PBS.
Tags: The Times, New Statesman, The Listener, The Observer, The Guardian, Manchester Guardian, Mary Louisa 'Polly' Toynbee
Duration: 4 minutes, 5 seconds
Date story recorded: November - December 2008
Date story went live: 21 May 2018