NEXT STORY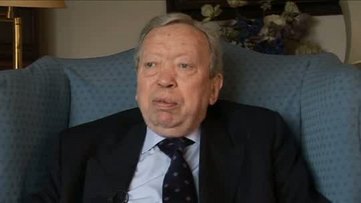 Never meeting Margaret Thatcher while she was Prime Minister
Not getting on well with Margaret Thatcher
1
2
3
4
5
I can do very little about Margaret Thatcher, because she and I didn't get on, and we really had minimal contact. I think I started off on a bad foot with her. In the early 1970s, I was the presenter of that radio programme on Radio 4, The World This Weekend. And I can't remember what it was about, but a reporter on The World This Weekend had been down all the way to where she then lived, in Kent, on some sort of National Trust property or something, to interview her. And there was a lot of news that day, for one reason and another, and so it became clear to the producer, rather than to me, that the Thatcher interview wasn't going to make it into the programme. And he then said, I think rather unfairly, he said, 'Tony, you know Margaret Thatcher'. I said, 'I hardly know her at all'. And he said, 'Well, you know her,' [I said] 'I don't know her at all', [he said] 'You'd better ring her up, here's her number, and tell her we're not using her interview'. I said, 'Oh, come on'. And he said, 'No, no, honestly, it's better if you did it than if I did it'. And so, with great reluctance, I picked up the phone, dialled the number and said, 'Oh, Mrs Thatcher, it's Anthony Howard here from The World This Weekend. I just wanted to thank you so much for that splendid interview you gave us, and I'm very, very sorry…' 'Mr Howard? You are telling me that interview is not going to be used?' 'Mrs Thatcher, yes, I'm afraid so'. 'Will you please thank that sweet young man who came all this way to see me for all the trouble he took, and I'm sorry his work has gone for nothing. Thank you, goodbye'.
I mean, she won, absolutely hands-down, and it was an example to me, very early on, that she was quite a formidable politician. But I'd known that, I think, even earlier, that she was a member of parliament from Finchley, and one of my first dealings with her was that there was a great row going on about the Finchley Golf Club, which I think was supported by the local council, having some quota for Jewish members. And I remember, rather nervously… she wasn't then a minister, I don't think, she wasn't even an under-secretary, but I approached her in the lobby of the House of Commons. This must have been in the very early '60s or perhaps even very late 1950s. She was elected in '59. Saying, 'Mrs Thatcher, could I have a word with you about the Finchley Golf Club?' 'Finchley Golf Club? What on earth has that to do with me?' And I said, 'Well, you've got a Conservative Council, and I understand…' 'Mr Howard, you have been totally misinformed', she said, and waltzed off. So she was obviously a hard cookie to deal with.
Now then I had a great friend, a Labour MP called Charlie Pannell, who was a trade unionist and he was a member for a Leeds constituency, but he had been a council leader somewhere in Kent. But he was actually Margaret Thatcher's pair, which meant, you know, they… one voted, you have a member of the opposite party you could reach an arrangement with as to whether you have to take part in anything below a three line whip. And Charlie, who was a great friend of mine, used to tell me, 'You watch that woman', he'd say. 'She's going to go to the very top'. I didn't take it seriously then, but my goodness… he was dead by the time it happened, but he was right. And she was a very considerable figure. Of course, Ted Heath couldn't stand her, and I think it was Jim Prior who forced Ted to take her into the shadow cabinet… or take her into the cabinet. Could it have been Prior? No, maybe it was Willie Whitelaw, but she was taken into the shadow cabinet first, that's right, the shadow cabinet, because they were saying they had to have a woman.
And so she was first of all in the shadow cabinet, and then, when Ted won the 1970 election, she became Minister of Education. And she ran into all that trouble about 'Margaret Thatcher, milk-snatcher', because she stopped the free milk, in my view quite wisely, because when I was in school, all the free milk used to be tipped down the drain anyway, but there we are. But she became very unpopular, and I think Ted did really consider, sort of, removing her from the cabinet and bringing someone else in, but he let her stay in the cabinet. And then, immediately after, of course, the 1974 election, which Ted lost, the first 1974 election, she became, having... no I'm told not having said boo to a goose during the period with the cabinet discussion, she became very critical of the leadership and the strategy, economic strategy, that Ted had followed in government. And she gradually sort of began to make an impact.
But on the other hand, she never, I think, intended… she intended to be the supporter of Keith Joseph. She greatly admired Keith Joseph. And until Keith blew it by making a very unwise speech about the breeding habits of the working class or something, which didn't go down a bomb with anyone, she was quite content to be his, sort of, backer. But when he imploded, she then, you know, to people's astonishment, put herself forward to be the rival to Ted Heath. Ted's meant to have told her, 'Well, stand if you want to, you won't get any votes, I'll tell you that. Won't get any votes'. And anyway, she pressed on and she had the Daily Mail very firmly on her side, who campaigned for her. She didn't have the Daily Express, which was then quite a powerful paper, and was very pro-Ted Heath, and she didn't really get much of press support, apart from the Mail. But her man of affairs, Airey Neave, who was her campaign manager, went around to everyone with a long face saying, 'We're doing very badly, we're doing very badly. You know, if you could find it in your hearts to support Margaret, it would save her from humiliation. Otherwise, you know, Ted will get so arrogant if he wins a big victory. You can't let him have a big victory'. That was the way they played it. And to everyone's surprise, it ended up with Margaret Thatcher getting 130 votes, I think, and Ted getting 119, and she was there, she'd won. There had to be a run-off, and other people came in, like Willie Whitelaw and Geoffrey Howe and various others, but she romped home on the second ballot, and became leader of the party.
A distinguished British political observer, Anthony Howard (1934-2010) wrote for 'The Guardian', 'The Sunday Times' and 'The Observer' for over 40 years, during which time he has commented on the historical significance of global political issues. He was also editor of 'The Listener' and 'The New Statesman', and a reporter on both 'Newsnight' and 'Panorama'. He was awarded the CBE in 1997.
Title: Not getting on well with Margaret Thatcher
Listeners: Christopher Sykes
Christopher Sykes is a London-based television producer and director who has made a number of documentary films for BBC TV, Channel 4 and PBS.
Tags: BBC, Radio 4, The World This Weekend, Finchley Golf Club, Finchley, Daily Mail, Daily Express, Margaret Hilda Thatcher, Charles Pannell, Edward Richard George Heath, Jim Prior, James Michael Leathes Prior, William Stephen Ian Whitelaw, Keith Sinjohn Joseph, Airey Middleton Sheffield Neave, Richard Edward Geoffrey Howe, Donald Trelford, Mark Thatcher, Michael Ray Dibdin Heseltine
Duration: 5 minutes, 53 seconds
Date story recorded: November - December 2008
Date story went live: 21 May 2018