NEXT STORY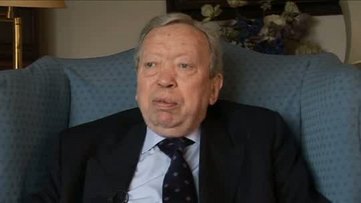 Predicting that Tony Blair would be Prime Minister
Robin Cook was not leadership material
1
2
3
4
5
Robin Cook was a really extremely formidable parliamentarian, a very good speaker. Very incisive and, when in opposition, some of those speeches he made were really terrific. He wasn't an easy man. When I was editor of the New Statesman, I had to have somebody… or you had to have... a sort of MP who'd come into your Friday conferences and keep you informed on what was going on. And the first MP I asked, oddly enough, we're now talking 1972, and he'd just become a member of parliament, was Neil Kinnock. And Neil was a director of Tribune. He said he was a director of Tribune, and I said, 'Well, that is an impediment and I don't think I could really have that'. And so I don't know… so I then had Eric Heffer in, before Robin Cook. And Eric became a member of the government in '74, and Robin Cook was elected in '74, and he became the New Statesman, as it were, tame labour MP. And he came, really quite religiously, to every Friday conference we had. We always had a, sort of, policy, kind of planning-ahead conference on Friday, not so much for detail in the paper, but kind of the issues that we should be bearing in mind, should be addressing.
And he came to that. He was always very late. He was always a bit chaotic, I thought. He'd sort of arrive half an hour late, that kind of thing. And he was distinctly, in manner, pedagogic, and I didn't find him immediately attractive at all. But he did the job and he wrote articles for us. He was always, I always thought, a bit sort of cavalier that… I remember once, he wrote a piece and I got a letter in, sort of, number of corrections and stuff. And I showed it to him, probably at the Friday conference, and said, 'What am I to do about this, Robin?' And he said, 'Oh, junk it... bin it. It's ridiculous. Trivial point'. So I said, 'Well, I can't do that. I mean, is he right or is he wrong?' He said, 'Oh, well, it doesn't matter'. And I was a bit taken aback by that, that, you know, if somebody catches you out, you have to actually say, well, he's right, you'd better put it in the paper and I'll put at the bottom, sorry, got it wrong, or something. But he… I did put it in the paper, but he wasn't at all pleased, and thought it should just be ignored. So he was a difficult man.
I had met him first when he was a lecturer at Edinburgh University, and I'd gone up to talk to the Labour Club there or something. That's when I first met him. He was then a prospective candidate. And he seemed to me, even in those days, rather like a garden gnome, but he was a good speaker. And of course, I think his tragedy was that if he had, sort of, had the bearing and looks and the appearance of, say, Tony Blair, he would have become leader of the party. The only reason why he was always, sort of, not considered seriously, was because he had this sort of red beard and he was rather small and he had a slightly, sort of, bad voice, too, for politics. Slightly high-pitched and… but as I say, he was a very effective orator. But I think he was always a bit miffed, because after all, he'd gone to the House of Commons nine years before Tony Blair. Tony Blair wasn't elected until 1983. Robin Cook was elected 1974. So he shouldn't even have been considered leadership material. It must have been a bit hurtful.
I don't know what his relations were like with Tony Blair. Of course, his very brave resignation over Iraq obviously poisoned them, but he was right about that, and Blair was wrong. I don't think they were ever close. Blair admired his skill as a speaker, and certainly sent him a hero-gram in that arms… was it? was the Arms for Iraq scandal, you know, the great report where he made his great speech for the opposition frontbench. And he used… I think he used to have it on his wall in his office, this, sort of hero-gram that Blair sent him for that performance, which was remarkable. But I don't think they were ever close. He was very much a man who walked alone. I think he made a complete cock-up of being Foreign Secretary, and all that stuff about an ethical foreign policy, or a foreign policy with ethical dimensions... what I think he actually said. But it was bound to rebound and come back to haunt him. I think he behaved… he was a very peppery man. He got very cross on some trip to Israel, and there was a, sort of, terrible scene with some poor, sort of, captain or major in the Israeli army, which you shouldn't do as a visiting minister. If you're going to make a row, make it with the Foreign Secretary, don't throw a row on the spot with a soldier. It wasn't as if the soldier was doing anything wicked or anything like that.
So I think he wasn't a very good Foreign Secretary. He was appalled when Blair told him that he was going to shift him, and I think it was touch and go at that moment whether he wouldn't leave the government. That after just one term as Foreign Secretary between '97 and 2001, Blair said, 'Look, I'm terribly sorry, I've got to make changes'. And he'd been given some kind of assurance, not, I think, by Blair, but by someone on Blair's behalf, that he was going to be alright, and he wasn't going to be moved into the Foreign Office. I always thought he was going to be moved, because I worked it out that Blair couldn't shift Gordon Brown and therefore had to make some room at the top. Therefore, the only thing to do was to shift the Foreign Secretary, because Brown was too powerful to be shifted. And I think I actually wrote that he was going to lose his job. He can't have liked that very much, but I was right in saying that. But it was a terrible blow to him, and I think he almost thought that he'd rather walk out of the government than become leader of the House of Commons, which was the job he was offered. Leader of the House of Commons used to be a very grand job. It's gradually, sort of, receded and become less and less significant. And he was never happy from that moment on. I mean, I'm not saying he didn't make a principled stand over Iraq and all that, and the war. I'm sure it was principled, but it certainly was made easier for him by the fact that he thought he'd already been humiliated by Blair, and therefore he was… you know, he wasn't held back by any sort of personal loyalty feeling for the Prime Minister when the disagreement came over the war in Iraq, and of course he got that right. And he would probably have bounced back, but the tragedy was... what he died within a couple of years, I think it was. As I say, not an immediately attractive, not an engaging, not a lovable man, but a very able man who was probably underestimated by the parliamentary party. And I'm not saying that he'd have been a better leader than Blair, because Blair was clearly a very successful leader, but he certainly, at that time, had the right to think that he should have been considered.
And that he wasn't, I think was unfair. And it was because, as he himself said, he said, well, it's where the phrase comes from, 'I'm not leadership material, because I look like a garden gnome'.
A distinguished British political observer, Anthony Howard (1934-2010) wrote for 'The Guardian', 'The Sunday Times' and 'The Observer' for over 40 years, during which time he has commented on the historical significance of global political issues. He was also editor of 'The Listener' and 'The New Statesman', and a reporter on both 'Newsnight' and 'Panorama'. He was awarded the CBE in 1997.
Title: Robin Cook was not leadership material
Listeners: Christopher Sykes
Christopher Sykes is a London-based television producer and director who has made a number of documentary films for BBC TV, Channel 4 and PBS.
Tags: New Statesman, Tribune, Robert Finlayson 'Robin' Cook, Neil Gordon Kinnock, Eric Samuel Heffer, Anthony Charles Lynton Blair, James Gordon Brown
Duration: 6 minutes, 59 seconds
Date story recorded: November - December 2008
Date story went live: 21 May 2018