NEXT STORY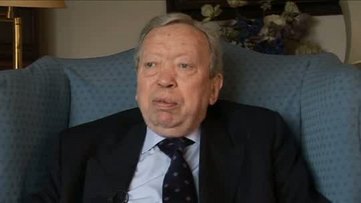 At the end, Enoch Powell was a very unhappy fellow
Enoch Powell 'had the air of the fanatic'
1
2
3
4
5
I can't remember when I first met Enoch Powell. I think it was long before 'Rivers of Blood' and that kind of thing. He was, of course, an extremely awkward colleague for Ted Heath in the shadow cabinet, long before the row took place over race. In 1966, he made a speech during the election, which oddly enough was against the Vietnam War, and he said, in that voice of his, he said, 'Not since the Secret Treaty of Dover...', which not many people in his audience could ever have heard of, but... has there been so, sort of, humiliating a deal done by a leader of the British nation with a foreign nation. The Secret Treaty of Dover was all to do with Louis XIV, this was to do with LBJ and Wilson. So he was very strange. I mean, he was, at that moment, I think, Shadow Minister of Defence. And Ted and he never got on, of course, but Enoch Powell was a very considerable figure. One of the odd things I used to do, and I don't know why, I used to get asked to an election dinner every year at Westminster School, where the game is that you actually, sort of, make up Greek or Latin epigrams and have them sort of slung in and read out. No one else could play the game, but Powell was brilliant. And he was, as a classicist... you know, he'd been a professor at the age of 23 or something in Australia admittedly, but he was very, very brilliant. And he kept all that scholarship up. I know that, because I used to go to his house, mainly for, sort of, radio interviews and stuff, but the bookshelves were heaving with classical texts.
Now I had, I think, a great, sort of, feeling of alienation from him, from the moment in 1968 that he made the 'Rivers of Blood' speech. And I used to say that I would be prepared to have any kind of conservative MP wanting to write for the New Statesman, writing in it if the article is good enough, but I said there's one exception to that: I would not have Enoch Powell. I think, looking back, I was wrong, but there was something about Enoch. There was the air of the fanatic, you see, that there was… I mean, those eyes, and he didn't seem to me to be a fully paid-up member of the human race, I have to say. And that, I think, with even people with greater knowledge of him than I had, people like Ian Macleod, said, you know, the trouble with Enoch is that he's led astray by the remorselessness of his own logic, and you have to get off the train before he crashes it into the bumpers.
And I think there was something about Enoch that was odd. On the other hand, he was a very considerable speaker, no great assets in terms of voice or anything like that, but he really knew how to make a powerful speech. I heard him, and this was very early on indeed, a speech he made in 1958, about the killing of the Kenyans in the time of the Kikuyu and all that stuff, in a... what was basically a concentration camp run by the Kenyan police. And he spoke in the House of Commons. I don't know why I was there, but I was, very early in the morning, about sort of 1:30am or something. And said, you know, we are told that these men are subhuman. So be it, he said, and went on to develop an argument from there. It was powerful stuff. Again, you know, here was he, more than any other person, standing up for the rights of black Africans. So it was hard to, sort of, make a racist out of him. I don't think he ever was a racist myself, at all. I think there were other members of the Tory party who were racist. I don't think Enoch was. But he could sound like one. And of course, it was bitter beyond belief that, I think from the moment Ted became leader of the Conservative Party, Enoch was really unhinged. Enoch stood for the leadership at the same time as Ted did. Ted got about, I think, 137 votes or something, Reggie Maudling got 120, Enoch Powell got 15. And I think this ate into his soul. He knew in every sense that he was an abler man than Ted Heath. And I think every morning, he looked at himself in the shaving mirror and he said, why is that booby leader of the Tory Party and why am I not? I think it really got to him. He had a kind of de Gaulle complex. He knew that he could save the nation, or thought he knew he could save the nation. And I think it ate him up, and that's why I think that, when Ted actually won that 1970 election, he was mightily… more disappointed than Harold Wilson. And for him, it was curtains. That he knew that if Ted had lost that election, he would be back in contention and the party might well turn to him. But when Ted won this election by a comfortable majority, 35 seats or something, in 1970, Powell knew it was the end for him.
A distinguished British political observer, Anthony Howard (1934-2010) wrote for 'The Guardian', 'The Sunday Times' and 'The Observer' for over 40 years, during which time he has commented on the historical significance of global political issues. He was also editor of 'The Listener' and 'The New Statesman', and a reporter on both 'Newsnight' and 'Panorama'. He was awarded the CBE in 1997.
Title: Enoch Powell 'had the air of the fanatic'
Listeners: Christopher Sykes
Christopher Sykes is a London-based television producer and director who has made a number of documentary films for BBC TV, Channel 4 and PBS.
Tags: 'Rivers of Blood' speech, Secret Treaty of Dover, Louis XIV, Vietnam War, New Statesman, Kikuyu, John Enoch Powell, Edward Richard George Heath, Louis XIV, LBJ, Lyndon Baines Johnson, James Harold Wilson, Iain Norman Macleod, Reginald Maudling, Charles André Joseph Marie de Gaulle, James Harold Wilson
Duration: 5 minutes, 12 seconds
Date story recorded: November - December 2008
Date story went live: 21 May 2018