NEXT STORY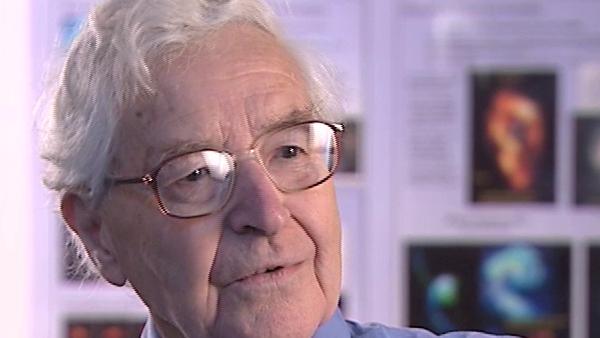 The naming of pulsars
A lecture course in physics
1
2
3
4
The lectures I gave right after the Nobel was… was the first time that at this university physics had been taught to all physics students in the first year. By physics students, I mean people who are doing physics but may be chemists later, the natural sciences Tripos where you do physics and chemistry and mathematics and… and a biological science, perhaps, are normally streamed so that those who are going to be physics' specialists do one course and those who are going to be biologists do another course. And in my year it… they were all thrown together and I had to design a lecture course, which didn't bore the brightest, but didn't baffle the weakest, and that was a very challenging course to give. And I gave that for 3 years and I… I enjoyed that, and I think the students enjoyed it too because I tried to make the lectures fun and when you're teaching about gyroscopes you can have lovely demonstrations where you spin yourself round on stools holding bicycle wheels with lead tyres. And I've had students come up to me later on in their life and those are the bits of the lectures that they actually remembered. And I've… always enjoyed that sort of teaching. And I don't know if this happens nowadays, but in… in my teaching career students were perhaps a little more adult than they are these days, where they often come straight from school, and they play tricks on you in… in the last lecture of the Michaelmas term, if that's the end of the course. And one year they…they served me a lad, a student in pyjamas came down from the back of the class – there were 400 in the class at that time – walked all the way down in pyjamas with a breakfast tray of rather soggy toast and coffee. And I had to give the lecture munching these things and, after that was finished, they gave me a Christmas card which was painted on a square metre of York paving slab about two inches thick. And they expected me to carry that away and I just about managed it, out of the door. But that's… those are the sort of incidents in teaching that you remember, but it's always… it's always for me been a very serious business and I've never given exactly the same lecture at course twice, because I think if you do that you become a little bit automatic and you shouldn't be doing that. So I've tended to try and change things a little bit from year to year. But I think that… that mix of teaching and then going off to do some research is… is just a mix that… that works and it's what Cambridge seems to be particularly good at and… and what the best of our students actually seem to respond to. So that's always been a major interest of mine right to the very end. And I still enjoy giving popular lectures and try… and try and teach people the simple facts of relativity and physics because pulsars are a jolly good way of… of getting… getting into that.
Antony Hewish (1924-2021) was a pioneer of radio astronomy known for his study of intergalactic weather patterns and his development of giant telescopes. He was awarded the Nobel Prize for Physics in 1974, together with fellow radio-astronomer Sir Martin Ryle, for his decisive role in the groundbreaking discovery of pulsars. He also received the Eddington Medal of the Royal Astronomical Society in 1969.
Title: A lecture course in physics
Listeners: Dave Green
Dave Green is a radio astronomer at the Cavendish Laboratory in Cambridge. As an undergraduate at Cambridge his first university physics lecture course was given by Professor Hewish. Subsequently he completed his PhD at the Cavendish Laboratory when Professor Hewish was head of the radio astronomy group, and after postdoctoral research in Canada he returned to the Cavendish, where he is now a Senior Lecturer. He is a Teaching Fellow at Churchill College. His research interests include supernova remnants and the extended remains of supernova explosions.
Duration: 3 minutes, 20 seconds
Date story recorded: August 2008
Date story went live: 25 June 2009