NEXT STORY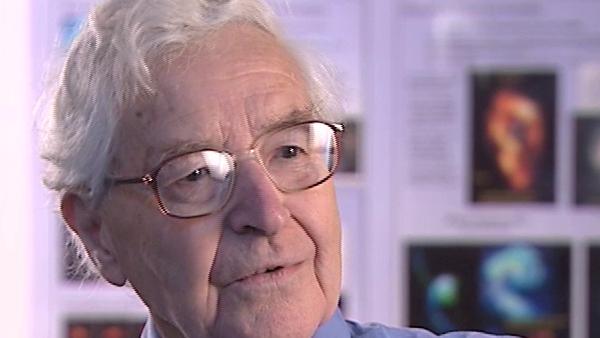 Criticism from America
1
2
3
4
After the pulsar discovery became public Jocelyn and I were just invaded by… by media of various kinds and the name 'pulsar' came about pretty rapidly and people have often asked, did you think of that or did somebody else? And the answer is that we didn't think about that. The… the name pulsar came, I was told, later by… by a letter from the science correspondent of the Daily Telegraph. I'm trying to think of his name at the moment. Memory fails for me at this… at this age, but I've got it down somewhere. He wrote to me years after and said, 'I invented that name' and I think it's a true story because nobody… nobody else has said they invented the name 'pulsar'. I mean, we were far too busy trying to do the science and… and answer more serious questions than to give these things name tags like that, but it's a jolly good name, 'pulsar', and it's stuck like 'quasar' and other names in astronomy, 'black holes'. It's a name with a resonance and I think it means something to people in general now. Pulsars do pulse and it's an obvious name to call them. But in those days we didn't know whether they were white dwarfs or neutron stars or whatever they were and when that name was invented, but it was the science correspondent of the… of the Daily Telegraph who actually did it.
Antony Hewish (1924-2021) was a pioneer of radio astronomy known for his study of intergalactic weather patterns and his development of giant telescopes. He was awarded the Nobel Prize for Physics in 1974, together with fellow radio-astronomer Sir Martin Ryle, for his decisive role in the groundbreaking discovery of pulsars. He also received the Eddington Medal of the Royal Astronomical Society in 1969.
Title: The naming of pulsars
Listeners: Dave Green
Dave Green is a radio astronomer at the Cavendish Laboratory in Cambridge. As an undergraduate at Cambridge his first university physics lecture course was given by Professor Hewish. Subsequently he completed his PhD at the Cavendish Laboratory when Professor Hewish was head of the radio astronomy group, and after postdoctoral research in Canada he returned to the Cavendish, where he is now a Senior Lecturer. He is a Teaching Fellow at Churchill College. His research interests include supernova remnants and the extended remains of supernova explosions.
Duration: 1 minute, 29 seconds
Date story recorded: August 2008
Date story went live: 25 June 2009