NEXT STORY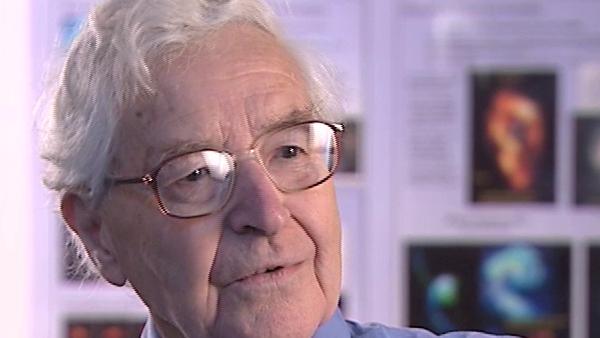 How the war helped to focus my mind
A career-changing encounter
1
2
3
4
During the war it was quite easy to get to Cambridge; you didn't need to get scholarships and things to afford to come here. I don't think my parents could have afforded university fees in those days, but they were so short of technical effort in World War II that they… so long as you read physics with electronics – radio they called it, then physics with radio – you could get a place at the university. And they had an accelerated 2-year course to graduation.
But, being a Cornishman, I wanted to row on the river and I spent too much time rowing in the college boat – you know all about that of course, Dave – and it takes time. And I was on the… in the afternoons I was practising on the river when I should have been in the… in the physics lab, so I didn't do terribly well in my first year's exams.
And they said, well, you'd better go off to the wars and… be a scientist, so they sent me off to Royal Aircraft Establishment, Farnborough. And I was there for a while and then I went on to TRE [Telecommunications Research Establishment], which was the home of radar in Malvern, and that's where I first met Martin Ryle. And that really was when my real interest in physics began; I mean, I began to understand what physics was really about. In my first year at university, because I hadn't been taught too well at school, as I said, I didn't do terribly well. But I began to see what physics was about during the war and that's really where it all began for me. I had three gap years, as it were, doing wartime things.
Antony Hewish (1924-2021) was a pioneer of radio astronomy known for his study of intergalactic weather patterns and his development of giant telescopes. He was awarded the Nobel Prize for Physics in 1974, together with fellow radio-astronomer Sir Martin Ryle, for his decisive role in the groundbreaking discovery of pulsars. He also received the Eddington Medal of the Royal Astronomical Society in 1969.
Title: A career-changing encounter
Listeners: Dave Green
Dave Green is a radio astronomer at the Cavendish Laboratory in Cambridge. As an undergraduate at Cambridge his first university physics lecture course was given by Professor Hewish. Subsequently he completed his PhD at the Cavendish Laboratory when Professor Hewish was head of the radio astronomy group, and after postdoctoral research in Canada he returned to the Cavendish, where he is now a Senior Lecturer. He is a Teaching Fellow at Churchill College. His research interests include supernova remnants and the extended remains of supernova explosions.
Tags: University of Cambridge, World War II, Telecommunications Research Establishment, Martin Ryle
Duration: 1 minute, 38 seconds
Date story recorded: August 2008
Date story went live: 25 June 2009