NEXT STORY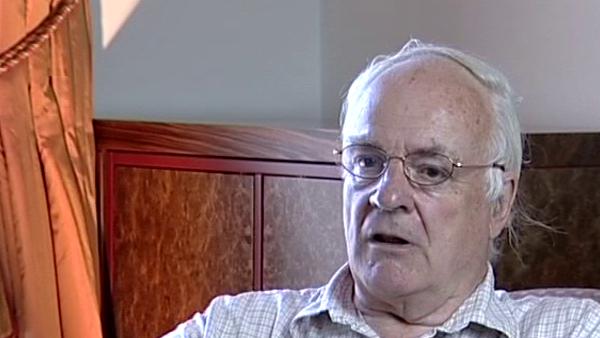 People at UCL: JBS Haldane
People at UCL: Michael White and Wolfgang Kuehne
Avrion Mitchison
Scientist
1
2
3
4
5
...
12
Michael White- M J. D. White, famous for his, well perhaps, for the book he wrote on animal cytology and evolution and he was interested in chromosomes and how they were distributed. And he was a very interesting person. Like Jack, very well educated. I think he was an old Etonian and I think that I was- from Leighton Park I was always rather impressed by people who came from Eton, and he could chat with Jack about 'The Inferno', they both could read Dante in the original. And like Jack, he was very much on the left. I don't know whether he was a member of the Communist party or not and I don't think that matters very much at that time really. He then- he left University College and went to the University of Texas where he set up a lab, which was going to continue with all his wonderful work. And then, after a year or two, the McCarthy era set in and Michael White was chucked out, and he had to go to Australia. And I think that was a crying shame because he was a terrific scientist, at least I thought he was, well he was a terrific scientist. He's an interesting scientist because he is somebody who you can say what it is that he missed. And what he missed was what Hamilton subsequently discovered, Haplodiploidy and it's connection with the evolution of altruism. What a wonderful piece of evolution. Michael White should've been alive to that and particularly because Jack, his good friend Jack Haldane, was always going on about altruism and it's genetics. Shame he missed out on that. And he- I don't know whether Michael White discovered Haplodiploidy, but I shouldn't think he did, but he certainly- that was all in his book. And, a third person who was a good- a great influence was Wolfgang Kuehne who is a German, who had left, not, I think, because he was Jewish, but because he was a communist. He was a chief technician and he was very Germanic I now know, in retrospect, he was a lovely man to work for. After the war he went back to the DDR and I lost touch with him.
Avrion Mitchison, the British zoologist, is currently Professor Emeritus at University College London and is best known for his work demonstrating the role of lymphocytes in tumour rejection and for the separate and cooperative roles of T- and B-lymphocytes in this and other processes.
Title: People at UCL: Michael White and Wolfgang Kuehne
Listeners: Martin Raff
Martin Raff is a Canadian-born neurologist and research biologist who has made important contributions to immunology and cell development. He has a special interest in apoptosis, the phenomenon of cell death.
Listen to
Martin Raff
at Web of Stories
Duration: 2 minutes, 42 seconds
Date story recorded: June 2004
Date story went live: 24 January 2008