NEXT STORY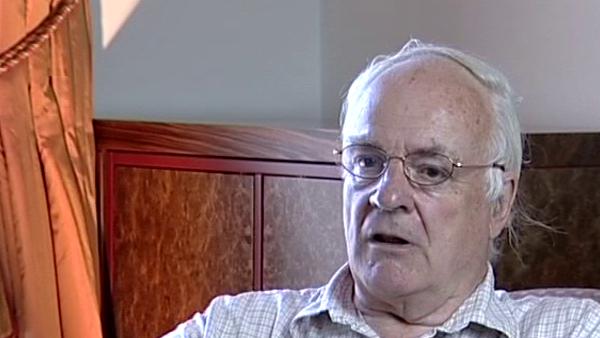 JBS Haldane: going to India
JBS Haldane and experiments
Avrion Mitchison
Scientist
1
2
3
4
5
...
12
He, I think, never did experi- really- he did- long, long ago he may have done in the first part of his life, he may have done a little bit of biochemistry, but he was interested in enzyme kinetics. He was always interested in the theoretical side rather than the practical side. Then in the physiology, I think he participated only as a planner and occasionally with the experiments, doing- being the subject of the experiments. He was never the person who twisted the knobs on the oxygen Did he have a group? Were there people working for him? So, he had a little, a tiny little group, Helen Spurway, Jim. During the war they had plans to build a larger group, but it never came to anything. I think he was profoundly not a group leader, actually. He was- he wasn't that supportive of other people, I don't think. Well- much his most distinguished student was Maynard Smith, but I don't think John Maynard Smith ever did an experiment with him. That wasn't their style. I think they were more interested in the natural world- He was a graduate student of J.B.S's? A graduate student, yes. Well he was an exceptional graduate student, Maynard Smith, because he had been- during the war he'd been an engineer during the war- a mathematical engineer- as a stress man for an aircraft company. I don't actually know exactly how he fitted in with Jack, but they were very close friends. You know, two Etonians again.
Avrion Mitchison, the British zoologist, is currently Professor Emeritus at University College London and is best known for his work demonstrating the role of lymphocytes in tumour rejection and for the separate and cooperative roles of T- and B-lymphocytes in this and other processes.
Title: JBS Haldane and experiments
Listeners: Martin Raff
Martin Raff is a Canadian-born neurologist and research biologist who has made important contributions to immunology and cell development. He has a special interest in apoptosis, the phenomenon of cell death.
Listen to
Martin Raff
at Web of Stories
Duration: 1 minute, 49 seconds
Date story recorded: June 2004
Date story went live: 24 January 2008