NEXT STORY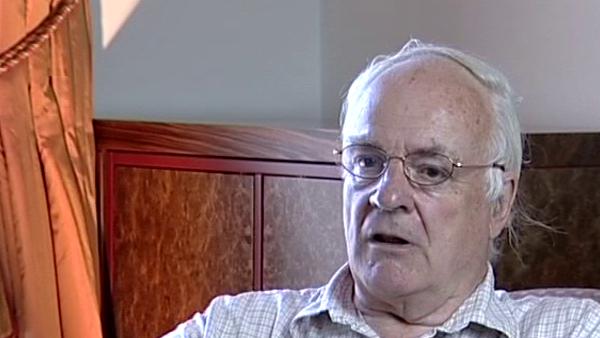 How my father made me independent
Avrion Mitchison
Scientist
1
2
3
4
5
...
12
Yes, my father, Gilbert Richard, was always called Dick. I've mentioned that he was a friend of Jack, J.B.S, at Eton and Oxford, that they were both in the cast of Nou's play. I guess that was how they got married. She was very young. She got married, I think, at the age of 16, during the war because when your loved one was going off to- to join the war, that was the thing to do; one of the things to do, anyway. And, again, somehow or other, she figures more in the story- that story than he does, because he was sent as a- I suppose as a classicist. He was a good classicist. He could write Latin poetry all his life. And he was sent to liaise with the Italians during the war, and he was badly hurt, actually not in the war, I think but through enemy action, but in a motorcycle accident. My mother, still well under the age of 21, flew off to Italy to nurse him, which she did. So, he- they had a curious relationship. I don't think I want to discuss their relationship with one another. I don't think it's terribly relevant to the story. It was a curious one and an oddball one, but it has been described in various biographies of my mother, so I don't think I need go into that. Right. As far as I'm concerned, my father was always supportive, totally supportive. I never for a moment thought he, other than- I think he loved his children equally. I think he probably liked his daughters best of all, but I think he loved everybody equally. To his daughters he referred to his three sons as 'the clergy' in the 19th century tradition of people of- of honourable people pursuing a profession, which was not altogether clear to the rest of the public.
Avrion Mitchison, the British zoologist, is currently Professor Emeritus at University College London and is best known for his work demonstrating the role of lymphocytes in tumour rejection and for the separate and cooperative roles of T- and B-lymphocytes in this and other processes.
Title: Father
Listeners: Martin Raff
Martin Raff is a Canadian-born neurologist and research biologist who has made important contributions to immunology and cell development. He has a special interest in apoptosis, the phenomenon of cell death.
Listen to
Martin Raff
at Web of Stories
Duration: 2 minutes, 40 seconds
Date story recorded: June 2004
Date story went live: 24 January 2008