NEXT STORY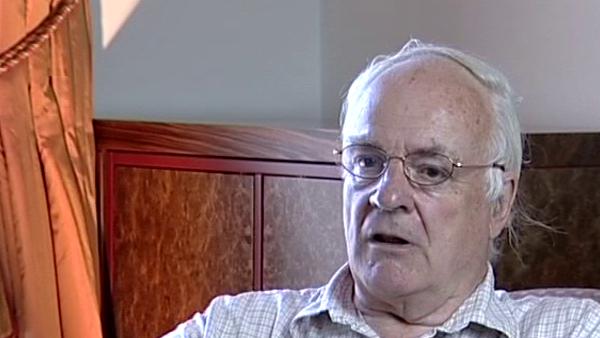 Working on genetics; Indiana and Tracy Sonneborn
Receiving the Commonwealth Fund Fellowship to go to America
Avrion Mitchison
Scientist
1
2
3
4
5
6
...
12
I opted right out of immunology for one year, on the advice of Jim Watson. He said- I- he said to me, I've had a wonderful time- he had a wonderful time- in Indiana University, which had some very interesting people in it at that time, why don't you go there and why not work for Tracy Sonneborn, which I did, on the paramecium aurelia. And, actually the- I followed that. I wrote to Sonneborn. I got a funny letter back from him, I remember, saying, you know, I'm touched that you should think of wanting to work with me. Could you please tell me who you are, and I think I'd written some- probably fairly, by modern standards impersonal letter. I didn't realise that I'd better send people CVs or anything like that. So then I- But I had got a Fellowship. I'd- I'd already applied- or was it before? I can't remember what timing it was. I got a Commonwealth Fund Fellowship for which I'm eternally grateful to the American Commonwealth Fund, which facilitated young Brits going to America. And they didn't have to be scientists, they could be architects or artists or cinematographers or whatever. But they were kind enough to do that. And they gave me a one very well paid Fellowship. I think I got $2,000 a year the first year and maybe $3,000 the second year. Even in those days that was not a- a huge amount, but that was enough to live on, and it was wonderful.
Avrion Mitchison, the British zoologist, is currently Professor Emeritus at University College London and is best known for his work demonstrating the role of lymphocytes in tumour rejection and for the separate and cooperative roles of T- and B-lymphocytes in this and other processes.
Title: Receiving the Commonwealth Fund Fellowship to go to America
Listeners: Martin Raff
Martin Raff is a Canadian-born neurologist and research biologist who has made important contributions to immunology and cell development. He has a special interest in apoptosis, the phenomenon of cell death.
Listen to
Martin Raff
at Web of Stories
Duration: 1 minute, 51 seconds
Date story recorded: June 2004
Date story went live: 24 January 2008