NEXT STORY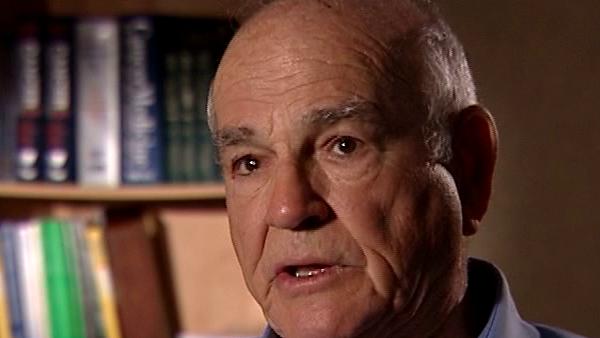 Getting married and continuing with clinical research
Baruch Blumberg
Physician
1
2
3
4
5
...
8
I sort of took in viscerally this idea of variation and the... and again, you know, it... it was the kind of, it's not just this experiment, but the vast variety that you see in a tropical jungle and... and you may recall, you know, in... in the last paragraph of The Origin of Species, Darwin speaks of 'the tangled bank'. He uses that as a kind of metaphor. Now, what he was referring to was what a sunken road in... in England, you know, but when you look at it, there are the kind of the roots and leaves and weeds and... and insects and the occasional animal, everything all kind of scurrying around, moving in with each other, and the idea of the... of the complexity, the interacting, interweaving complexity, each dependant on the... on the other, is... is... it's a sort of an anti-reductionist statement in a big way, you know, you have to look at the whole kind of picture. Well, that... the... in the tropics, things get written in a big bold way and things happen dramatically and this kind of variation where you, you know, in a plot, and... and probably in the jungle there in Suriname, there would be several thousand species of, you know, of insects and plants and grasses, trees and probably, you know, a couple of hundred trees, species of trees in a square mile. So that, I think, had a... had a major impression. Now this was reinforced later on when I did my hospital training at... at Bellevue Hospital, because again, we... we could see the variation in disease susceptibility and response to treatment in this very heterogeneous population in New York. We, in... in those days, in the 19... it would have been 1951, tuberculosis was still a very serious disease and... and widespread. The... the new antibiotics hadn't yet been introduced and we had a large acute tuberculosis ward there. There... there were big differences in susceptibility. Some populations, some ethnic groups, were highly susceptible; if they came in, you knew they were going to have a hard time with treatment. Whereas others were less common, less... they... not proportionate to their numbers in the population, and they... you could expect they were going to respond well to treatment. So again, this... this concept of variation and how people are different from each other. And also the... the effect of fieldwork is you see things in context. They're not... it's not a, you know, you get a container from the drug supplier, you know, from the laboratory supply company and work on that for the next few years, you know, it's ... and you were interested in the details, well now the molecular biology. In a funny way you forget everything else that ever, you know, the... the model of that is you take... take a mouse, grind it up, extract the DNA, throw away the rest of the mouse and then expect to know everything about the mouse from the DNA. It's not going to work. That's not the way to do it.
American research physician Baruch Blumberg (1925-2011) was co-recipient of the Nobel Prize in Physiology or Medicine in 1976 along with D Carleton Gajdusek for their work on the origins and spread of infectious viral diseases that led to the discovery of the hepatitis B virus. Blumberg's work covered many areas including clinical research, epidemiology, virology, genetics and anthropology.
Title: Focusing on variation
Listeners: Rebecca Blanchard
Dr Rebecca Blanchard is Director of Clinical Pharmacology at Merck & Co., Inc. in Upper Gwynedd, Pennsylvania. Her education includes a BSc in Pharmacy from Albany College of Pharmacy and a PhD in Pharmaceutical Chemistry from the University of Utah in Salt Lake City. While at Utah, she studied in the laboratories of Dr Raymond Galinsky and Dr Michael Franklin with an emphasis on drug metabolism pathways. After receiving her PhD, Dr Blanchard completed postdoctoral studies with Dr Richard Weinshilboum at the Mayo Clinic with a focus on human pharmacogenetics. While at Mayo, she cloned the human sulfotransferase gene SULT1A1 and identified and functionally characterized common genetic polymorphisms in the SULT1A1 gene. From 1998 to 2004 Dr Blanchard was an Assistant Professor at Fox Chase Cancer Center in Philadelphia. In 2005 she joined the Clinical Pharmacology Department at Merck & Co., Inc. where her work today continues in the early and late development of several novel drugs. At Merck, she has contributed as Clinical Pharmacology Representative on CGRP, Renin, Losartan, Lurasidone and TRPV1 programs and serves as chair of the TRPV1 development team. Dr Blanchard is also Co-chair of the Neurology Pharmacogenomics Working Group at Merck. Nationally, she has served the American Society of Clinical Pharmacology and Therapeutics on the Strategic Task Force and the Board of Directors. Dr Blanchard has also served on NIH study sections, and several Foundation Scientific Advisory Boards.
Tags: Suriname
Duration: 3 minutes, 31 seconds
Date story recorded: September 2007
Date story went live: 28 September 2009