NEXT STORY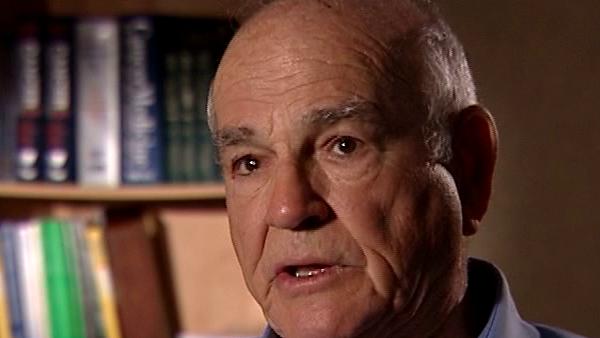 Studying hyaluronic acid at Oxford
Getting married and continuing with clinical research
Baruch Blumberg
Physician
1
2
3
4
5
...
8
I was married while in my last part of my hospital training. I didn't even think of getting married prior to that because the time that I spent was... would have been unfair, I think to... I think unwise to get married. But I had met Jean; she worked at Bellevue, in a laboratory there, in a research lab, and we met and we had sort of a Bellevue romance, you know, I'd take her out to dinner at the... at the hospital cafeteria. She was sort of shocked to learn later on that during my internship and residency, I actually saved money, you know. The thought was I should have spent more of it on her, probably true. But I was a... a Depression baby. So, but then we... we both thought we'd... I wanted to do more, I pretty much knew by that time that I wanted to do research, clinical research, I... I think was always the... once you've had that experience of medicine, the possibilities of application are so much in your mind, you know. So I went to... we decided we'd do laboratory research. Well, I did some research the last year or so of my hospital training and I worked with Dr Karl Meyer who was... who was a pioneer in... in the study of long-chain polysaccharides actually, and he... he did much of the early work on hyaluronic acid and chondroitin sulfate - I think he named that - and he was a brilliant chemist, and also I did clinical work in arthritis with Charles Ragan who was a Professor of Medicine at Columbia. And then I wanted to continue the work on the hyaluronic acid and one of the great experts in the field that was pretty limited, there weren't a lot of people working in it, was Alexander Ogston, Sandy Ogston, who was at Oxford in the Department of Biochemistry. Well, that kind of suited our plans. We thought after our first year of marriage in New York, which was fun, you know, we used to walk, go all over the city; it was an exciting place in those days, still is, and... so I wrote to him and he invited me to come to his lab. But when we got there, he suggested, you know, while I was there I should go towards a degree, the equivalent of a PhD degree, a DPhil, so I kind of reoriented the research to make it that kind of an academic exercise. And I worked on hyaluronic acid. Now that was the exact opposite you might say of... of this kind of fieldwork that I'd... that I had enjoyed so much.
American research physician Baruch Blumberg (1925-2011) was co-recipient of the Nobel Prize in Physiology or Medicine in 1976 along with D Carleton Gajdusek for their work on the origins and spread of infectious viral diseases that led to the discovery of the hepatitis B virus. Blumberg's work covered many areas including clinical research, epidemiology, virology, genetics and anthropology.
Title: Getting married and continuing with clinical research
Listeners: Rebecca Blanchard
Dr Rebecca Blanchard is Director of Clinical Pharmacology at Merck & Co., Inc. in Upper Gwynedd, Pennsylvania. Her education includes a BSc in Pharmacy from Albany College of Pharmacy and a PhD in Pharmaceutical Chemistry from the University of Utah in Salt Lake City. While at Utah, she studied in the laboratories of Dr Raymond Galinsky and Dr Michael Franklin with an emphasis on drug metabolism pathways. After receiving her PhD, Dr Blanchard completed postdoctoral studies with Dr Richard Weinshilboum at the Mayo Clinic with a focus on human pharmacogenetics. While at Mayo, she cloned the human sulfotransferase gene SULT1A1 and identified and functionally characterized common genetic polymorphisms in the SULT1A1 gene. From 1998 to 2004 Dr Blanchard was an Assistant Professor at Fox Chase Cancer Center in Philadelphia. In 2005 she joined the Clinical Pharmacology Department at Merck & Co., Inc. where her work today continues in the early and late development of several novel drugs. At Merck, she has contributed as Clinical Pharmacology Representative on CGRP, Renin, Losartan, Lurasidone and TRPV1 programs and serves as chair of the TRPV1 development team. Dr Blanchard is also Co-chair of the Neurology Pharmacogenomics Working Group at Merck. Nationally, she has served the American Society of Clinical Pharmacology and Therapeutics on the Strategic Task Force and the Board of Directors. Dr Blanchard has also served on NIH study sections, and several Foundation Scientific Advisory Boards.
Tags: Bellevue, University of Oxford, Alexander Ogston
Duration: 3 minutes
Date story recorded: September 2007
Date story went live: 28 September 2009