NEXT STORY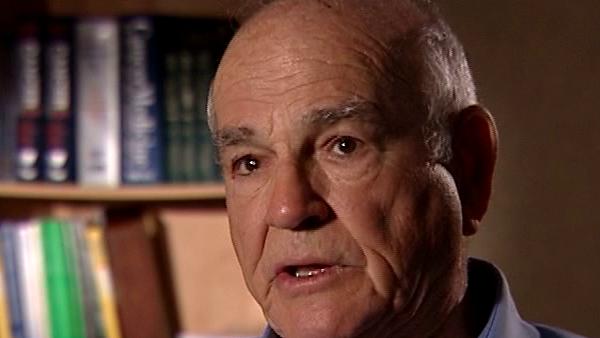 My trip to Nigeria
Looking at global variations in serum protein
Baruch Blumberg
Physician
1
2
3
4
5
...
8
Tony and I, it really got me interested in that, and just about that time, Oliver Smithies had developed the... the gel method of electrophoresis and it started off with using potato starch to make the gel. Well, Oliver was a student of Sandy Ogston's. He was... he's got to have been Sandy's most brilliant student; the man is a theoretical biochemist, a... a... very good with his hands. We had one of... water... we had a constant temperature bath that he had invented, an amazing piece of machinery. He was... he's a... an award-winning pilot, you know, he's flown across the Atlantic, I think, solo, you know, several times and has... amazing fellow. In any case, Sandy had been there before me, not Sandy, Oliver Smithies, and he had invested this starch gel technique and Tony and I were among the first people to use it. And of course they went onto cyanagum gels and other kinds of gels subsequently. But that's the whole kind of whole basis of these gels that you look at in molecular biology now. But in those days, of course, you couldn't look at the genes, but you could look at the phenotypes. So we decided on a kind of program of... of looking at variation, but not variation in general, but variation that you could measure quite accurately and that would be in serum protein phenotypes and other things in the urine and other characteristics too, but primarily looking at these phenotypes... using this gel technique that had just been introduced. Because you got a lot more variation, a lot more separation with that because the separation was dependent on charge and size, and then as the techniques improved, and you... there were... there were buffers, you can get even much more separation than the then two-dimensional, three, two-dimensional techniques. We started off with a fairly simple plan, and the plan was we were going to go around the world, collect blood specimens from people and look at variations in proteins. We also studied red blood cell antigens; that was... techniques were fairly well established for that. So, the first trip we took was to Spain, to the Basque Country and then the plan was to go to West Africa. And... and then I did... so my last year in graduate school, I took off for... for... it must have been a month or six weeks, and went to Nigeria. No, mind you, first of all, my last year as a graduate student, Sandy let me go on this, he knew I was interested, our daughter had just been born, right, so that started a rather bad pattern of going away at crucial times, which my wife supported - I think with difficulty, but did.
American research physician Baruch Blumberg (1925-2011) was co-recipient of the Nobel Prize in Physiology or Medicine in 1976 along with D Carleton Gajdusek for their work on the origins and spread of infectious viral diseases that led to the discovery of the hepatitis B virus. Blumberg's work covered many areas including clinical research, epidemiology, virology, genetics and anthropology.
Title: Looking at global variations in serum protein
Listeners: Rebecca Blanchard
Dr Rebecca Blanchard is Director of Clinical Pharmacology at Merck & Co., Inc. in Upper Gwynedd, Pennsylvania. Her education includes a BSc in Pharmacy from Albany College of Pharmacy and a PhD in Pharmaceutical Chemistry from the University of Utah in Salt Lake City. While at Utah, she studied in the laboratories of Dr Raymond Galinsky and Dr Michael Franklin with an emphasis on drug metabolism pathways. After receiving her PhD, Dr Blanchard completed postdoctoral studies with Dr Richard Weinshilboum at the Mayo Clinic with a focus on human pharmacogenetics. While at Mayo, she cloned the human sulfotransferase gene SULT1A1 and identified and functionally characterized common genetic polymorphisms in the SULT1A1 gene. From 1998 to 2004 Dr Blanchard was an Assistant Professor at Fox Chase Cancer Center in Philadelphia. In 2005 she joined the Clinical Pharmacology Department at Merck & Co., Inc. where her work today continues in the early and late development of several novel drugs. At Merck, she has contributed as Clinical Pharmacology Representative on CGRP, Renin, Losartan, Lurasidone and TRPV1 programs and serves as chair of the TRPV1 development team. Dr Blanchard is also Co-chair of the Neurology Pharmacogenomics Working Group at Merck. Nationally, she has served the American Society of Clinical Pharmacology and Therapeutics on the Strategic Task Force and the Board of Directors. Dr Blanchard has also served on NIH study sections, and several Foundation Scientific Advisory Boards.
Tags: Oliver Smithies
Duration: 3 minutes, 9 seconds
Date story recorded: September 2007
Date story went live: 28 September 2009