NEXT STORY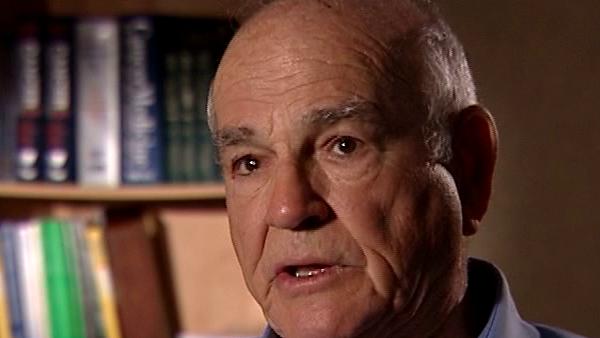 Why I joined the navy
Baruch Blumberg
Physician
1
2
3
4
5
...
8
I was born in 1925 in New York City in Brooklyn and actually born in our own house. In those days it was fashionable to be born at home, so my older sister and I were born at home. My younger brother... the fashion had passed by that time, so he was born in a hospital. I think I can actually remember when he was brought home, although he's only three years younger than I am and I... I went to school there. It was… Brooklyn in those days was quite a, I don't know how to put it, sort of village-like place. It was very residential, you know, tree-lined streets and walked to all the shops and sort of knew the shopkeepers, it... it was quite a you know comfortable, safe-appearing environment. Then I went to elementary school at a Jewish parochial school, where we learned Hebrew and studied the Bible and the other parts of the canon of the... and I was there for elementary school. And it had very high academic standards; essentially all the kids that went on to high school of course, and I'd say that 100% of them went on for university training. I and it was quite a small school; there couldn't have been more than two or three hundred students when I was there, but I know of at least two Nobel laureates who went to that small elementary school.
[Q] That's amazing.
So we, then I went to high school in Brooklyn initially, at James Madison High School is the name of it, and again that was an extremely high academic standard. It was during the Depression and many of our teachers would have, in other times, taught at university, so quite a few of them had PhDs in math and science. My chemistry teacher in high school had a doctoral degree and had done research and was really a wonderful teacher as well.
And so the second high school I went to when our family moved was at Far Rockaway High School. These were both New York City high schools and it also was a very high academic standard and there are three Nobel laureates who graduated from that relatively small New York City high school, including Richard Feynman who... there's a very good book about him called Genius, and there is a chapter about Far Rockaway. And actually I met Richard Feynman, only once, and that was in Far Rockaway and the reason I met him is I had taken his sister to the movies and when I came, when he played a kind of practical joke and he... when I came to take her to the movies, I had been talking about my interest in math and science, she was carrying a textbook on quantum mechanics that he'd given her. So we met briefly then, and I think he was teaching at Cornell at that time. She went on by the way, to be a NASA scientist and up until recently was working at the jet propulsion lab.
American research physician Baruch Blumberg (1925-2011) was co-recipient of the Nobel Prize in Physiology or Medicine in 1976 along with D Carleton Gajdusek for their work on the origins and spread of infectious viral diseases that led to the discovery of the hepatitis B virus. Blumberg's work covered many areas including clinical research, epidemiology, virology, genetics and anthropology.
Title: Early life and school
Listeners: Rebecca Blanchard
Dr Rebecca Blanchard is Director of Clinical Pharmacology at Merck & Co., Inc. in Upper Gwynedd, Pennsylvania. Her education includes a BSc in Pharmacy from Albany College of Pharmacy and a PhD in Pharmaceutical Chemistry from the University of Utah in Salt Lake City. While at Utah, she studied in the laboratories of Dr Raymond Galinsky and Dr Michael Franklin with an emphasis on drug metabolism pathways. After receiving her PhD, Dr Blanchard completed postdoctoral studies with Dr Richard Weinshilboum at the Mayo Clinic with a focus on human pharmacogenetics. While at Mayo, she cloned the human sulfotransferase gene SULT1A1 and identified and functionally characterized common genetic polymorphisms in the SULT1A1 gene. From 1998 to 2004 Dr Blanchard was an Assistant Professor at Fox Chase Cancer Center in Philadelphia. In 2005 she joined the Clinical Pharmacology Department at Merck & Co., Inc. where her work today continues in the early and late development of several novel drugs. At Merck, she has contributed as Clinical Pharmacology Representative on CGRP, Renin, Losartan, Lurasidone and TRPV1 programs and serves as chair of the TRPV1 development team. Dr Blanchard is also Co-chair of the Neurology Pharmacogenomics Working Group at Merck. Nationally, she has served the American Society of Clinical Pharmacology and Therapeutics on the Strategic Task Force and the Board of Directors. Dr Blanchard has also served on NIH study sections, and several Foundation Scientific Advisory Boards.
Tags: New York City, Far Rockaway High School, Richard Feynman
Duration: 3 minutes, 56 seconds
Date story recorded: September 2007
Date story went live: 28 September 2009