NEXT STORY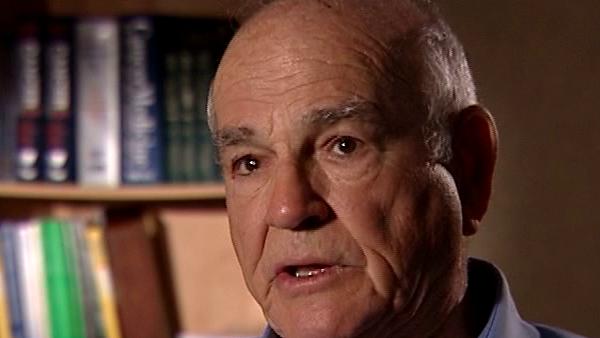 Is there a link between Australia antigen and hepatitis?
Forming a research group at Fox Chase Cancer Center
Baruch Blumberg
Physician
1
2
3
4
5
...
8
Then I was able to form a research group. Because I was the Associate Director for Clinical Research, I had... Tim had a big grant. He'd gotten a grant from the National Cancer Institute that was, in effect, open-ended. They gave him a grant and they said, okay do clinical research. But they didn't… he didn't specify what it was going to be. It was a seven-year grant. It would have been… in today's money it would be like, I don't know, three, four, five million a year — seven years with no specification about what I had to do. Well, that was great. I didn't have to, you know, first of all apply for it, and secondly sort of justify what I originally said. No, mind you, I… they got annual reports and then we subsequently had an ancillary grant on doing this polymorphism work, so there was tacit approval. And it was more money than I could spend, I mean I often turned… turned money back to the NIH, not often, but a few times. And I was able to build up a research team here and… and when they first came, they came with certain skills: Tom was interested in endocrinology and in thyroid disease and so forth, and Al Sutnick in respiratory illnesses related to cancer, and… and they started working on that. But eventually, we all started working on the hepatitis stuff, or what we eventually knew as hepatitis. And we didn't… we didn't start off with a team with some sort of set goal, we started off with a bunch of people who were working here on stuff, but they gradually became interested. I don't think I coerced them; it was just the… the demands, I mean Al continued his other research and so did Tom. But then, but, so we formed a team, and we did work together, and we had a very good kind of working relationship. We'd have, one of the things we had were called protocol sessions, but they were nothing to do with protocol, but we would design experiments jointly and… and we would, you know, decide and talk about them quite a lot and then we would formulate them, we would actually write down the hypothesis we were going to test. And then we were very, you might say, rigorous in monitoring to see exactly where we were, but with the understanding that we were a discovery operation. We weren't looking for a product, although Lord knows, we found several, you know, without looking. But again, there was… but I always had this confidence, as I said before, faith, you know, that it's going to lead to something.
American research physician Baruch Blumberg (1925-2011) was co-recipient of the Nobel Prize in Physiology or Medicine in 1976 along with D Carleton Gajdusek for their work on the origins and spread of infectious viral diseases that led to the discovery of the hepatitis B virus. Blumberg's work covered many areas including clinical research, epidemiology, virology, genetics and anthropology.
Title: Forming a research group at Fox Chase Cancer Center
Listeners: Rebecca Blanchard
Dr Rebecca Blanchard is Director of Clinical Pharmacology at Merck & Co., Inc. in Upper Gwynedd, Pennsylvania. Her education includes a BSc in Pharmacy from Albany College of Pharmacy and a PhD in Pharmaceutical Chemistry from the University of Utah in Salt Lake City. While at Utah, she studied in the laboratories of Dr Raymond Galinsky and Dr Michael Franklin with an emphasis on drug metabolism pathways. After receiving her PhD, Dr Blanchard completed postdoctoral studies with Dr Richard Weinshilboum at the Mayo Clinic with a focus on human pharmacogenetics. While at Mayo, she cloned the human sulfotransferase gene SULT1A1 and identified and functionally characterized common genetic polymorphisms in the SULT1A1 gene. From 1998 to 2004 Dr Blanchard was an Assistant Professor at Fox Chase Cancer Center in Philadelphia. In 2005 she joined the Clinical Pharmacology Department at Merck & Co., Inc. where her work today continues in the early and late development of several novel drugs. At Merck, she has contributed as Clinical Pharmacology Representative on CGRP, Renin, Losartan, Lurasidone and TRPV1 programs and serves as chair of the TRPV1 development team. Dr Blanchard is also Co-chair of the Neurology Pharmacogenomics Working Group at Merck. Nationally, she has served the American Society of Clinical Pharmacology and Therapeutics on the Strategic Task Force and the Board of Directors. Dr Blanchard has also served on NIH study sections, and several Foundation Scientific Advisory Boards.
Tags: National Cancer Center, National Institutes of Health, Tom Dublin, Al Sutnick
Duration: 3 minutes, 1 second
Date story recorded: September 2007
Date story went live: 28 September 2009