NEXT STORY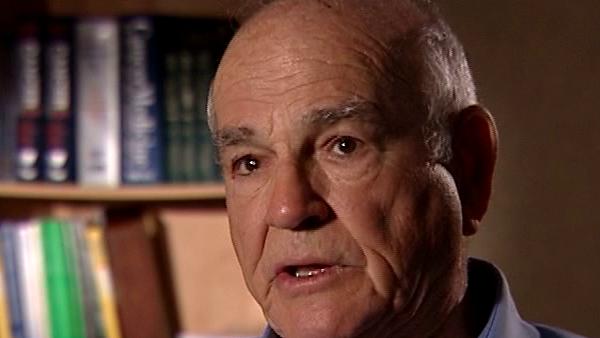 Collecting mosquitoes in Senegal
Examining the link between hepatitis B and liver cancer
Baruch Blumberg
Physician
1
2
3
4
5
6
...
8
The vaccine was approved. In the meanwhile we had been working on the relation between hepatitis B and cancer of the liver. Now, first of all it's kind of logical, you know, if you get chronic infection of the liver the possibility that that would lead to... to cancer is kind of high but there... nobody had ever really been able to study it, you know, because... study it carefully because what are... what are you going to measure, you know? You couldn't identify the virus, you know, so... so getting a relationship was going to be hard.
[Q] Was the epidemiology done already between symptomatic hepatitis and liver cancer?
There was... you see, actually the people who get acute hepatitis very often aren't the ones who go on to get primary cancer of the liver. They can be, you know, they can have periods, but people who get acute hepatitis and recover totally have a much lower probability of getting cancer of the liver than people who become chronically infected. Well, there'd been studies done in Africa by my... who has become my colleague, Professor Payette who was... who was a... the dean of the medical school in... in Dakar in... in Senegal and... and there... there were one or two others who were involved and they... they were, they did pathology and they were able to show that people who subsequently died of primary cancer of the liver — quite common in Senegal — were... had chronic liver disease and it looked like... due to viral chronic so there was that connection, you know, based on... but I was in Oxford again - I'd gone there for a year's sabbatical - and Professor Payette said one of his younger scientists flew over to England and came to see me and he, on behalf of Professor Payette, asked if... if I would collaborate with him on a study of the relation between hepatitis B and primary cancer of the liver in Senegal. Professor Payette had retired from the medical school in Dakar by that time but he was still there quite a lot, quite active, so that started a collaboration we had with a bunch of Senegalese physicians and... and the French, and Tom London went there several times. I was there a few times and we established about a five-, six-year collaboration, which was really pretty good because, you know, they were flitting back and forth to Paris and Senegal and they were coming here and they were in residence. We made some, you know, very good colleagues and friends then. It was... it was kind of exciting.
So we set up a sort of field station in Dakar, and I remember we had a... we had to buy a Land Rover, you know. We had to get the Land Rover from France to Senegal. Then we had to find a place to keep it where nobody would take it, so, you know, I was... I was having a time with the purchasing agency here at Fox Chase trying to figure out, what do you want? A Land Rover? In Senegal? But we... it was... it was a very difficult study to do because they were long range, you know. They take several years but we, and then others, established a very clear relation. But the possibility of this connection had been investigated prior to that by one of... one of our young scientists who worked with us, Bruce Smith, who was with us for several years. And Bruce and I looked at this connection and the... the initial study we did not find a correlation, but in the paper we postulated that the technique we were using was quite insensitive and that if we had earlier cases and more sensitive methods, we predicted that you might find... we gave a... so that was I think the first mention of the association between hepatitis B as measured serologically and cancer and there was subsequently... subsequently substantiated. And that was... and what really got me focused on that was a meeting that I went to in Uganda, in Kampala.
American research physician Baruch Blumberg (1925-2011) was co-recipient of the Nobel Prize in Physiology or Medicine in 1976 along with D Carleton Gajdusek for their work on the origins and spread of infectious viral diseases that led to the discovery of the hepatitis B virus. Blumberg's work covered many areas including clinical research, epidemiology, virology, genetics and anthropology.
Title: Examining the link between hepatitis B and liver cancer
Listeners: Rebecca Blanchard
Dr Rebecca Blanchard is Director of Clinical Pharmacology at Merck & Co., Inc. in Upper Gwynedd, Pennsylvania. Her education includes a BSc in Pharmacy from Albany College of Pharmacy and a PhD in Pharmaceutical Chemistry from the University of Utah in Salt Lake City. While at Utah, she studied in the laboratories of Dr Raymond Galinsky and Dr Michael Franklin with an emphasis on drug metabolism pathways. After receiving her PhD, Dr Blanchard completed postdoctoral studies with Dr Richard Weinshilboum at the Mayo Clinic with a focus on human pharmacogenetics. While at Mayo, she cloned the human sulfotransferase gene SULT1A1 and identified and functionally characterized common genetic polymorphisms in the SULT1A1 gene. From 1998 to 2004 Dr Blanchard was an Assistant Professor at Fox Chase Cancer Center in Philadelphia. In 2005 she joined the Clinical Pharmacology Department at Merck & Co., Inc. where her work today continues in the early and late development of several novel drugs. At Merck, she has contributed as Clinical Pharmacology Representative on CGRP, Renin, Losartan, Lurasidone and TRPV1 programs and serves as chair of the TRPV1 development team. Dr Blanchard is also Co-chair of the Neurology Pharmacogenomics Working Group at Merck. Nationally, she has served the American Society of Clinical Pharmacology and Therapeutics on the Strategic Task Force and the Board of Directors. Dr Blanchard has also served on NIH study sections, and several Foundation Scientific Advisory Boards.
Tags: Senegal, Dakar
Duration: 4 minutes, 48 seconds
Date story recorded: September 2007
Date story went live: 28 September 2009