NEXT STORY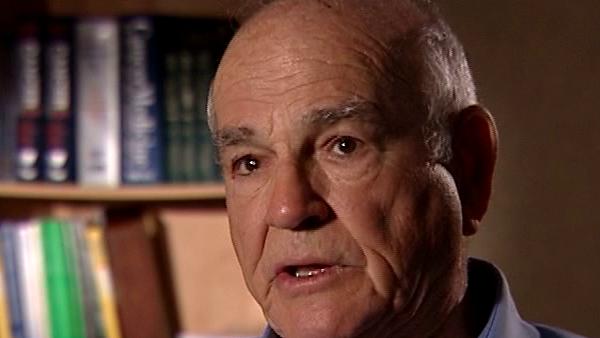 Woodchucks, ducks and the search for a cure for hepatitis
Looking for a therapy for hepatitis
Baruch Blumberg
Physician
1
2
3
4
5
6
...
8
I thought, well, okay, we've got the diagnostic, we've... you know, the vaccine, it looks like it's pretty good and now what's needed is the therapy. And... I mean I didn't know... I mean I had never worked in sort of therapeutics but, you know, this was a case of overconfidence; you know, one of these things if you, you know, you can do one thing, you can do another—which isn't necessarily true. So, I wanted to take a somewhat novel approach to it — not exactly novel, but at least in the context of the time it was somewhat novel — and if you look at the history of therapeutics, certainly up until fairly recently, practically all the therapeutics we use come from plants or animals, you know, or molluscs or something and... and a lot of them — a surprising number — come from indigenous medical systems, you know, from folk medicine and very often you... if... we're not using the same material, but the idea for the chemical moiety, you know, that it was actually derives from plant material and from... and kind of you got a clue from... from folk medication, folk treatments, indigenous treatments. So I said, well, make a list of all the plants that are used for treating hepatitis... jaundice, all the plants that are used for treating jaundice. Now, jaundice is caused by a lot of things, but most of the jaundice in the world would be hepatitis, so I made a big list. I went through a whole bunch of folk pharmacopoeias, of which there are many - hundreds, thousands maybe - and we must have gone through four or five hundred, and I made a huge list of all the stuff that was used to treat jaundice and then I put them in a database and I sorted them alphabetically, and I also had the place where they were used, you know, the farming and where we got it from - the country or region. And then I looked through the list and I picked out plants in which the same genus, not the same species necessarily, but the same genus had been used in three or four continents, you know, Africa, South America, Europe, whatever. And I made a list of all those.
[Q] Did you cross-reference it to your knowledge of what geographies had... had antigen or not?
The... we didn't quite do that because it was... I think there wasn't enough definite... definite... this was just to kind of give us a clue as to where to start looking. Well, we had a list of a hundred or more plants and genuses, on the genera on that, and I knew where they were and I started collecting them. Not very often, you know, you have the same genus you can find in the United States or some place, but I was still travelling quite a lot so wherever I went I'd bring my plant collecting equipment along, you know, plant press and... and usually try to get a local botanist to help because I didn't know much about botany. And... and I spent weeks, months, years collecting plants, which I enjoyed. You see, you know, most of the fieldwork I'd done, you go indoors when you're doing medical, you know, but this, you know, you're out in the... out in the forest or some place or out in the fields so that was... I mean the plant collecting was quite... was good fun. I learned a little bit about botany. But in the meanwhile, we decided to go ahead with the plant that was on this list and that the chemist in our laboratory, Dr Venkateswaran, who we had... when we started this project, he came to work with us. He was a... he went to the Indian Institute of Science at Bangalore and had been trained in natural products, chemistry. It's... it's pretty... it was a popular subject in... in India, and... but he had had experience with this... this growing up in Tamil Nadu. He'd actually used it as a gel, as a treatment for... it was used as a treatment for liver disease. So he said, it's on the list, why don't we work on this, so, you know, it's hard to... to say, so we spent years working on phyllanthus. Now, phyllanthus is described as an inconspicuous weed and it tends to grow in places where other things don't grow.
American research physician Baruch Blumberg (1925-2011) was co-recipient of the Nobel Prize in Physiology or Medicine in 1976 along with D Carleton Gajdusek for their work on the origins and spread of infectious viral diseases that led to the discovery of the hepatitis B virus. Blumberg's work covered many areas including clinical research, epidemiology, virology, genetics and anthropology.
Title: Looking for a therapy for hepatitis
Listeners: Rebecca Blanchard
Dr Rebecca Blanchard is Director of Clinical Pharmacology at Merck & Co., Inc. in Upper Gwynedd, Pennsylvania. Her education includes a BSc in Pharmacy from Albany College of Pharmacy and a PhD in Pharmaceutical Chemistry from the University of Utah in Salt Lake City. While at Utah, she studied in the laboratories of Dr Raymond Galinsky and Dr Michael Franklin with an emphasis on drug metabolism pathways. After receiving her PhD, Dr Blanchard completed postdoctoral studies with Dr Richard Weinshilboum at the Mayo Clinic with a focus on human pharmacogenetics. While at Mayo, she cloned the human sulfotransferase gene SULT1A1 and identified and functionally characterized common genetic polymorphisms in the SULT1A1 gene. From 1998 to 2004 Dr Blanchard was an Assistant Professor at Fox Chase Cancer Center in Philadelphia. In 2005 she joined the Clinical Pharmacology Department at Merck & Co., Inc. where her work today continues in the early and late development of several novel drugs. At Merck, she has contributed as Clinical Pharmacology Representative on CGRP, Renin, Losartan, Lurasidone and TRPV1 programs and serves as chair of the TRPV1 development team. Dr Blanchard is also Co-chair of the Neurology Pharmacogenomics Working Group at Merck. Nationally, she has served the American Society of Clinical Pharmacology and Therapeutics on the Strategic Task Force and the Board of Directors. Dr Blanchard has also served on NIH study sections, and several Foundation Scientific Advisory Boards.
Tags: therapeutics, folk medicien, plants, hepatitis, jaundice, botany, phyllanthus
Duration: 4 minutes, 38 seconds
Date story recorded: September 2007
Date story went live: 28 September 2009