NEXT STORY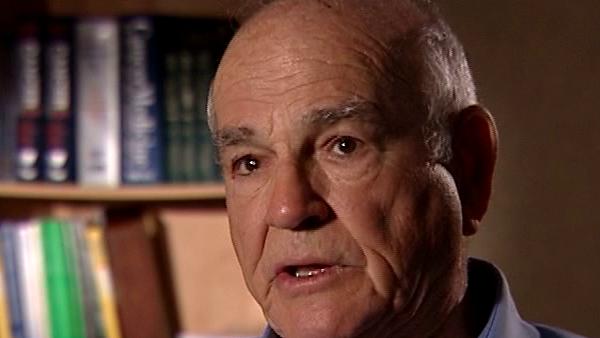 Validation of my work on hepatitis B
Baruch Blumberg
Physician
1
2
3
4
5
6
...
8
It was quite unexpected. It's not that it was unexpected, I hadn't thought about it. It was neither expected or unexpected, but a few years prior to the award of the prize, a colleague of mine called and told me that he'd... he'd put my name forward for the prize. Well, I knew that, you know, lots of names are put forward, and I must say I remembered that he'd said that but I didn't give it a lot of... of thought. Well, then — the prize is usually announced about now, by the way, you know, next month — and we were sitting in our, you know, we had a little conference room where we had our so-called protocol meetings and my friend, French colleague, Bernard Larouze, he called up and he said, 'Barry the science correspondent of La Monde has asked me to speak to you about writing a essay on your work because she has heard through sources in Stockholm that you were selected for the prize'.
[Q] This was prior to the announcement?
Prior to the announcement. Well, the fact is you can't know who the prize winner is because they... you don't know until they actually vote, until the faculty of the... of the Karoline... the Karolinska Institute actually votes on it, so... so there's a committee that reviews various candidates and then they... they make a selection which they're meant to keep very secret and then... then they go to the committee as a whole, you know the professors at the... and then they tell their decision and then the committee, the whole faculty votes on it, whether they agree or not. Well, occasionally they haven't voted, so in a way, you can't really know, and I've heard of at least one of my colleagues who had prior information that he'd won the Nobel prize and then... and then bought the champagne — I mean the guy, I can assure you, fully deserved it, he was a brilliant scientist — but it was a terrible disappointment, you know, when that happened. So I... so I said, 'Bernard, thanks very much, you know, of course, you know, if anything happens I'll help you with the essay but, you know, I don't think you can really base...' So I put the phone down and, you know, everybody was kind of listening, said, 'What did Bernard say?' I said, 'Bernard who?' So I told them what he'd said. And the reason he thought he knew is because he had a friend, the correspondent from La Monde, she was a friend of one of the members of the committee and La Monde is a kind of very respected paper, you know, in France. It's kind of The New York Times as well. It's a paper of record note and... so, but in any case, that was a kind of... but I mean I was happy to hear that but, you know, I wasn't, you know—however Jay McKay, he, you know, called and asked me and asked whether he should buy champagne. And I said, 'Jay...'
[Q] Had he heard it independently?
Well, you know, Tom or somebody else or one of the others had told him. So I said, 'If you can use it for something else!' But... but, yes, they... it was announced some time in October. Actually I was out running. I was getting ready for the... wouldn't have been the... no, it was the middle of winter, so there wasn't any big race coming up, I was just, you know, running and when I got home, my sister called and she'd heard it. On the radio or television so she told me that there was a whole series of events, you know. We had a big party when... when I came here and they took the kids — two... two of the children were in school here... three... three were in school — so they were called out of school. They came up to the... we had a wonderful party in Fox Chase on the occasion.
[Q] Oh, that's great. What was it like going to the ceremony?
Well, to begin with, they... they sent us kind of instructions on... on the process. You know, they're really good at organizing parties, and they said you can invite your guests and they can come to the events but they'll have to pay their own way and everything and you're allowed to invite your immediate family, you know, so they, you know, paid for that. They didn't expect four children I don't think and the... so... so I invited a lot of people, you know, and the Swedes never said anything about it but subsequently they put a limit. We actually chartered a piece of an airplane so Tim Talbot came and Wing Pepper and, you know, and Irv Millman and Ann O'Connel and... and my secretary, Ann Dortort and a whole, you know, we... it was, the party was enormous. And the guy, the chap who won the prize with me, Carleton Gajdusek, he also was operating under the same rules. I... I mean it was, you know, they didn't say anything; if they'd said invite five people, I would have done that. So Carleton had a sort of unusual domestic life. He'd... he had adopted about 20 or 30 children. He... he... his work, we never actually worked together, we knew each other at NIH, but his work was very similar to mine in the sense he did a lot of field work, lots of field work, more than me and he was, you know, trained in... he was a microbiologist and clinician and... and did a lot of anthropology. He later on published a lot in the anthropological literature as well, so there was a kind of parallel. He was a field work-based guy as well as laboratory, brilliant fellow. And he... so he had all these adopted kids and he adopted them in Marshall Islands, in Malaysia and in Micronesia and he established a kind of a dynasty with all these adopted children and he brought all of them. You know, and his... he had his secretary and he had somebody to help with the kids so we had the biggest, between us, we had the biggest number of guests. Well, there are a whole series of very lovely events and very... Milton Friedman won the prize the same year, you know, who was the just— he died last year in his 90s, pretty spunky guy but he was, you know, major right wing economist, the... the boss of the right wing economists. Yes, it was a... it was a,very exciting time and people often say that, well, you know, I got the prize and I just continued doing what I — I think it's totally life changing. I mean the... the very fact that I was invited to China, right? And it gave me a lot of opportunity to do things I would never have done. So that was a... you know, it was a... it was a, there's no question it was a kind of change, very gratifying, you know. You always like to think your work is good but to get the recognition of your fellow scientists in that... in that, in a really dramatic way, that's very reassuring.
American research physician Baruch Blumberg (1925-2011) was co-recipient of the Nobel Prize in Physiology or Medicine in 1976 along with D Carleton Gajdusek for their work on the origins and spread of infectious viral diseases that led to the discovery of the hepatitis B virus. Blumberg's work covered many areas including clinical research, epidemiology, virology, genetics and anthropology.
Title: Winning the Nobel prize
Listeners: Rebecca Blanchard
Dr Rebecca Blanchard is Director of Clinical Pharmacology at Merck & Co., Inc. in Upper Gwynedd, Pennsylvania. Her education includes a BSc in Pharmacy from Albany College of Pharmacy and a PhD in Pharmaceutical Chemistry from the University of Utah in Salt Lake City. While at Utah, she studied in the laboratories of Dr Raymond Galinsky and Dr Michael Franklin with an emphasis on drug metabolism pathways. After receiving her PhD, Dr Blanchard completed postdoctoral studies with Dr Richard Weinshilboum at the Mayo Clinic with a focus on human pharmacogenetics. While at Mayo, she cloned the human sulfotransferase gene SULT1A1 and identified and functionally characterized common genetic polymorphisms in the SULT1A1 gene. From 1998 to 2004 Dr Blanchard was an Assistant Professor at Fox Chase Cancer Center in Philadelphia. In 2005 she joined the Clinical Pharmacology Department at Merck & Co., Inc. where her work today continues in the early and late development of several novel drugs. At Merck, she has contributed as Clinical Pharmacology Representative on CGRP, Renin, Losartan, Lurasidone and TRPV1 programs and serves as chair of the TRPV1 development team. Dr Blanchard is also Co-chair of the Neurology Pharmacogenomics Working Group at Merck. Nationally, she has served the American Society of Clinical Pharmacology and Therapeutics on the Strategic Task Force and the Board of Directors. Dr Blanchard has also served on NIH study sections, and several Foundation Scientific Advisory Boards.
Tags: Le Monde, Nobel prize, Stockholm, Karolinka Institute, Carleton Gajdusek, Bernard Larouze
Duration: 7 minutes, 47 seconds
Date story recorded: September 2007
Date story went live: 28 September 2009