NEXT STORY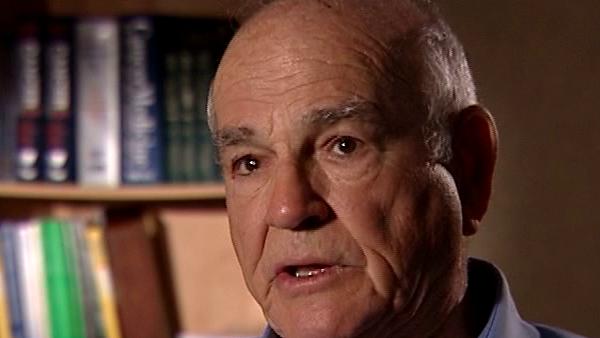 Working at NASA headquarters
Caenorhabditis elegans survives the Columbia space shuttle disaster
Baruch Blumberg
Physician
1
...
4
5
6
7
8
We were talking yesterday, I think, about this observation that was made on the Caenorhabditis elegans that was aboard the… the Columbia, the shuttle that crashed several years ago, tragically crashed, with the loss of all the people on board. That, by the way, was a science mission, you know, most of the missions recently have been to build the space station but the… but the Columbia was sort of dedicated to this mission, to a science mission. Okay, so they had C elegans on board and when the… when the shuttle crashed, it was coming in for a landing in Texas, and it crashed, I think over, probably over eastern California, but most of the debris field was in Texas, and they enlisted a large number of people, NASA did, you know, they had forestry service and others, I think maybe some of the military and they collected all the debris and very carefully mapped everything with GPS… read so they could find everything, I mean they could locate everything, and they brought it back to… to Kennedy. They had a big hangar there, a big shed, and they reassembled it, reassembled the space shuttle.
Well, among the debris they found five of the six anodized aluminum containers, things about that big, that looked like a big coffee can... long coffee can, and… and they looked kind of used but not… but I mean you could use them again, and they were pitted, they had this strange collection of… some of them. Well, that's the thing, so they survived the crash. Well, they survived the, you know, the break up of the aircraft and intense fire, the deceleration when they hit the ground, and then some of them were on the ground in Texas for… for up to a week, I think, or more, and they were close to or below freezing; they survived all that and some of them even were reproducing in there. Okay, well, what happened was they were able to estimate, they had temperature loggers but they went way off-scale, but probably the temperature inside, you know, was tolerable, obviously, and they… they could estimate it by… there was some adhesive, you know, plastic tape, and they know the melting point of that so they can, you know, figure the…
[Q] And that was intact?
I'm sorry?
[Q] The adhesive was intact… ?
The… the adhesive was inside the container and they could make estimates of probable temperatures, so that was… that's a fascinating finding, you know, for, good for good old C elegans and, secondly, there were some practical hints that came from them. One of the issues we have on the space station is how you, you know, they have a visit there every few months, what you do is you experiment, and you want to do some measurements on it and so forth, on the ground, you want to be able to get them ashore, get them down to earth. So, it would be great if you could sort of throw them out the door, deorbit them and they could… and they could get down. As a matter of fact, there are devices…
[Q] Put little rockets on them?
Well, well there are devices that have been recommended. I think some built, that you could, you know, launch from the space station, put it under a space lock, you know, or launch it… you'd have to push it out, you could… you'd push it out with a spring so that it separated, and then you'd have to have power on board with the rockets of some sort, you'd have to deorbit and you'd probably have to have some navigation capability in order to direct it to some extent. But all those are quite doable, you know, on a very small… you know, NASA has plenty of experience with directing small satellites and then parachuting down to, you know, land in Utah or somewhere, which is where these things often land, or in the middle of Siberia, or in the middle of… it's actually Tajikistan I think — no, Kazakhstan, that's where they land. So, and then you could… that… in fact, I'm going to a meeting on Monday in California at NASA - Ames Research Centre - where, once again, we're going to be talking about research on the space station.
American research physician Baruch Blumberg (1925-2011) was co-recipient of the Nobel Prize in Physiology or Medicine in 1976 along with D Carleton Gajdusek for their work on the origins and spread of infectious viral diseases that led to the discovery of the hepatitis B virus. Blumberg's work covered many areas including clinical research, epidemiology, virology, genetics and anthropology.
Title: "Caenorhabditis elegans" survives the Columbia space shuttle disaster
Listeners: Rebecca Blanchard
Dr Rebecca Blanchard is Director of Clinical Pharmacology at Merck & Co., Inc. in Upper Gwynedd, Pennsylvania. Her education includes a BSc in Pharmacy from Albany College of Pharmacy and a PhD in Pharmaceutical Chemistry from the University of Utah in Salt Lake City. While at Utah, she studied in the laboratories of Dr Raymond Galinsky and Dr Michael Franklin with an emphasis on drug metabolism pathways. After receiving her PhD, Dr Blanchard completed postdoctoral studies with Dr Richard Weinshilboum at the Mayo Clinic with a focus on human pharmacogenetics. While at Mayo, she cloned the human sulfotransferase gene SULT1A1 and identified and functionally characterized common genetic polymorphisms in the SULT1A1 gene. From 1998 to 2004 Dr Blanchard was an Assistant Professor at Fox Chase Cancer Center in Philadelphia. In 2005 she joined the Clinical Pharmacology Department at Merck & Co., Inc. where her work today continues in the early and late development of several novel drugs. At Merck, she has contributed as Clinical Pharmacology Representative on CGRP, Renin, Losartan, Lurasidone and TRPV1 programs and serves as chair of the TRPV1 development team. Dr Blanchard is also Co-chair of the Neurology Pharmacogenomics Working Group at Merck. Nationally, she has served the American Society of Clinical Pharmacology and Therapeutics on the Strategic Task Force and the Board of Directors. Dr Blanchard has also served on NIH study sections, and several Foundation Scientific Advisory Boards.
Tags: Columbia space shuttle, Texas, NASA
Duration: 4 minutes, 53 seconds
Date story recorded: September 2007
Date story went live: 28 September 2009