NEXT STORY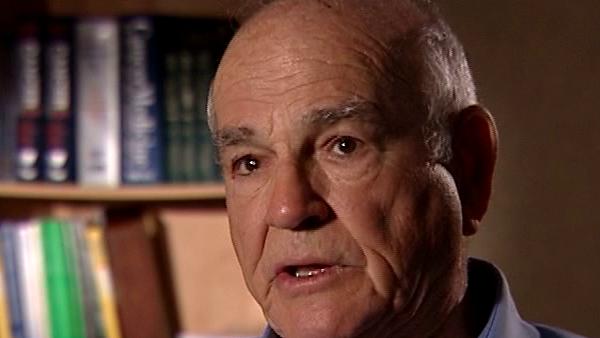 Preparing to sail across the Atlantic
The importance of planning
Baruch Blumberg
Physician
1
2
3
4
5
...
8
There was an interesting kind of thought process that I… that I learned in the navy as well, that I… that I found very… I found very valuable, particularly when I was doing fieldwork later on. In… in the military there is… there's a lot of built-in redundancy. For example, when you are on the bridge and you have to communicate with the helmsman and, well there were like five methods, even in those primitive 50 years ago, days of… 50… much more primitive equipment: you had a speaking tube, you had a sound-powered telephone, you had an actual electric telephone, you had an engine room telegraph, you had a courier you could send somebody down to give messages, so there were all these kinds of standby things. And also there was a lot of planning beforehand. So if you, for example, if you had were going to go someplace you had to plot the route; you had a pretty good idea where you were going, it wasn't ad hoc, you know, and you… you would also think of alternatives. So you would have plan A, plan B, plan C, with a automatic transition. You know if things didn't go on plan A, plan B was all ready. Now one thing I learned later on is making plans is extremely important. Following the plans is much less important. You always... this wasn't quite true when you were handling a ship, but… but it is true with in other endeavors. You want to have a really well formulated, well designed plan, but know you're not going to follow it exactly. And if opportunities come up, things that you could possibly, not possibly have anticipated at the start, you have to be ready to diverge from the plan. By the way, one of the problems with things like, you know, tactical planning and business plans, they have a lot of… they have real inherent disadvantages because that means that if something, an opportunity arises, and you've got a business plan or… or, you know, organizational plan, you say, oh no, we can't do that because we have a plan. And it's… it's very good to kind of have plans with the expectation you're not going to follow them. And that… that certainly was very helpful in my medical, in my scientific research. We… we had very rigorous plan formulation, but we knew darned well we weren't going to follow it. When something came up we hadn't anticipated, we sort of expected that in a sense. But planning was essential.
American research physician Baruch Blumberg (1925-2011) was co-recipient of the Nobel Prize in Physiology or Medicine in 1976 along with D Carleton Gajdusek for their work on the origins and spread of infectious viral diseases that led to the discovery of the hepatitis B virus. Blumberg's work covered many areas including clinical research, epidemiology, virology, genetics and anthropology.
Title: The importance of planning
Listeners: Rebecca Blanchard
Dr Rebecca Blanchard is Director of Clinical Pharmacology at Merck & Co., Inc. in Upper Gwynedd, Pennsylvania. Her education includes a BSc in Pharmacy from Albany College of Pharmacy and a PhD in Pharmaceutical Chemistry from the University of Utah in Salt Lake City. While at Utah, she studied in the laboratories of Dr Raymond Galinsky and Dr Michael Franklin with an emphasis on drug metabolism pathways. After receiving her PhD, Dr Blanchard completed postdoctoral studies with Dr Richard Weinshilboum at the Mayo Clinic with a focus on human pharmacogenetics. While at Mayo, she cloned the human sulfotransferase gene SULT1A1 and identified and functionally characterized common genetic polymorphisms in the SULT1A1 gene. From 1998 to 2004 Dr Blanchard was an Assistant Professor at Fox Chase Cancer Center in Philadelphia. In 2005 she joined the Clinical Pharmacology Department at Merck & Co., Inc. where her work today continues in the early and late development of several novel drugs. At Merck, she has contributed as Clinical Pharmacology Representative on CGRP, Renin, Losartan, Lurasidone and TRPV1 programs and serves as chair of the TRPV1 development team. Dr Blanchard is also Co-chair of the Neurology Pharmacogenomics Working Group at Merck. Nationally, she has served the American Society of Clinical Pharmacology and Therapeutics on the Strategic Task Force and the Board of Directors. Dr Blanchard has also served on NIH study sections, and several Foundation Scientific Advisory Boards.
Tags: communication, navy, plan, opportunity
Duration: 2 minutes, 35 seconds
Date story recorded: September 2007
Date story went live: 28 September 2009