NEXT STORY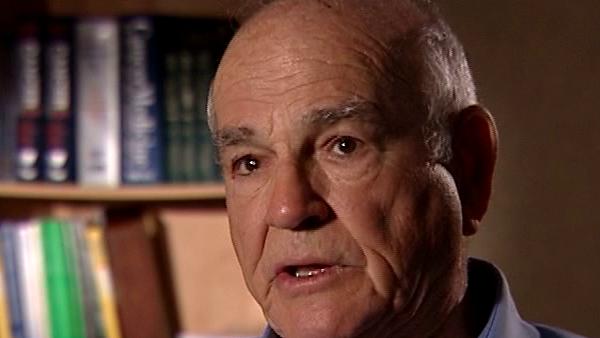 Unusual applications for the Lewis and Clark Fund
The need to fund fieldwork projects
Baruch Blumberg
Physician
1
...
4
5
6
7
8
We've had an overwhelming number of applications. We got... the first year, we sort of advertised it; we sent an email message out to the heads of departments, but we stopped advertising, because we... you know, you don't have to advertise on these things anymore. If somebody wants to get a Fellowship, they go to Google and they type in 'fellowship'. And then they put some ancillary words in, and they, you know, they eventually come to our website. And then you fill out the form and input, you know, it wouldn't take very long, because it's all online. And all submissions are online. Well, we... the maximum that we give is 5000. Well, you know, I've had a lot of experience with fieldwork. For $5000, a graduate student can go to Kamchatka, spend two months there and come back and still have some change left. It's, you know, relatively — and they're not staying at a $200 a night hotels, you know, they're usually out in the field someplace. So, we've had incredibly interesting stuff, and it's just heartwarming to see... and on several occasions, people have written back and they've said, if we didn't get this fund, you know, I'd never have been able to do, go on that field trip, and it's totally changed the direction of my work. There was a young woman who wanted to go and examine some sites on the… on the track, I think, kind of Altaic speaking people, of course, Central Asia, and she'd been working on museum specimens, that had been collected 100 years ago. And she'd never seen the place. So she got $3000-4000, went and spent, you know, visited the sites where these things had been found, and spoke to people, saw scholars there, and she came back, she wrote, she said, it totally changed my perspective, and my… and it was one of the best things that happened to me. Well, that gets repeated time and time again. And it also demonstrates the need for funding. We had money... we funded about 70 or 80 people in three years. And we've had 1500 applications. So we fund 10% - it's embarrassing. We've tried to cut back the applications, and say, it's only for people on the doctoral programs now. And we still get 400-500, without advertising.
[Q] Do you fund projects world-wide?
The stipulation is they're for US citizens, not US citizens, they're — well, US citizens and non-citizens who are working at US institutions or on a US project. So I would say, 10 to 15% are non-US citizens, but associated with a US university. And if we get more funding, I'd… I would be happy to expand it. In fact, what I plan to do is try to develop some international connections, so that we get — but right now, we're, you know, administratively, we can't handle too much more, we have a very small staff. But it's, again, it's something I really like to do, that is to encourage young people to be in the field, to see… see a project in its… in its setting. And the astrobiology projects have been... we've done some really interim, a lot of them into these extreme sites. You know, the favorite place to go is Kamchatka, by the way. Kamchatka is one of the most tectonic places in the world, you know, lots of volcanoes, earthquakes, you know, geophysical, geothermal sites. And we've had several NAI expeditions there.
American research physician Baruch Blumberg (1925-2011) was co-recipient of the Nobel Prize in Physiology or Medicine in 1976 along with D Carleton Gajdusek for their work on the origins and spread of infectious viral diseases that led to the discovery of the hepatitis B virus. Blumberg's work covered many areas including clinical research, epidemiology, virology, genetics and anthropology.
Title: The need to fund fieldwork projects
Listeners: Rebecca Blanchard
Dr Rebecca Blanchard is Director of Clinical Pharmacology at Merck & Co., Inc. in Upper Gwynedd, Pennsylvania. Her education includes a BSc in Pharmacy from Albany College of Pharmacy and a PhD in Pharmaceutical Chemistry from the University of Utah in Salt Lake City. While at Utah, she studied in the laboratories of Dr Raymond Galinsky and Dr Michael Franklin with an emphasis on drug metabolism pathways. After receiving her PhD, Dr Blanchard completed postdoctoral studies with Dr Richard Weinshilboum at the Mayo Clinic with a focus on human pharmacogenetics. While at Mayo, she cloned the human sulfotransferase gene SULT1A1 and identified and functionally characterized common genetic polymorphisms in the SULT1A1 gene. From 1998 to 2004 Dr Blanchard was an Assistant Professor at Fox Chase Cancer Center in Philadelphia. In 2005 she joined the Clinical Pharmacology Department at Merck & Co., Inc. where her work today continues in the early and late development of several novel drugs. At Merck, she has contributed as Clinical Pharmacology Representative on CGRP, Renin, Losartan, Lurasidone and TRPV1 programs and serves as chair of the TRPV1 development team. Dr Blanchard is also Co-chair of the Neurology Pharmacogenomics Working Group at Merck. Nationally, she has served the American Society of Clinical Pharmacology and Therapeutics on the Strategic Task Force and the Board of Directors. Dr Blanchard has also served on NIH study sections, and several Foundation Scientific Advisory Boards.
Tags: Kamchatka
Duration: 3 minutes, 46 seconds
Date story recorded: September 2007
Date story went live: 28 September 2009