NEXT STORY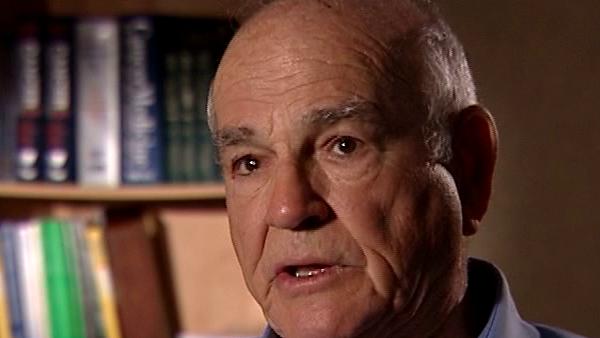 A meeting in Japan and the 40th anniversary of my first paper
Other activities of The American Philosophical Society
Baruch Blumberg
Physician
1
...
4
5
6
7
8
We're also trying to be somewhat creative. We have a music program and what we may do, is… is commission music for our meetings. So we could commission, I thought, we were going to do it with students, you know, students who were training to become composers, and then we'd play those as, you know, every year or two, when we had our meetings. It's a way we contribute. And right now, we have an exhibit on… on, it's called Dauntless Courage, and it's on five explorers who were members of the APS. And that includes Elisha Kent Kane, who was from Pennsylvania, actually. And he was an Arctic explorer. And he was on the expeditions to find Franklin. Then there's a Kent Fracture Zone in the — Kane Fracture Zone, rather — in the mid-Atlantic ridge, and he did a lot… he did a lot of geographic and other exploration, up in the Davis Inlet. He's a slightly, you know, I mean, a somewhat eccentric guy. And then Audubon was a member and he did a lot of exploration in this part of the world, the Eastern United States mostly. Also, down south, in the west. And Ruth Patrick, who's a contemporary woman who's a… she's a limnologist. Well, actually, she studies estuaries and… and rivers, and studied diatoms — she did a lot of work on classification and physiology. And then, Titian Peale. His father, Charles Wilson Peale, was a founder of this society, was a Patriot in the revolution, and a portraitist. He's done millions of portraits, and he named all his kids after, you know, like Rembrandt Peale, and Titian Peale, and his daughter, also was an artist. And Titian Peale was a kind of an explorer, and, was an explorer, and he… he was a naturalist, and he went on the US Exploring Expedition which was after the Lewis and Clark. The… the Feds funded another round the world expedition, led by Lieutenant Wilkes, and they circumnavigated the world, brought back a huge collection of natural history and ethnography and… and that was the beginning collection of the Smithsonian, is the Titian. So much of the old stuff that they had came from that. And Titian Peale did a lot of the paintings. We have a wonderful collection of… of some of his paintings. And let me see, that... well, we have other contemporary, you know, Admiral Byrd was a member. And Neil Armstrong is a member. And he comes to meetings occasionally, you know, I've invited him to chair a program we're going to have next spring on… on space. So we'll… he's, you know, he was the most famous man in the world, you know, for a long time, but by nature, I think, I wouldn't call him shy exactly, but he's not, you know, he's a private kind of person. But he has intellectual and engineering interests and, you know, so I am very pleased he's going to come to the meeting. So, it's kind of interesting. And you meet, I've tried to meet local, and our, sort of, fellow societies in Philadelphia and several… and there's a whole bunch of scholarly and academic public interest groups in the city, so from time to time, I go and have lunch with those.
American research physician Baruch Blumberg (1925-2011) was co-recipient of the Nobel Prize in Physiology or Medicine in 1976 along with D Carleton Gajdusek for their work on the origins and spread of infectious viral diseases that led to the discovery of the hepatitis B virus. Blumberg's work covered many areas including clinical research, epidemiology, virology, genetics and anthropology.
Title: Other activities of The American Philosophical Society
Listeners: Rebecca Blanchard
Dr Rebecca Blanchard is Director of Clinical Pharmacology at Merck & Co., Inc. in Upper Gwynedd, Pennsylvania. Her education includes a BSc in Pharmacy from Albany College of Pharmacy and a PhD in Pharmaceutical Chemistry from the University of Utah in Salt Lake City. While at Utah, she studied in the laboratories of Dr Raymond Galinsky and Dr Michael Franklin with an emphasis on drug metabolism pathways. After receiving her PhD, Dr Blanchard completed postdoctoral studies with Dr Richard Weinshilboum at the Mayo Clinic with a focus on human pharmacogenetics. While at Mayo, she cloned the human sulfotransferase gene SULT1A1 and identified and functionally characterized common genetic polymorphisms in the SULT1A1 gene. From 1998 to 2004 Dr Blanchard was an Assistant Professor at Fox Chase Cancer Center in Philadelphia. In 2005 she joined the Clinical Pharmacology Department at Merck & Co., Inc. where her work today continues in the early and late development of several novel drugs. At Merck, she has contributed as Clinical Pharmacology Representative on CGRP, Renin, Losartan, Lurasidone and TRPV1 programs and serves as chair of the TRPV1 development team. Dr Blanchard is also Co-chair of the Neurology Pharmacogenomics Working Group at Merck. Nationally, she has served the American Society of Clinical Pharmacology and Therapeutics on the Strategic Task Force and the Board of Directors. Dr Blanchard has also served on NIH study sections, and several Foundation Scientific Advisory Boards.
Tags: American Philosophical Society, Smithsonian Collection, Elisha Kent Kane, Ruth Patrick, Titian Peale, Admiral Byrd, Neil Armstrong
Duration: 4 minutes, 1 second
Date story recorded: September 2007
Date story went live: 28 September 2009