NEXT STORY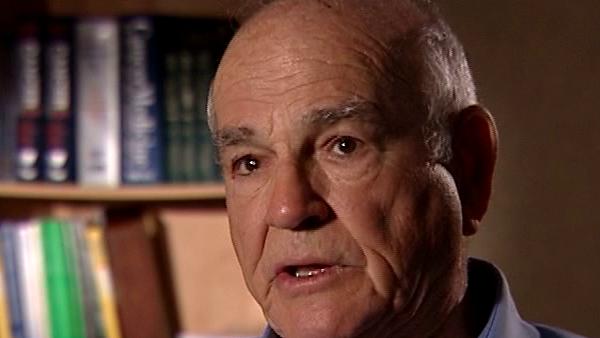 Development of ancillary technologies
What if... the future of epidemiology?
Baruch Blumberg
Physician
1
...
4
5
6
7
8
Becky reminded me of the [unclear] lecture which I gave, and also there was a similar one at, here, at Fox Chase Cancer Centre, and it had to do with predictions for the future. Well this… this was a kind of thinking about what would happen in the future, and there was a kind of story about an older person - strange, right? Who was, you know, who had never been hospitalized in 80 plus years, or something. And he was still physically very active and mentally very active, and he was off on a trip in the… in the Trinity Alps. The Trinity Alps are in the… this range of mountains up in Northern California, between the Cascades and the Coast Range, and it extends up into Oregon and… and into Washington - it's the Klamath Range. But it's a very unusual formation; it's quite different than the Sierras and the… and the Cascades geologically. But in any case, so it's a story about his climbing, and, you know, his connection with young people and including two of his grandchildren, so it was sort of a… but one of the things he… he did was, he was collecting… field specimens of… of, from water and earth and so forth, to look for micro-organisms. Now, the way that we detect… we detect epidemics, you know, is a bunch of people get sick. So a lot of people get sick and you go and very often you find a new… a new infectious agents, like that disease that occurred in the Four Corners area in Arizona and New Mexico, and so forth, which turned out to be, I think, mouse-borne or… or…
[Q] Hanta virus.
Yeah, you know, and… and then, you know, the development of ebola, and some of those strains of viruses that were… are similar to ebola. And AIDS itself. And then you've currently got Gajdusek's work with kuru, and then with these Iceland... the disease of Icelandic sheep, you know, that turned into all this fascinating stuff that's going on now. Well, another way of doing it is if you look around and see if there's any new infectious agents, and some which would have… would have potentially, pathogenic characteristics, or you could see mutations which had pathogenic propensities in existing agents. And so… so this vision... there were a bunch of amateur collectors who were assigned various areas where they went to, and they collected samples and they had a, kind of, decoder, you know, like a Dick Tracy decoder on their wrist, and that would read the DNA that they needed, and that had a certain amount of storage, you can make comparisons; otherwise you'd contact GPS satellites — they could find you pretty easily, so that you got instant information on location. And then that would radio the sequence from the satellite to, probably, you know, radio probably, you could use other sources, like communication, to a big data bank and then make a rapid comparison, and then you'd get a message back, you know, 'collect it', 'bring it home'. And in that way you could sort of do epidemiology without disease. You know, there was a notion that, I think, and also in that article, I talked about, what I just spoke about, you know this idea of being able to predict susceptibilities and take measures of a — what's the right word? Of a… of a reasonable kind to… to prevent the disease, so you can live out your lifespan without being very sick. You know, that's the big objective, you know, to kind of drop dead at age 90 something or other, you know, never having been sick before. A lot of people die that way. My mother more or less died that way, you know, without being hospitalized, rather than the sad business of protracted illness, when you lose a lot of capability and you're a big burden to a lot of people. So that was… that was the kind of theme there. And it is a very, and that… that… there's a real likelihood that might happen.
American research physician Baruch Blumberg (1925-2011) was co-recipient of the Nobel Prize in Physiology or Medicine in 1976 along with D Carleton Gajdusek for their work on the origins and spread of infectious viral diseases that led to the discovery of the hepatitis B virus. Blumberg's work covered many areas including clinical research, epidemiology, virology, genetics and anthropology.
Title: What if... the future of epidemiology?
Listeners: Rebecca Blanchard
Dr Rebecca Blanchard is Director of Clinical Pharmacology at Merck & Co., Inc. in Upper Gwynedd, Pennsylvania. Her education includes a BSc in Pharmacy from Albany College of Pharmacy and a PhD in Pharmaceutical Chemistry from the University of Utah in Salt Lake City. While at Utah, she studied in the laboratories of Dr Raymond Galinsky and Dr Michael Franklin with an emphasis on drug metabolism pathways. After receiving her PhD, Dr Blanchard completed postdoctoral studies with Dr Richard Weinshilboum at the Mayo Clinic with a focus on human pharmacogenetics. While at Mayo, she cloned the human sulfotransferase gene SULT1A1 and identified and functionally characterized common genetic polymorphisms in the SULT1A1 gene. From 1998 to 2004 Dr Blanchard was an Assistant Professor at Fox Chase Cancer Center in Philadelphia. In 2005 she joined the Clinical Pharmacology Department at Merck & Co., Inc. where her work today continues in the early and late development of several novel drugs. At Merck, she has contributed as Clinical Pharmacology Representative on CGRP, Renin, Losartan, Lurasidone and TRPV1 programs and serves as chair of the TRPV1 development team. Dr Blanchard is also Co-chair of the Neurology Pharmacogenomics Working Group at Merck. Nationally, she has served the American Society of Clinical Pharmacology and Therapeutics on the Strategic Task Force and the Board of Directors. Dr Blanchard has also served on NIH study sections, and several Foundation Scientific Advisory Boards.
Tags: Trinity Alps
Duration: 4 minutes, 48 seconds
Date story recorded: September 2007
Date story went live: 28 September 2009