NEXT STORY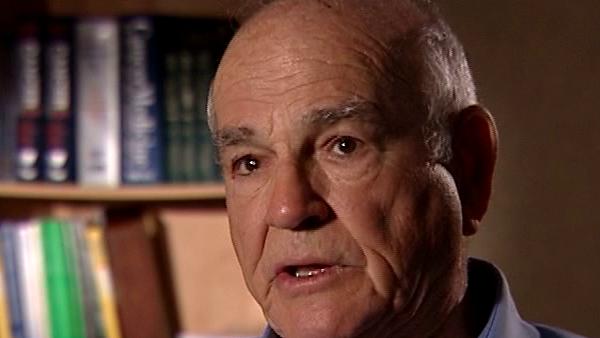 The Daedalus Factor
Identifying disease carriers - a double-edged sword?
Baruch Blumberg
Physician
1
...
4
5
6
7
8
One other thing I wanted to talk about was this paper that I wrote some years ago now, with Renée Fox, who's a, probably now retired, professor of sociology at the University of Pennsylvania, and a good friend. And one of the things that kind of impressed me, you know, with the work on hepatitis — impresses anybody I think who makes, who works in medical research — is very often, you develop something that really has some clear advantages, and then after it's used for a while, you begin to see the disadvantages. And a case in point was we developed this technique for detecting carriers of the hepatitis B virus, and we, therefore, we were able to screen blood donors. And we essentially eliminated, you know, post-transfusion hepatitis to hepatitis B in the United States and elsewhere. There was still hepatitis C, but that can be detected now, too. And post-transfusion hepatitis has essentially been eliminated. Okay, so that's a good thing, you know, it's hard to argue with that as a disadvantage. But we began to get calls and visits from people who told us that they — very often they were health care people, and they'd been tested, donating blood, or for other reasons, and they were found to be carriers; they were told they were fired, they couldn't work anymore.
Or, there's... it was the time of the Vietnam War, before it was quite, well, it was just about over and there were a lot of orphans who were available, or, up for adoption. And by that time, we were… one of the first groups I studied was from South East Asia, and there was a very high prevalence of hepatitis carriers in Vietnamese. Well, the US public health service, you know, had to decide, they had to pass on whether they were health hazards; they wouldn't allow a child to come to this country, you know, or to be able to be put up for adoption. Their, I must say, their attitude was very liberal, and very clear-thinking. And they knew about hepatitis B, but they decided not to test for it. You stop and think, to decide a kid's fate, his or her whole life on the basis of a single serological test? And the argument would be, you know, well, it would be much better to find some kind of prevention, instead of living with it. I had personal experience — some friends of mine who adopted children who were found to be carriers.
Okay, so... and then we had the… we had, you know, a woman who was of Asian origin, she was all concerned because she had told her then boyfriend, and he'd left the scene, and she used to do a lot of cooking. And she was very concerned about cooking for… tough problems.
So, they still exist, by the way, this… this issue still comes up. Well, one of the ways we dealt with it at that time was to say, well, there's nothing we can do if we detect a carrier. We knew HBV was pretty infectious, but if it were as infectious as the common cold, there'd be a hell of a lot more hepatitis around. So we thought you could not endanger all these people at that time, but we should work on the vaccine, that was just coming through, and treatments and so forth. For example, if you treat a carrier and lower their levels, they're not infectious, or… or I would say, they're unlikely to be infectious, a decreased risk.
American research physician Baruch Blumberg (1925-2011) was co-recipient of the Nobel Prize in Physiology or Medicine in 1976 along with D Carleton Gajdusek for their work on the origins and spread of infectious viral diseases that led to the discovery of the hepatitis B virus. Blumberg's work covered many areas including clinical research, epidemiology, virology, genetics and anthropology.
Title: Identifying disease carriers - a double-edged sword?
Listeners: Rebecca Blanchard
Dr Rebecca Blanchard is Director of Clinical Pharmacology at Merck & Co., Inc. in Upper Gwynedd, Pennsylvania. Her education includes a BSc in Pharmacy from Albany College of Pharmacy and a PhD in Pharmaceutical Chemistry from the University of Utah in Salt Lake City. While at Utah, she studied in the laboratories of Dr Raymond Galinsky and Dr Michael Franklin with an emphasis on drug metabolism pathways. After receiving her PhD, Dr Blanchard completed postdoctoral studies with Dr Richard Weinshilboum at the Mayo Clinic with a focus on human pharmacogenetics. While at Mayo, she cloned the human sulfotransferase gene SULT1A1 and identified and functionally characterized common genetic polymorphisms in the SULT1A1 gene. From 1998 to 2004 Dr Blanchard was an Assistant Professor at Fox Chase Cancer Center in Philadelphia. In 2005 she joined the Clinical Pharmacology Department at Merck & Co., Inc. where her work today continues in the early and late development of several novel drugs. At Merck, she has contributed as Clinical Pharmacology Representative on CGRP, Renin, Losartan, Lurasidone and TRPV1 programs and serves as chair of the TRPV1 development team. Dr Blanchard is also Co-chair of the Neurology Pharmacogenomics Working Group at Merck. Nationally, she has served the American Society of Clinical Pharmacology and Therapeutics on the Strategic Task Force and the Board of Directors. Dr Blanchard has also served on NIH study sections, and several Foundation Scientific Advisory Boards.
Tags: Vietnam
Duration: 4 minutes, 10 seconds
Date story recorded: September 2007
Date story went live: 28 September 2009