NEXT STORY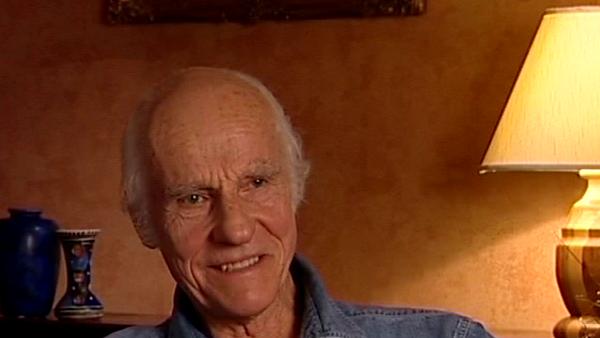 Lighting the interiors for On Golden Pond
On Golden Pond: Working around the New Hampshire weather
Billy Williams
Film-maker
1
...
9
10
11
12
13
...
18
So we started shooting and we had a lot of scenes to do… fishing, when Henry Fonda and the boy, the 14-year-old boy Billy, go out fishing together in this beautiful boat, very powerful motor boat that they fish from. And we'd had built a raft which was about 20' square I suppose which had a couple of small motors, very quiet motors, because we were always trying to move quietly in… in order not to disturb the loons, because when we were shooting the interiors this raft would go off with the second unit and try and capture shots of these birds that were very shy. So we had two small motors and on the raft we put the two Panaflex… Panavision cameras — Panaflexes — and reflectors and, you know, all the crew and the soundman had a rowing boat so he could manoeuvre into the best position to get to dialogue. And we shot the fishing scenes, we always used two cameras, one wide and one tight. Because, you know, when you're playing with a fishing rod and, you know, you've got two people in shot and it's... can be very difficult sometimes to match things. And the other advantage of shooting with two cameras was that the weather in New Hampshire can be so changeable. There's an expression, a local expression, that... people say: 'Well if you don't like the weather, wait five minutes' because it could change from pouring with rain to brilliant sunshine in... in less than five minutes, it was very changeable, so that there was a problem with lighting continuity. And Mark said to me, 'Well look' he said, 'I really want this picture to look right. There are certain scenes we've got to do in sunlight and certain scenes we've... must have overcast. So he said 'We'll have two call sheets and we'll decide in the morning what we're going to shoot according the weather forecast'. So, you know, I had a director on my side who really wanted the right conditions and so we had the luxury of waiting from time to time as one does, you know, for the cloud to clear or the cloud to come over, depending on... on the conditions we wanted. And although the schedule was 10 weeks, we in fact finished about three days under schedule so that whole system worked out well.
Billy Williams, London-born cinematographer Billy Williams gained his first two Oscar nominations for the acclaimed "Women in Love" and "On Golden Pond". His third nomination, which was successful, was for the epic "Gandhi". He was President of the British Society of Cinematographers, and was awarded the Camera Image Festival's Lifetime Achievement Award in 2000.
Title: "On Golden Pond": Working around the New Hampshire weather
Listeners: Neil Binney
Neil Binney began working as a 'clapper boy' in 1946 on spin-off films from steam radio such as "Dick Barton". Between 1948-1950 he served as a Royal Air Force photographer. From 1950 he was a Technicolor assistant technician working on films such as John Ford's "Mogambo" (photographed by Freddie Young), Hitchcock's "The Man Who Knew Too Much" (Bob Burke), and Visconti's "Senso" (G.R. Aldo/B. Cracker). As a camera assistant he worked on "Mind Benders", "Billy Liar" and "This Sporting Life". Niel Binney became a camera operator in 1963 and worked with, among others, Jack Cardiff, Fred Tammes and Billy Williams. He was elected associate member of the British Society of Cinematographers in 1981 and his most recent credits include "A Fish Called Wanda" and "Fierce Creatures".
Duration: 2 minutes, 37 seconds
Date story recorded: September 2003
Date story went live: 24 January 2008