NEXT STORY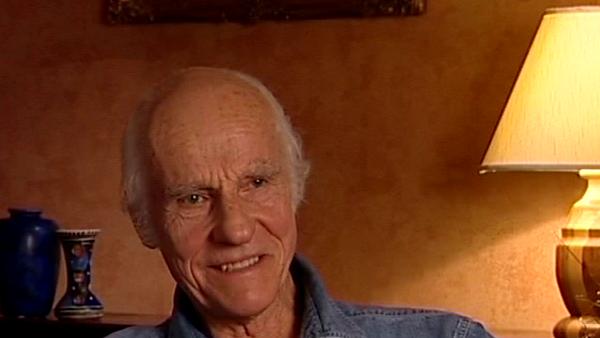 Designing custom-made lighting for The Manhattan Project
Working with smoke and lasers on The Manhattan Project
Billy Williams
Film-maker
1
...
13
14
15
16
17
18
So we got a great storm sequence, and during all of this, the... the boy breaks in, he breaks into the laboratory and there's a robot in there, and with the help of the robot which he's figured out how to use on a previous visit, he steals a bottle of this so-called plutonium, which of course, was just some mixture of a green-coloured liquid. In order to get it out... he couldn't get it out of the laboratory without triggering the alarm; now, he's also found out on this previous visit that there's a laser beam being used in this laboratory, and a laser beam can cut through metal, so he strikes up the laser beam and because it's not pointing in the right direction, he's got several mirrors with him and he redirects the laser beam all around the laboratory, it goes off about four mirrors — and this is what amazed me, I'd never worked with a laser beam before, but it is a very, very bright source of light, it's a sort of cyan colour, and very narrow, but extremely bright and sharp — and this laser beam is bounced off three or four mirrors until it reaches the point low down in the building, and it actually cuts a hole through the building... and with the help of a radio-controlled toy, he gets this nuclear material out of the building without triggering the alarm.
Now if you're shooting any beam of light or if you, you know, if you want to show up a back light or if you want to show up a torch light effect, you need a certain amount of smoke or mist. Now, in my experience up to then, it had always been how difficult it was to control this level of smoke because you put it in with the fog machines and then you switch them off and you wait until it's level, and you start shooting, and then after you've done a couple of takes, you have to top it up again and it seemed that it was such... it's such a hit-and-miss arrangement it's... of trying to get the same level of smoke all the time, and then of course, if you do change from a wide-angle to a long-focus lens, the long-focus lens picks up the smoke more. Well, this special effects guy had built a special device that... like a thermostat if you like, so that we had these smoke machines dotted around the stage — it was a big stage — and they switched on and off according to how much smoke was in the atmosphere, and it was just a little click and you couldn't hear it unless you were right on top of it, so the smoke level was consistent, and of course, I just needed enough smoke to make the beam show. I thought, this is brilliant, why has nobody thought of this before, and it worked a treat. Of course, we had to fake the beam of light cutting through the metal... we had to fake that with an acetylene cutter because our... our laser beam wasn't strong enough to do that, although, you know, there are laser beams which... which can do that sort of thing, but ours was not powerful enough, but because of the danger... there was a danger to the operator if the laser beam should happen to hit the lens, that it could damage his eye, and so all the shots that we did with the laser beam had to be done with a remote head on a crane arm and be operated with a monitor, just for safety reasons.
Billy Williams, London-born cinematographer Billy Williams gained his first two Oscar nominations for the acclaimed "Women in Love" and "On Golden Pond". His third nomination, which was successful, was for the epic "Gandhi". He was President of the British Society of Cinematographers, and was awarded the Camera Image Festival's Lifetime Achievement Award in 2000.
Title: Working with smoke and lasers on "The Manhattan Project"
Listeners: Neil Binney
Neil Binney began working as a 'clapper boy' in 1946 on spin-off films from steam radio such as "Dick Barton". Between 1948-1950 he served as a Royal Air Force photographer. From 1950 he was a Technicolor assistant technician working on films such as John Ford's "Mogambo" (photographed by Freddie Young), Hitchcock's "The Man Who Knew Too Much" (Bob Burke), and Visconti's "Senso" (G.R. Aldo/B. Cracker). As a camera assistant he worked on "Mind Benders", "Billy Liar" and "This Sporting Life". Niel Binney became a camera operator in 1963 and worked with, among others, Jack Cardiff, Fred Tammes and Billy Williams. He was elected associate member of the British Society of Cinematographers in 1981 and his most recent credits include "A Fish Called Wanda" and "Fierce Creatures".
Duration: 3 minutes, 56 seconds
Date story recorded: September 2003
Date story went live: 24 January 2008