NEXT STORY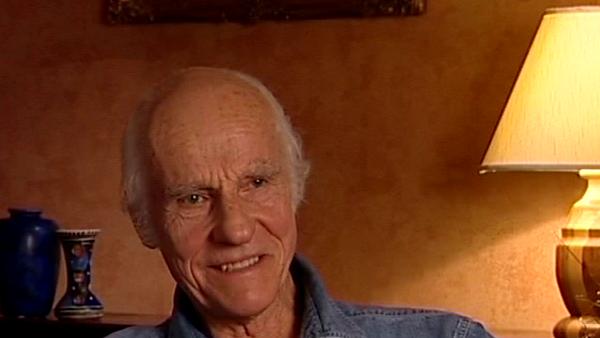 Getting the job on Billion Dollar Brain
Working with Tony Richardson on Red and Blue
Billy Williams
Film-maker
1
2
3
4
5
...
18
The next film was with Tony Richardson who was a well-established director. He'd come from the theatre of course but- so with Tony Richardson and starring Vanessa Redgrave, so it was quite a step forward and it was a film of about 40 minutes long called 'Red And Blue', and it was going to be part of a trilogy, and the other two episodes being directed by Karel Reisz and Peter Brooke. Well these films were made but for some reason it never came out as one whole film. So the film that I did, which was called 'Red And Blue', is about Vanessa, who's a nightclub singer, and she has various lovers in her life, going from Michael York to Douglas Fairbanks Junior and each lover relates to a song. So it was a 40 minute musical which, you know, I love doing and, again, we used this studio at Isleworth and I remember, because the title of the film was 'Red And Blue' and she was singing a song of- 'Red and Bue', I used a lot of red and blue light, and that seemed to work quite well. But I had an experience which really taught me a lesson regarding one's relationship with the director. I mean, I got on very well with Tony; he was an absolutely delightful personality. I remember when we- each morning, for breakfast, you'd would have champagne- instead of just egg and bacon; you'd have a glass of champagne before you started the day. Well that was a great start and everything was- it was enjoyable. Although he was separating from Vanessa at that time, they seemed- just seemed to be on really good terms and she was game for anything that Tony wanted, and we had a scene to do at Victoria station and we only had the station for a very limited time, because, as you can imagine, we got the train and the platform to ourselves and we got a very short couple of hours or so to do this scene. And we arrived at Victoria you see and Tony said- well, he said- I think that we should look this way down the train- okay, and I looked and I said- I don't know Tony, I said, I think it's better looking this way, the opposite way, and he- I stuck to my point you see. I argued a bit with Tony about shooting this way or this way, and in the end he said- all right darling, he said, we'll start here; that's where you want to look, isn't it; we'll start here and Vanessa can come along the platform and she can pass the camera and we'll look this way, which is the way that I'd like to look and then Vanessa can get into the carriage, and she can walk into the carriage and we can track in, you see, and we see her get in through the window; we see her put her case up on the rack and then she looks out of the window and she starts her song. And then we cut inside as she's singing this song and the train moves off and it goes to Paris. Well, of course, by arguing with the director about which way I should look, I'd given myself a real- I'd really- I'd got to light the platform both ways instead of one way, which was much more difficult as you know, and I thought- ah well, I should know when not to- when to stop disagreeing with the director or pay the penalty. But he did it in such a nice way and he made- he really made a joke of it. But it taught me a lesson, although I must say that throughout my career I've always had lots of discussions about where the camera should be, because I think, you know, what the camera's doing, that's, that's where it all starts.
Billy Williams, London-born cinematographer Billy Williams gained his first two Oscar nominations for the acclaimed "Women in Love" and "On Golden Pond". His third nomination, which was successful, was for the epic "Gandhi". He was President of the British Society of Cinematographers, and was awarded the Camera Image Festival's Lifetime Achievement Award in 2000.
Title: Working with Tony Richardson on "Red and Blue"
Listeners: Neil Binney
Neil Binney began working as a 'clapper boy' in 1946 on spin-off films from steam radio such as "Dick Barton". Between 1948-1950 he served as a Royal Air Force photographer. From 1950 he was a Technicolor assistant technician working on films such as John Ford's "Mogambo" (photographed by Freddie Young), Hitchcock's "The Man Who Knew Too Much" (Bob Burke), and Visconti's "Senso" (G.R. Aldo/B. Cracker). As a camera assistant he worked on "Mind Benders", "Billy Liar" and "This Sporting Life". Niel Binney became a camera operator in 1963 and worked with, among others, Jack Cardiff, Fred Tammes and Billy Williams. He was elected associate member of the British Society of Cinematographers in 1981 and his most recent credits include "A Fish Called Wanda" and "Fierce Creatures".
Duration: 4 minutes, 26 seconds
Date story recorded: September 2003
Date story went live: 24 January 2008