NEXT STORY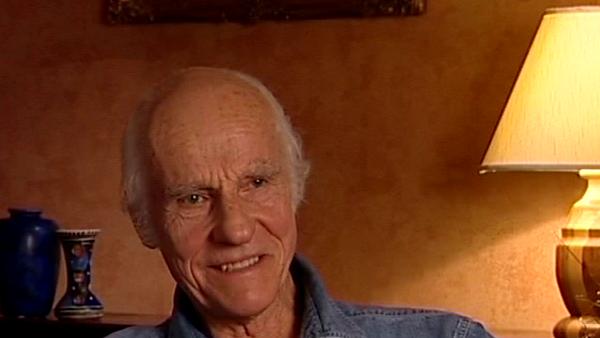 Working on the ice for Billion Dollar Brain
Shooting snow scenes in Finland for Billion Dollar Brain
Billy Williams
Film-maker
1
2
3
4
5
...
18
We went off to Finland first to shoot the locations in the snow and I took lights with me, of course, and I took the package that had been decided by Otto Heller, because I had no time to do a recce. Now when you're shooting- I found that shooting in snow, you've got to be careful not to under-expose, because you've got all this white light around and if you're under-exposed, everything else that's in the frame goes muddy. So I kept the exposure level up, well up, but there were times when I needed fill light on the faces because Michael Caine was very- he was wearing very dark clothing and he'd got like a hood and I needed more light on the face. I was using Brutes, which, of course, matched in with the daylight. I think we used to use an Y1 filter to match daylight, but I found that in snow the colour of the light was so cold that instead of putting this Y1, I was often sometimes putting a quarter blue or a half blue, so that my additional light matched the colour of the snow. And I've always worked with a colour temperature meter; I've always felt that a colour temperature meter is the most important thing to have when you're shooting colour, because you can't always judge by eye precisely what the colour temperature is, especially when you're working with fluorescents. So I would always check the available light and then match my additional light and make it the same colour. So quite often, particularly if getting towards dusk in the snow, the colour temperature goes up to about 10,000, so really, if you're filling in, you've got to fill in with the same colour or it looks like you've switched a light on. The other thing that I was keen to do was to diffuse this light so it didn't look like there was an artificial sunlight, because it was mostly overcast, and so I lit through these tracing paper frames that I'd become quite attached to and- we made them up in various sizes so that, in fact, instead of having a hard source of light that you do with a Brute arc light, you had actually a soft source; it was powerful but it was soft, because it might be six feet across, and that gave a shadow-less fill light; you didn't know it was there, and I think when one's used- particularly when you're using lights on location, where there shouldn't be a false- another light source, it's very important to disguise it and, of course, one can do it in this way by softening it out, and that worked, that worked fine. We had lots of scenes to do in the snow and would you believe it, they had the warmest winter for 200 years, and so in the cities the snow started to disappear. We had to send truckloads out to fill up with snow, bringing it back and spread it around the streets just to maintain the continuity. We had lots of scenes on the ice, because the Baltic Sea comes into Helsinki, the port of Helsinki, and in order to keep the fishing- the channel open, an icebreaker goes through to break up the seaway, and then it has to do that frequently because it freezes over so quickly. Well, Ken is not someone who has a lot of regard for the safety of the crew or the actors and he had Michael Caine jumping around from one ice-flow to another on this frozen sea, which had been broken up, with nobody- no protection, nobody there to rescue him if he fell in. I mean, it was an enormous risk and I was amazed that Michael agreed to do it, because it was very dangerous and Michael's not the kind of- he's not an actor that likes doing stunts, but we did it and it's in the picture, and fortunately we didn't have any mishaps. But then I had quite a few big interiors, like an ice-rink and hotels and I was kind of feeling my way with lighting because, as I say, I had not a great deal of experience but most of my experience had been on location, and certainly in those early years I think I was better lighting on location than I was in the studio, because somehow when I got into the studio I was inclined to use a bit too much light and put up too many different light sources. Whereas when you're on location you're very often restricted to where you can put a lamp, especially in those days, the equipment was so heavy you had to think twice about trying to hang something from somewhere. So a lot of light was from the floor or through the windows and so on.
Billy Williams, London-born cinematographer Billy Williams gained his first two Oscar nominations for the acclaimed "Women in Love" and "On Golden Pond". His third nomination, which was successful, was for the epic "Gandhi". He was President of the British Society of Cinematographers, and was awarded the Camera Image Festival's Lifetime Achievement Award in 2000.
Title: Shooting snow scenes in Finland for "Billion Dollar Brain"
Listeners: Neil Binney
Neil Binney began working as a 'clapper boy' in 1946 on spin-off films from steam radio such as "Dick Barton". Between 1948-1950 he served as a Royal Air Force photographer. From 1950 he was a Technicolor assistant technician working on films such as John Ford's "Mogambo" (photographed by Freddie Young), Hitchcock's "The Man Who Knew Too Much" (Bob Burke), and Visconti's "Senso" (G.R. Aldo/B. Cracker). As a camera assistant he worked on "Mind Benders", "Billy Liar" and "This Sporting Life". Niel Binney became a camera operator in 1963 and worked with, among others, Jack Cardiff, Fred Tammes and Billy Williams. He was elected associate member of the British Society of Cinematographers in 1981 and his most recent credits include "A Fish Called Wanda" and "Fierce Creatures".
Duration: 5 minutes, 14 seconds
Date story recorded: September 2003
Date story went live: 24 January 2008