NEXT STORY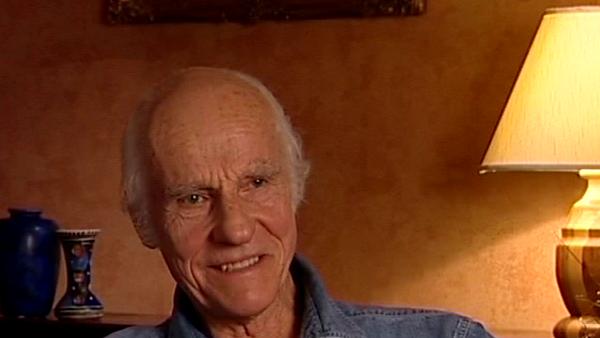 Developing my use of soft light
Shooting Billion Dollar Brain at Pinewood with Ken Russell
Billy Williams
Film-maker
1
2
3
4
5
6
...
18
All these huge sets had been built and I remember going on to E Stage where there was this enormous set encompassing the whole of the stage, and the first shot that Ken wants is a handheld shot of Ed Begley, who's this crazy Texan millionaire, walking in a circle around the camera. So it's a 360 with a 55mm handheld Arriflex shooting in Panavision; it was anamorphic. And so that was... that was what I had to do... the first shot back in the studio you see. Well, I had to call upon my electricians to help me out a bit, but anyway we did it, and I... I was soon to learn, working with Ken Russell, that he was likely to ask the sort of thing that hadn't been done before and it was no such... there was no such thing that it couldn't be done; you had to find a way of doing it. So it was a great challenge, you know, he set me a lot of... of difficult tasks and I had to find out a way to do it. And, as I say, a great deal of it was shot handheld. Whenever we could he'd choose handheld, so, of course, that made it a bit difficult because, you know, keeping the lights out of picture and everything... very difficult for the operator. But it was his style and it worked; it made the picture more exciting, it freed it up.
You know, I think a lot of British pictures around that time, or a bit earlier in that time, had become a bit stiff, a bit set. The lighting was rather predictable sometimes. There was a certain pattern of frame size and a pattern of lighting, which became a bit repetitious, and with Ken you never knew what was going to be thrown at you next, because he had a great feeling for movement and moving the camera, and so, you know, things were opening up all sort of challenges, and... and that was great; it really kept me on my toes. And although we used to have our disagreements, because Ken has a very short fuse and he would blow his top... anything that perhaps wasn't working properly or somebody had made a mistake and, you know, he was very short-tempered and... and I found that if I stood my ground with Ken and faced up to him and... and kind of argued the point — a bit like I had with Tony Richardson but not perhaps taking it too far — then I could, you know, settle things down a bit and calm him down a bit, because he used to upset quite a few people on set by this temperament, this explosive temperament. But what I liked working... about working with Ken was that, you know, he... he was full of ideas and if you... if you say, 'All right; I've... I've got this wrong; I'd like to try and do something else', he'd let you do it, if you admitted you'd... you'd perhaps got something not quite right; he'd accept that. And the other thing was he had a great sense of humour, so, you know, you could have a laugh from time to time because, as you know, on any film there are always things that go wrong and... and unless you can afford to see the funny side of it, I think there's always a danger that it becomes so serious and everybody gets uptight.
And there is always a... a tension on set because everybody's creative, everybody's trying to do their own little piece for the film.... we... we're inclined to become a bit isolated into departments like... I mean, you know, the soundman is obviously only interested in the sound and the set decorator's dressed the set and wants everything to be in the right place, and so on. The script supervisor's watching the dialogue and the continuity of course... but I think the cinematographer, in addition to composing and... and lighting the scene, has got an overall thing, an overall vision of what's in front of the lens. I feel that one has a responsibility for everything the camera's seeing and I know, you know, we have to work in collaboration with... with lots of others, but I always try to be near the camera so that I can be close to what's going on. I light through the lens to a certain extent but then I prefer the operator to have the rehearsal time so that... that he can, you know, get the feel of what the actors are doing and the pace of things, and communicate with... with the grip so that things are flowing nicely.
Billy Williams, London-born cinematographer Billy Williams gained his first two Oscar nominations for the acclaimed "Women in Love" and "On Golden Pond". His third nomination, which was successful, was for the epic "Gandhi". He was President of the British Society of Cinematographers, and was awarded the Camera Image Festival's Lifetime Achievement Award in 2000.
Title: Shooting "Billion Dollar Brain" at Pinewood with Ken Russell
Listeners: Neil Binney
Neil Binney began working as a 'clapper boy' in 1946 on spin-off films from steam radio such as "Dick Barton". Between 1948-1950 he served as a Royal Air Force photographer. From 1950 he was a Technicolor assistant technician working on films such as John Ford's "Mogambo" (photographed by Freddie Young), Hitchcock's "The Man Who Knew Too Much" (Bob Burke), and Visconti's "Senso" (G.R. Aldo/B. Cracker). As a camera assistant he worked on "Mind Benders", "Billy Liar" and "This Sporting Life". Niel Binney became a camera operator in 1963 and worked with, among others, Jack Cardiff, Fred Tammes and Billy Williams. He was elected associate member of the British Society of Cinematographers in 1981 and his most recent credits include "A Fish Called Wanda" and "Fierce Creatures".
Duration: 5 minutes
Date story recorded: September 2003
Date story went live: 24 January 2008