NEXT STORY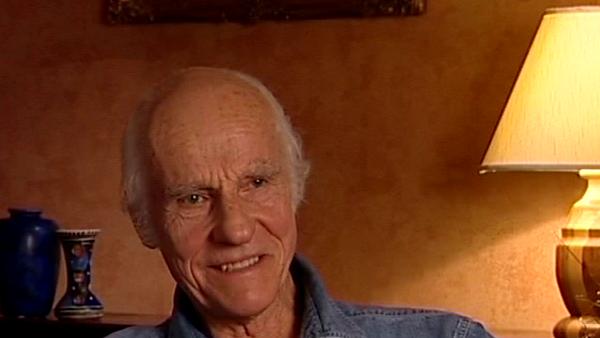 The camera and equipment on Billion Dollar Brain
Finding a way around soft lighting problems
Billy Williams
Film-maker
1
2
3
4
5
6
...
18
There were various people playing around with... with soft light. There was David Watkin, whom I first worked with at British Transport Films. He was one of the assistant cameramen there and he was lighting through sheets, and I remember going on the set with... one day when he was shooting and he was lighting... putting Brutes through sheets and the heat on the stage was absolutely unbearable. He was using so much light because the sheets were not letting much light through. I mean he was getting the effect he wanted on the set, was which this soft shadow-less lighting, but in order to get it, he was burning all this electricity and this terribly hot stage... and so I knew about that technique and although I could see the advantage in certain situations, I didn't want to put a soft light over everything. I... I felt it was important to... to control areas in terms of light and shade, and the trouble with using an overall soft light at that time was that you didn't have a means of stopping it, controlling it; it just went everywhere, and so you could... you get a natural fall off if you just lit from one side, say, with a big soft light, then it would naturally fall off from one side of the set to the other. But if you lit from the top with overall soft light, then you get an overall flatness, rather like going into a department store. Well, that's okay for certain things, if you're trying to create a department store look. But where you're trying to create more light and shade, and more drama, more depth of... you know, tonal depth, then, at that time, it was... it was quite tricky with soft light, just bouncing it.
Later on, jumping forward a few years, I got into egg crates, which is a frame decided... divided into segments, and a couple of years later I did... a few years later I did a picture in which I got this same Bill Chitty who designed the space light, design... to design a lamp for me and he called it the Billy Light, and it was 16 500W bulbs in one unit, so it was about 2.5ft square, so I had six... I had 8kWs of light with an egg crate for each bulb, so that I could direct this towards the area that I wanted lit and I would have a... a soft light. But then it would fall off outside the area that I'd directed it to because of the egg crate, and... and that was a way of getting a soft light, which didn't go everywhere, and in more recent years, now that we've got into kino flos... kino flos first of all came out in a straightforward fashion, then they put an egg... egg crate on so that you could control the kino flo so it didn't go everywhere. So we then... we... we got into an area where you've got a controlled soft light, you could retain your light and shade and retain the dark areas. But that took a few years to develop fully and it's still going on. Difficult to flag to get rid of a microphone shadow? Well we used to use so many flags too, especially with the microphone. The microphone was on a huge three-wheeled stand, in which the boom operator used to stand and he would rack the microphone in and out and it was a big piece of equipment, and of course, if you're working with hard light it throws a shadow. So wherever the microphone went on the set, you had to flag off the shadow of the microphone. So working with hard light always involved a lot more flagging for that reason. Once we started to get into the softer light, the microphone's shadow didn't show, because the shadow... the shadow was so soft you didn't see it, so you didn't have to worry about that. So that was a... a job saved. Things... those things take time and time is everything on the set; time is precious.
Billy Williams, London-born cinematographer Billy Williams gained his first two Oscar nominations for the acclaimed "Women in Love" and "On Golden Pond". His third nomination, which was successful, was for the epic "Gandhi". He was President of the British Society of Cinematographers, and was awarded the Camera Image Festival's Lifetime Achievement Award in 2000.
Title: Finding a way around soft lighting problems
Listeners: Neil Binney
Neil Binney began working as a 'clapper boy' in 1946 on spin-off films from steam radio such as "Dick Barton". Between 1948-1950 he served as a Royal Air Force photographer. From 1950 he was a Technicolor assistant technician working on films such as John Ford's "Mogambo" (photographed by Freddie Young), Hitchcock's "The Man Who Knew Too Much" (Bob Burke), and Visconti's "Senso" (G.R. Aldo/B. Cracker). As a camera assistant he worked on "Mind Benders", "Billy Liar" and "This Sporting Life". Niel Binney became a camera operator in 1963 and worked with, among others, Jack Cardiff, Fred Tammes and Billy Williams. He was elected associate member of the British Society of Cinematographers in 1981 and his most recent credits include "A Fish Called Wanda" and "Fierce Creatures".
Duration: 4 minutes, 42 seconds
Date story recorded: September 2003
Date story went live: 24 January 2008