NEXT STORY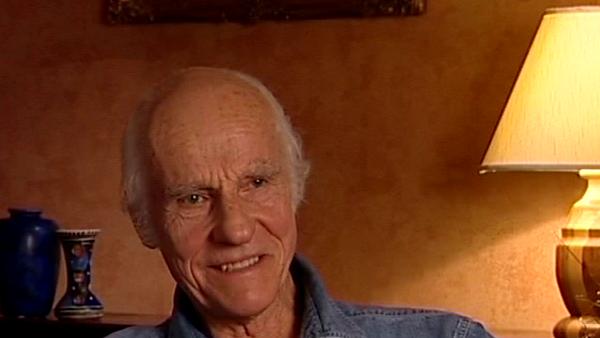 My daughter made Anthony Quinn cry
Communicating a scene effectively through the lighting
Billy Williams
Film-maker
1
2
3
4
5
6
...
18
We're in the communication business and... and I think that the... the cinematographer is... I feel I'm a storyteller in pictures. I'm a storyteller in moving pictures and someone else wrote the words, and someone else spoke the words and someone else told the actors what to do, but I'm thinking about where the camera should be to best tell that story in moving images of light and shade, which will express the feeling of the scene, the emotion of the scene, portray the actors in the right kind of light, because obviously, if you're... if you're playing a love scene, you don't want people to be unattractively lit with harsh light and alternate... conversely if you're... if you're shooting a thriller, you don't it to look like a cosmetics commercial to make... give extremes so that... there are so many ways of doing things.
Very often, when you start a movie, you have... the publicist will come up to the... to the cinematographer and say, 'Well what style are you going to shoot this film in?' And I'm... I'm usually completely baffled by this question because I would say, 'Well I don't know; I've got a story to sell... to tell but it's made up of many different scenes and many different emotions and I'm going to photograph each scene and each sequence in a way that I feel best expresses what that scene is about; so I can't tell you that I... this whole film is going to have a certain style; if you want to see what style I'm going to shoot it in you have to wait until I've finished it.' Because I... I... there's a certain spontaneity in... in the way that I work, in that I'm very often affected by the way a scene is played, and when you see the... the way a scene is rehearsed and begin to understand what it's about, and you begin to see and appreciate a lot more that's in the written word. Once the actors get to grips with it, they bring their contribution and their dimension and their emotion to it, you know, assisted by the director and so on, and all sorts of things come out of rehearsal, which are not necessarily in the script. And I think it's... it's part of my job to get that, to capture that with the lens so that the lens is in the right place and that it's... it's lit in... in the right fashion. You know, it's been said before that there are three types of... of photography and cinematography; you know, there's good photography and there's bad photography and there's the right photography. So not all... photography doesn't always need to look good. Sometimes you want it to look rough-and-ready and very spontaneous, and you don't always want the characters to look as if they've just come out of make-up. You want them perhaps to look hard and vicious, and brutal, and you would photograph people playing that kind of role differently perhaps to, you know, somebody that you want to be more sympathetic to.
Billy Williams, London-born cinematographer Billy Williams gained his first two Oscar nominations for the acclaimed "Women in Love" and "On Golden Pond". His third nomination, which was successful, was for the epic "Gandhi". He was President of the British Society of Cinematographers, and was awarded the Camera Image Festival's Lifetime Achievement Award in 2000.
Title: Communicating a scene effectively through the lighting
Listeners: Neil Binney
Neil Binney began working as a 'clapper boy' in 1946 on spin-off films from steam radio such as "Dick Barton". Between 1948-1950 he served as a Royal Air Force photographer. From 1950 he was a Technicolor assistant technician working on films such as John Ford's "Mogambo" (photographed by Freddie Young), Hitchcock's "The Man Who Knew Too Much" (Bob Burke), and Visconti's "Senso" (G.R. Aldo/B. Cracker). As a camera assistant he worked on "Mind Benders", "Billy Liar" and "This Sporting Life". Niel Binney became a camera operator in 1963 and worked with, among others, Jack Cardiff, Fred Tammes and Billy Williams. He was elected associate member of the British Society of Cinematographers in 1981 and his most recent credits include "A Fish Called Wanda" and "Fierce Creatures".
Duration: 3 minutes, 41 seconds
Date story recorded: September 2003
Date story went live: 24 January 2008