NEXT STORY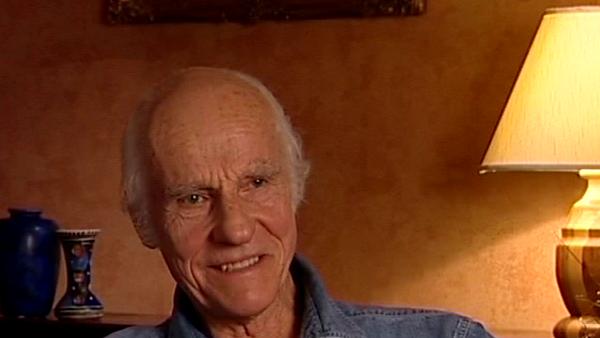 Giving actors the freedom to work confidently
Learning a lesson from Guy Green on The Magus
Billy Williams
Film-maker
1
...
3
4
5
6
7
...
18
A thing that surprised me about Guy Green in that it was... I think he... it was such an important point. It was the very first set-up that we did, the first shot of the film and it was day for night scene, looking out to sea with a group of people in the foreground, it was an action scene, and it was... it was quite a difficult shot to get the exposure right, with the moonlight on the water and everything, and I'd got a day for night filter on as well. And we got this scene set up and we ran the... well, first of all we... we shot the slate — mute slate — and then we went to roll the camera and the camera wouldn't roll, so there was a grip... you know, everybody running around, checking ca... checking cables. Everything was all right, so turn over... we shoot the scene, complicated scene, take one and Guy said, 'Print that's it' and I thought: goodness, take one no protection... and this wasn't an easy scene, and I did persuade him to do another one, but I thought afterwards that maybe I shouldn't have done that because I think when a... when a director starts off the picture and he prints the first take, it puts everybody on their toes, because they know that they've really got to be with it with this director because, you know, he's not going to go on doing endless takes... and, you know, hoping everybody else will get it right. You've got to get your bit right on the first take and if it's not right, you've got to say so. And that was quite a good lesson.
I like working with Guy; he's a lovely, lovely man, very, very friendly, very understanding and he... he listened a lot to what I had to suggest. What he didn't do was ever... ever tell me how to light it and looking back at the movie I... I sometimes wish that Guy had told me how to light it, because I don't think I did a particularly good job; I overlit it. I hadn't worked in such brilliant sunlight before. You know, I'd worked in England, I'd done this film in... in Finland in the snow, but this was... this was high summer in Spain with a lot of top light — very strong sunlight — and although I was working to try and keep the... the back light as much as possible, where I couldn't do that I was... I was sometimes putting in a bit too much fill light, especially for Michael Caine. So I... you know, I think I overlit some of his shots. But with Candy Bergen, who has very small eyes and they're pale, and when it's bright her eyes completely disappear because she can't stand the... the bright light. And so I said to Guy, 'You know, we're not going to get any good close-ups of Candy in... in this bright light'. I said, 'How would you feel about shooting, you know, all the... wider shots and leaving the big close-ups until the end of the day when I can light them to match' big close-ups, which he agreed to, and... and it worked, because my... my background was quite confined, but I was able just to work with far less light than sunlight and to put it in a nice position for her, because she was really very beautiful, and... and you could see her eyes. Whereas in... in the bright light you couldn't, her eyes disappeared, and he agreed to that and that worked out. Whereas Anthony Quinn, who's got almost black eyes, you could always see his eyes, whatever the light. He was unaffected by it, and it's something I... I've been aware of over the years of... of how actors respond to bright light in that, you know, if... if an actor is really having difficulty, you've got to do something to help them and, of course we've got things like scrims — diffuser scrims — and things that will take the sunlight out altogether, and a... a variety of grip equipment now that... where you can sometimes reduce the light to make it a bit more acceptable to the actors.
Billy Williams, London-born cinematographer Billy Williams gained his first two Oscar nominations for the acclaimed "Women in Love" and "On Golden Pond". His third nomination, which was successful, was for the epic "Gandhi". He was President of the British Society of Cinematographers, and was awarded the Camera Image Festival's Lifetime Achievement Award in 2000.
Title: Learning a lesson from Guy Green on "The Magus"
Listeners: Neil Binney
Neil Binney began working as a 'clapper boy' in 1946 on spin-off films from steam radio such as "Dick Barton". Between 1948-1950 he served as a Royal Air Force photographer. From 1950 he was a Technicolor assistant technician working on films such as John Ford's "Mogambo" (photographed by Freddie Young), Hitchcock's "The Man Who Knew Too Much" (Bob Burke), and Visconti's "Senso" (G.R. Aldo/B. Cracker). As a camera assistant he worked on "Mind Benders", "Billy Liar" and "This Sporting Life". Niel Binney became a camera operator in 1963 and worked with, among others, Jack Cardiff, Fred Tammes and Billy Williams. He was elected associate member of the British Society of Cinematographers in 1981 and his most recent credits include "A Fish Called Wanda" and "Fierce Creatures".
Duration: 4 minutes, 42 seconds
Date story recorded: September 2003
Date story went live: 24 January 2008