NEXT STORY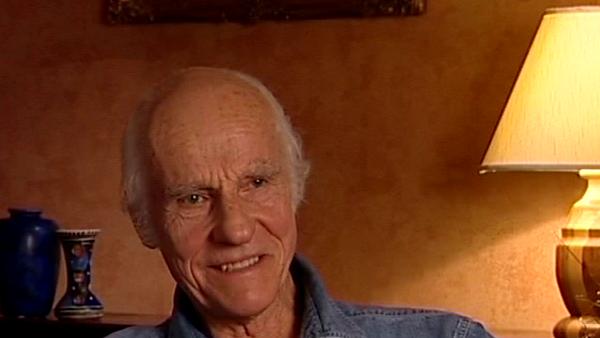 Shooting the day for night forest scene in Women in Love
Women in Love: filming the drowning
Billy Williams
Film-maker
1
...
3
4
5
6
7
...
18
It begins to get dark and we intercut these scenes in the forest with scenes on a lake where a young couple who are recently married and the... the bride is the sister of Oliver Reed, go swimming in the nude in the lake and as it begins to get dark they get into difficulties and... resulting in the bridegroom calling for help because his... his wife has disappeared beneath the water. It's gradually getting dark. Now the only way I could do it was to shoot it at magic hour, because I wanted this feeling of... of the darkness. In the background of the scene was a fairground with lots of hanging lanterns and there were also boats on the lake with people rowing with... all... all had Chinese lanterns on them, hanging behind the boat, and inside each Chinese lantern was a 100W bulb and in the boat was a set of car batteries of... of 30V, and the boats were operated by extras — local people — so when everything was ready they had to put the clips on their batteries to illuminate these Chinese lanterns you see. Because as the wa...... as it was getting dark the water was getting almost black and the light from the Chinese lanterns, it kind of punctuated the darkness and gave you the feeling of movement on the water.
Now when you shoot at magic hour... they call it the magic hour, but in fact you've got about five minutes, and it's the time when it... just before it gets dark when the colour temperature goes up, sometimes to 8000 or 10,000K, so it's a very blue light and... so the water had a kind of blue-blackness to it and it was punctuated by the warmth... the yellows and oranges of the Chinese lanterns, and instead of using an 85 on the camera, which would have taken some of the blue out, I used a half-85, which was an 81EF, so that I had a kind of blue-black quality in the background and the only way... the only light I could use was a certain amount of fill light, because we had two cameras on the bank looking out across the lake towards a house and the fairground in the background. So I had two cameras running, quite close together, and because it was such an extended sequence it took three nights to do it and it involved Oliver... Oliver Reed diving into the water and searching for his missing sister, and then other boats coming to try and assist in the rescue, and there's an extended scene where Alan Bates and Glenda Jackson and Jennie Linden are in... in a boat and Ollie is diving... continuing to dive down into the water to look for his missing sister and there's a sort of general panic with lots of whip-pans on the camera and lots of coverage from the two cameras and... because it was such a complex scene including a cutaway looking back away from the water to Oliver Reed's father arriving with a group of people who have, you know, realised that there's a serious situation, and so that this is intercut with... with cutaways looking away from the water, and for those cutaways I used a...a light reflecting on the lake to give a little reflected light, like shimmering water effect on... Alan Webb played Oliver Reed's father.
And so... what was great was that... that Ken Russell was willing to give me the time to do this and shoot... so we... we could shoot it at the same time on three successive evenings. Of course, it needed a certain amount of preparation, but actually the take only ran for the maximum of five... about five minutes, because although we had... the Mitchell camera was the main camera, which you could have 1000ft, the second camera was a blimped Arriflex, which only had a 400ft mag. So that was what... about four and a half minutes or so, five minutes. So that was the length of the take and by that time it was getting dark. The light was gradually fading during the course of the take, which we had to adjust later in post-production, and I think I was shooting at either 2.3 or 2.5, and it worked; it did. It's... it's a great sequence and with all the coverage that we had it was a very moving and move... very wonderful scene.
Billy Williams, London-born cinematographer Billy Williams gained his first two Oscar nominations for the acclaimed "Women in Love" and "On Golden Pond". His third nomination, which was successful, was for the epic "Gandhi". He was President of the British Society of Cinematographers, and was awarded the Camera Image Festival's Lifetime Achievement Award in 2000.
Title: "Women in Love": filming the drowning
Listeners: Neil Binney
Neil Binney began working as a 'clapper boy' in 1946 on spin-off films from steam radio such as "Dick Barton". Between 1948-1950 he served as a Royal Air Force photographer. From 1950 he was a Technicolor assistant technician working on films such as John Ford's "Mogambo" (photographed by Freddie Young), Hitchcock's "The Man Who Knew Too Much" (Bob Burke), and Visconti's "Senso" (G.R. Aldo/B. Cracker). As a camera assistant he worked on "Mind Benders", "Billy Liar" and "This Sporting Life". Niel Binney became a camera operator in 1963 and worked with, among others, Jack Cardiff, Fred Tammes and Billy Williams. He was elected associate member of the British Society of Cinematographers in 1981 and his most recent credits include "A Fish Called Wanda" and "Fierce Creatures".
Duration: 5 minutes, 16 seconds
Date story recorded: September 2003
Date story went live: 24 January 2008