NEXT STORY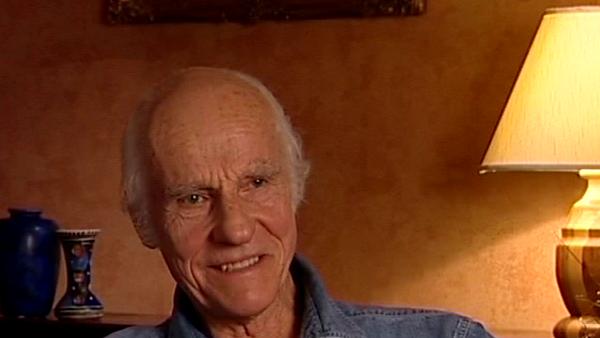 Using new equipment when shooting Women in Love
A pleasant surprise when filming on location for Women in Love
Billy Williams
Film-maker
1
...
4
5
6
7
8
...
18
There's a scene between Alan Bates and Oliver Reed in which Alan is talking about their relationships, their particular relationships with their girlfriends, but also their relationships with... their relationship with one another, and it... it's a scene where Alan is trying to express that although he loves this woman that he's married to, he also loves Oliver Reed, and so he's kind of trying to... trying to say that he is bisexual and there's a reference to having a snub nose, which I think is supposed to mean that, you know, he's a bit AC/DC, as we say nowadays, and we didn't have a... a place to shoot this.
And so we looked around the... the house where we had shot on the lake – Elvaston Castle – where we'd shot the wrestling scene, and we found a room with huge mirrors on three walls and the fourth wall just had a small window on it, and it was only about 12ft2, and we thought: well if we played this scene here we could get the added dimension of reflected images so that, you know, a person could be in the frame in... on either side of screen with one person in the middle, and the person who was talking could be on either side of screen reflecting the most... so he was kind of looking at himself. And it... it kind of all added to the confusion of what the... what his sexuality was, that you were in this room where you weren't quite sure whether he was looking at himself or looking at Oliver Reed. Now the further bonus, which was a complete surprise to us and which we used, I think, to considerable effect, was that... that one mirror had a huge crack in it, which ran from top to bottom in a jagged fashion. And so we were able to play close-ups of Alan with this crack going across his face and, of course, it... it captured... it expressed visually what was within him, that he was kind of divided. And that could never... I don't think a designer could have ever have come up with something like that. It was a... it was luck... it was luck and Ken and the actors were able to use it to capture the essence of that scene.
What that scene was really about was enormously enhanced by the fact that we were in a room with mirrors with one of them cracked and... so that was something that I don't think one would have ever done in the studio, and it's surprises like that which... which favour me towards filming on location, because you just come across things that you think: oh gosh, this... this is where we should shoot this particular scene because it's got the right atmosphere, and... and it... you know we can make it work. Sometimes it's difficult to light and this particular occasion all I could do was... was bounce one light off some white... off the ceiling, so I played it mainly with top light, because everything you put in was reflected, so if you put a lamp in you had to put up blacks to stop the reflection of the lamp, and the camera had to be black so... and they were a very small crew so that... as you know there... there are difficulties in shoot... shooting mirrors, but it worked.
Billy Williams, London-born cinematographer Billy Williams gained his first two Oscar nominations for the acclaimed "Women in Love" and "On Golden Pond". His third nomination, which was successful, was for the epic "Gandhi". He was President of the British Society of Cinematographers, and was awarded the Camera Image Festival's Lifetime Achievement Award in 2000.
Title: A pleasant surprise when filming on location for "Women in Love"
Listeners: Neil Binney
Neil Binney began working as a 'clapper boy' in 1946 on spin-off films from steam radio such as "Dick Barton". Between 1948-1950 he served as a Royal Air Force photographer. From 1950 he was a Technicolor assistant technician working on films such as John Ford's "Mogambo" (photographed by Freddie Young), Hitchcock's "The Man Who Knew Too Much" (Bob Burke), and Visconti's "Senso" (G.R. Aldo/B. Cracker). As a camera assistant he worked on "Mind Benders", "Billy Liar" and "This Sporting Life". Niel Binney became a camera operator in 1963 and worked with, among others, Jack Cardiff, Fred Tammes and Billy Williams. He was elected associate member of the British Society of Cinematographers in 1981 and his most recent credits include "A Fish Called Wanda" and "Fierce Creatures".
Duration: 3 minutes, 52 seconds
Date story recorded: September 2003
Date story went live: 24 January 2008