NEXT STORY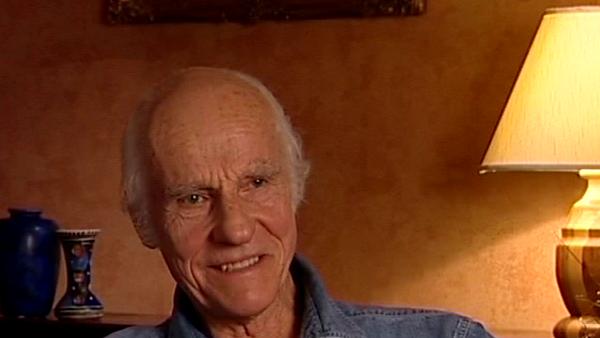 Lighting Ava Gardner on Tam Lin
Maintaining the look of a film after shooting
Billy Williams
Film-maker
1
...
5
6
7
8
9
...
18
I think that anything that is made using the normal Eastman colour... the Eastman colour process is going to fade, and what happens is that the blues and greens go and you're left with a pinky-magenta image. And I remember when I started teaching at various film schools and workshops I got a 16mm print of Women In Love, which had obviously been printed in the contact print pro... process — the Eastman process — and it had so faded that it was unrecognisable; it was all pink and it... it was useless to show to anybody as an example of... of how the film should look. Now some years afterwards, when I'd started meeting and talking to students, I wanted to show them Women in Love and so I went back to the distributor and found a dye transfer print and although it was very scratched, the colour was still as it was originally. And later on I found another print, which had belonged to the BBC, which had never been run on a projector, which was in perfect condition, had no scratches, no marks on it, with this original colour quality and I'm now able to show this print because I have it; I'm able to show people what a dye transfer print looked like as it was made 35 years ago, and this wonderful colour is still there.
But... but sadly other films, which were printed around that time not using dye transfer, are no good. And this is.... this is a real problem for our industry because unless the negative has been well looked after or there's a good inter-positive, it's very difficult to get back to the original picture quality and, of course, now that... that DVD is becoming so popular and older movies are being re-released, then it... it's very essential that... that you can go back to... to the way it looked originally. I think it's very important that the cinematographer should retain some degree of control over the... the way films are printed. We, in the old days, had it in our contract that we would be required to attend the grading process and, you know, that they would try and arrange it so that one could be present. Nowadays what's happening is that those older films are being put on to DVD and they're making the transfer without communicating with the cinematographer. And so, sometimes the DVD comes out and it's... it's not looking the way it should because, you know, the person that knows the most about the way the colour should be hasn't been invited to participate. I think it's very important to... for today's cinematographers, in their contract, to have it very carefully stipulated that they will be invited and have responsibility to participate in this process of... of transferring from a negative to a DVD, because there's a huge audience now for DVD and... and if it's done properly the quality is superb. I've got a DVD of Women in Love that looks... looks magnificent, you know. There were one or two areas where I think it could have been improved for colour, but they didn't consult me before they made it so, although it looks quite good, there are areas where I... I would like it to have been different.
Billy Williams, London-born cinematographer Billy Williams gained his first two Oscar nominations for the acclaimed "Women in Love" and "On Golden Pond". His third nomination, which was successful, was for the epic "Gandhi". He was President of the British Society of Cinematographers, and was awarded the Camera Image Festival's Lifetime Achievement Award in 2000.
Title: Maintaining the look of a film after shooting
Listeners: Neil Binney
Neil Binney began working as a 'clapper boy' in 1946 on spin-off films from steam radio such as "Dick Barton". Between 1948-1950 he served as a Royal Air Force photographer. From 1950 he was a Technicolor assistant technician working on films such as John Ford's "Mogambo" (photographed by Freddie Young), Hitchcock's "The Man Who Knew Too Much" (Bob Burke), and Visconti's "Senso" (G.R. Aldo/B. Cracker). As a camera assistant he worked on "Mind Benders", "Billy Liar" and "This Sporting Life". Niel Binney became a camera operator in 1963 and worked with, among others, Jack Cardiff, Fred Tammes and Billy Williams. He was elected associate member of the British Society of Cinematographers in 1981 and his most recent credits include "A Fish Called Wanda" and "Fierce Creatures".
Duration: 3 minutes, 58 seconds
Date story recorded: September 2003
Date story went live: 24 January 2008