NEXT STORY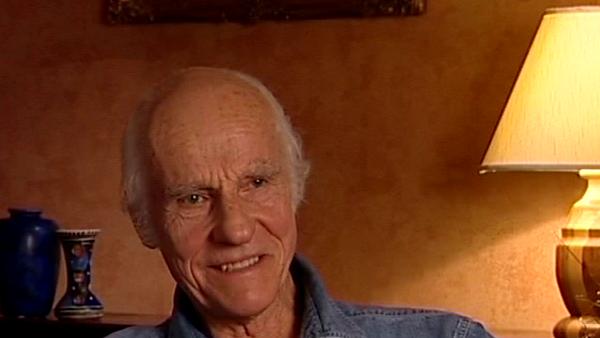 Joking with Elizabeth Taylor on the set of Zee and Co.
Lighting Ava Gardner on Tam Lin
Billy Williams
Film-maker
1
...
5
6
7
8
9
...
18
My next film after Women In Love was [The Ballad of] Tam Lin — American title The Devil's Widow — which was a story based on a Robert Burns poem about an evil woman — middle-aged woman — who attracts a coven of young people around her, young men and women, and she manipulates their lives and manipulates their relationships. It involve... involved a lot of drug taking and hallucinatory effects, and the director was Roddy McDowell, the actor who had been a child actor of course, and he was a delightful person, very open and bright and stimulating, and because he'd been an actor, of course, he really understood actors. And this is his debut as a director. He was a wonderful still photographer, really brilliant photography, and so it was nice again to be working with someone who had a good eye for a picture. It was shot — excuse me — about 50% on location in Scotland and the other half in the studio at Pinewood where, again, Don Ashton, who did The Magus, was the designer, and I was introduced to Ava Gardner who was 47 and was certainly showing the effects of her lifestyle and I, of course, remember Ava from so many of those earlier pictures... oh, what was the one she did in Spain? Pandora And The Flying Dutchman, and, of course, she was so beautiful, she was one of the most beautiful woman on the screen, and it was... it was really sad to see how her beauty was fading away and particularly the quality of her skin.
Now I found that when I was shooting her in the studio, by careful lighting and a certain amount of diffusion, she looked pretty good, you know, she really looked good but not anything like, of course, that she did 20 years earlier, but she looked pretty good. When we got onto location it was quite a different problem because, depending on the light, the quality, the visual quality of the face can vary enormously because if... if you've got top light it really ages people and brings out all the kind of... the bags and the pouches and the creases. Top light is a very unattractive light and it was demonstrated, I think, very well by Gordon Willis when he did The Godfather. He deliberately went for top light with very little filler to make the characters look more sinister and threatening. But, of course, that's the last thing you want with a leading lady. So that there are times, again depending whether it's sunny or not... if it's sunny I always try to put the ladies into a back light so that then I can fill in with some soft light and iron out the creases. But if you've got overcast light, not... without sun but, you know, it might be bright, just cloudy bright, then you've got this down light, which is very unflattering, and I was soon to find out with Ava Gardner that the only way I could make her look good was by eliminating the top light, and the only way I could do this was... once we started to get in close, say, about a waist shot, was to put in a blackout over the top of the picture – a 12 by 12 blackout – so that none of the top light hit... hit her face at all. And then to put a soft light over the lamp — a Brute, heavily diffused — over the camera to give her a good light, which made her look beautiful again. Of course you can't do this on long shots, so it was a question of deciding in the cutting when... when we could go from a wider shot to a closer shot and in fact change the lighting. And of course, usually you have a cutaway in between of someone else, so you try to disguise what you've done, the cheat you've made by cutting away and then coming back to a closer shot when she looks better lit, and that worked. But you've got to have the equipment to be able to do that. And she was... she was quite happy when, you know, I used that method.
And there were several other young people in the film, there was Ian McShane and Joanna Lumley; it was their... their first big break in pictures and it... it was an intriguing story but, unfortunately, the company that made it went bust when the film was in the editing stage and it was a film with a lot of very contemporary references — contemporary wardrobe and so on — and so it didn't come out for about two years. By that time it seemed rather old hat and it had lost its immediacy. So, unfortunately, it... it wasn't very successful, but it was an interesting picture in... in some other ways because there was a drug sequence, a hallucinatory sequence, that we had to do. They were supposed to be on LSD and we shot a whole sequence on infrared film in the studio and it kind of transformed all the colours in... into a sort of very impressionistic and a strange, nightmarish quality. We had to do some tests of course to see how fast the film was and I used a lot of distorting glass on the lens. Of course nowadays you can do that kind of thing digitally without any trouble. It's... it's an easy thing to do, but... but then, it was 1969, everything had to be done on the camera.
Billy Williams, London-born cinematographer Billy Williams gained his first two Oscar nominations for the acclaimed "Women in Love" and "On Golden Pond". His third nomination, which was successful, was for the epic "Gandhi". He was President of the British Society of Cinematographers, and was awarded the Camera Image Festival's Lifetime Achievement Award in 2000.
Title: Lighting Ava Gardner on "Tam Lin"
Listeners: Neil Binney
Neil Binney began working as a 'clapper boy' in 1946 on spin-off films from steam radio such as "Dick Barton". Between 1948-1950 he served as a Royal Air Force photographer. From 1950 he was a Technicolor assistant technician working on films such as John Ford's "Mogambo" (photographed by Freddie Young), Hitchcock's "The Man Who Knew Too Much" (Bob Burke), and Visconti's "Senso" (G.R. Aldo/B. Cracker). As a camera assistant he worked on "Mind Benders", "Billy Liar" and "This Sporting Life". Niel Binney became a camera operator in 1963 and worked with, among others, Jack Cardiff, Fred Tammes and Billy Williams. He was elected associate member of the British Society of Cinematographers in 1981 and his most recent credits include "A Fish Called Wanda" and "Fierce Creatures".
Tags: Tam Lin, The Devil's Widow, Pinewood Studios, Pandora And The Flying Dutchman, The Godfather, 1969, Ava Gardner, Robert Burns, Roddy McDowall, Roderick McDowall, Donald M Ashton, Gordon Willis, Ian McShane, Joanna Lumley
Duration: 6 minutes, 31 seconds
Date story recorded: September 2003
Date story went live: 24 January 2008